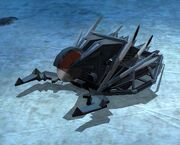 "Look out for Dead Metal's claws, or it could be curtains!"
— Jonathan Pearce's in-game commentary
Dead Metal was one of the four original house robots in Robot Wars. It was designed to resemble a mechanical scorpion that had "reanimated from a junkyard". It was armed with a 3000rpm circular saw, and pneumatically driven pincers. Dead Metal appears in Robot Wars: Extreme Destruction (PC/Xbox) in addition to the other four Robot Wars video games.
In this game it is possible to play as Dead Metal and the other house robots by entering a cheat code.
Appearance and Armament
Edit
Dead Metal and the other four early House Robots made their fifth and final video game appearance during this game. The game was the only game based on Robot Wars Extreme: Series 1. Dead Metal's appearance remains unchanged from the previous Robot Wars console game release, Robot Wars: Arenas of Destruction. He again sports the weaponry that was equipped to him from Series 3 onwards. The House Robots in this game could break the rules for the first time, perhaps to show off the fact that Refbot was in a game for the first time. They would often come out of their CPZs and attack competitor robots, which would lead to them receiving a yellow card, and eventually a red card after breaking the rules for a second time.
Functions in game
Edit
Dead Metal would act as one of 4 house robots, on particular arenas, for most of the events and battle types. Dead Metal is notably the only house robot that isn't present on the TV Studio, unless possibly in the form of an Endurance battle.
Although Dead Metal was the only one of the original four house robots never to be flipped, before Series 7, Dead Metal is by far the easiest house robot to flip in the game, due to its fairly high ground clearance and its pincers acting as great chocks for flippers.
Community content is available under
CC-BY-SA
unless otherwise noted.