Deadlock is a heavyweight robot which was selected for entry into Series 10 of Robot Wars. However, it was unable to compete after arriving at the studio unfinished, and became the last robot to withdraw from the series. Deadlock previously applied for Series 9, but was not selected to compete. Deadlock is now fully functional, and an active competitor at live events.
Deadlock is a grey, four-wheeled robot with a wedge-like profile, armed with a combined set of lifting forks and clamping claws. The bottom forks have three prongs, and can rotate a full 360-degrees to function as a self-righting mechanism, with the whole weapon assembly also forming most of the robot's chassis. Deadlock is one of the largest robots ever built for Robot Wars. Prior to assembly, the team created numerous CAD drawings and 3D-printed models of Deadlock to demonstrate the robot's shape, some of which featured a differently-shaped clamp and drive pods with protruding wheelguards which are not present on the finished robot.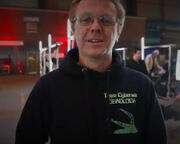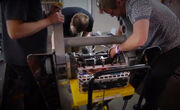 Deadlock was entered by Team Cyberwar, newcomers to the sport at the time of Series 10, with Deadlock being their first heavyweight. The team was captained by Mark Mellors, who was joined by teammate Robert Karpinski, who was responsible for the electronics of the robot. Teammate Rob Berwick was the lead team member for mechanics and software.
Deadlock was drawn into Heat 5, and would have faced Thor and Expulsion in its Group Battle. However, as Deadlock was incomplete at the time of recording, it withdrew from the competition, and was replaced by Coyote.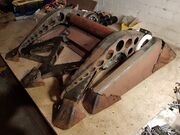 Following on from Series 10, Deadlock made its robot combat debut in October 2017, where it attended the Robots Live! event in Stevenage. There, it fought a whiteboard battle against Ka-Pow! and The Saint, but was defeated after getting flipped and pitted by the former. Deadlock subsequently appeared at the Extreme Robots event in Gloucester later that month, where it fought The Saint, Thor and newly-crowned FRA UK Champion Manta in a four-way melee.[5]
In 2018, Deadlock competed in various live events, first appearing at the Extreme Robots event in Guildford, held in June. However, it lost its head-to-head battle against Point Blank after losing drive on one side. In September, Deadlock earned more success at the Robots Live! event in Stevenage, winning a whiteboard battle against Luna-Tic and Iron-Awe 8 on a judges' decision.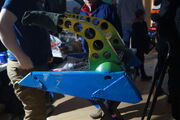 For the 2019 live events season, Deadlock received numerous upgrades in order to resolve teething issues discovered during its first years of competition. Upgrades included larger and stronger chains for the lifter mechanism[6], more powerful Freefly ARC200 speed controllers[7] and general improvements to the robot's chassis and armour, including a HARDOX rear panel instead of the original HDPE one.[8] In September, Series 8-10 judge Lucy Rogers joined Team Cyberwar for their appearance at the FRA UK Championship in Stevenage[9], where Deadlock reached the quarter-finals by completing a shock victory over Iron-Awe 5 before being thrown out of the arena by Manta.
Team Cyberwar applied to the 2020 season of BattleBots with Deadlock, however their application was unsuccessful.[10]
Aside from Deadlock, Team Cyberwar competed at live events with several robots in lighter weight categories. Their featherweights include Come Here And Say That and The UnNamed, while their beetleweights include drum spinner Bourbon and Now You've Done It. In 2016, all four robots took part in the Robots Live! event in Stevenage; Come Here And Say That and The UnNamed won a featherweight melee each, while Bourbon and Now You've Done It finished second and fourth in the Beetleweight championship.[11]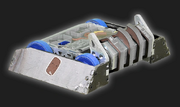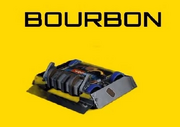 In February 2018, Bourbon took part in the UWE Beetle Brawl, where it finished fifth overall[12]. Bourbon also appeared in the online web-series Bugglebots in the same year, where it immobilised OMG! to progress to the second round. There, it performed strongly against Snappy, hitting and flipping Craig Croucher's machine a few times; however, it was ultimately eliminated after falling into the pit. For the 2019 series of Bugglebots, Bourbon reached the second round by defeating Jay, before losing to Mini Spinny by knockout.
The Haynes Manuals video interview which showcased Deadlock at the filming of Series 10 was released prior to the official website being updated with all of the season's competitors. As the interview did not reference Deadlock's withdrawal from the series, it was possible to infer that Deadlock would have competed in a televised episode.
Community content is available under
CC-BY-SA
unless otherwise noted.