"Ooh, it looks splendid with its fibreglass skull and the arms, the front weapon's an electric 'earthquake saw', the rear weapon's a pneumatic trident, the major motors come from windscreen wipers."
Death Warmed Up was Team Death's entry for the third series of Robot Wars. It lost its first round battle to Stealth in its heat, and did not appear for any other series.
Design
[
]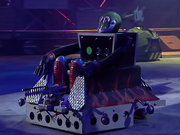 Death Warmed Up was a large and unusual box-shaped robot designed to resemble a chair, with a humanoid figure sitting on top of the robot inside the 'chair'. The humanoid consisted of a skull and arms with gardening gloves that were moulded from fibreglass, while the robot's weapons were an electric hedge trimmer described as an 'earthquake saw' at the front, and a pneumatic trident at the rear. The robot's bodywork consisted of 50% fibreglass and 50% wood. Death Warmed Up had flames painted along its sides, and also featured several castors along the side of the machine which served no clear purpose in its only battle, much to Jonathan Pearce's bemusement.
"What on earth's an "earthquake saw" by the way?"
— Jonathan Pearce questions Death Warmed Up's weapon during its sole battle
Etymology
[
]
The robot's name derives from the saying "I feel like death warmed up".
Qualification
[
]
"Now the going gets tough, hundreds of people have applied and an unknown number make their way to the auditions venue, at the time I believed there would be only 70 places available for robots and that 12 seeded robots had already been chosen. As we pushed our robot into the venue we were greeted by the crew and producer and informed we had made a great contribution to Series 2 and they we glad to see us again, they looked at our robot- Death warmed up, up and down and there were smiles all round. We then made our way to the check in desk and the young ladies behind the desk fell into hysterics pointing at the weapon between the robots legs, we could still hear them laughing when we entered the other room for the tech check. Derek Foxwell did the usual checking and he stated- this is what we are looking for ....people having fun with their robot building and he was generally pleased. The obstacle course was a better set up than in Series 2 auditions with a ball and goal to shoot at a slalom and the same tipping bridge to drive over, we did well and the guy marking down the effort gave us the thumbs up."
— Colin Scott on the FRA Forum (edited)
Death Warmed Up, like every other robot that attended the Series 3 audition, had to take the obstacle course. Derek Foxwell praised the robot's unusual design, and the robot performed well on the course, so Death Warmed Up qualified for the Third Wars.
Robot History
[
]
Series 3
[
]
In its first round battle, Death Warmed Up faced newcomer Stealth.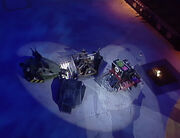 Death Warmed Up started as the quicker robot, driving across the arena to meet Stealth and circle round it, but struggled to fit its trident under Stealth. Death Warmed Up drove away, only for Stealth to get underneath it and push it into the wall and over the Flame Pit, where Death Warmed Up was briefly axed by Shunt. Death Warmed Up began smoking as it struggled to escape the Flame Pit, and its body caught fire as Shunt pushed it away and it drove around the House Robot as he suddenly became immobilised. Stealth nudged Death Warmed Up again, and Death Warmed Up eventually lost mobility as the fire inside its chassis spread and the other House Robots gathered round.
"Oh, I'm filling up, I feel all choky, it's smoky!"
— Jonathan Pearce
'Cease' was called, and the smoking Death Warmed Up was eliminated, ironically allowing it to avoid a potentially dangerous battle against Hypno-Disc in the second round.
Results
[
]
DEATH WARMED UP - RESULTS
Series 3
The Third Wars - UK Championships
Heats, Round 1
Heat H, Round 1
vs. Stealth
Lost
Wins/Losses
[
]
Series Record
[
]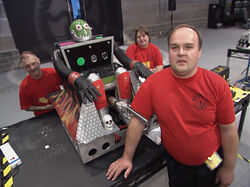 Although Team Death did not enter Series 8, Colin Scott's creation, Chimera, competed under ownership of a new team, who also entered Chimera2 into Series 9.
Trivia
[
]
Despite Team Death's hometown of Ossett, West Yorkshire being mentioned in introductions for Piece de Resistance, Immortalis and Metalis, Death Warmed Up was described simply as being "from Yorkshire".
Like Metalis, Death Warmed Up appeared with Team Mega Hurts in Heat H and both teams lost in the first round of that heat.

Both of those occurrences happened in the two series that featured one hundred and twenty-eight robots.