"...in her fetching red paintwork and flaming hair-do..."
— The description from the Demolition Doris website (archived)
Demolition Doris was a robot which attempted to enter Robot Wars: The Fifth Wars. The robot failed to qualify for this series following radio reception issues and damage sustained during its qualifier from Shunt. Following a brief stint at live events, it was retired shortly after.
The team would later compete in The Seventh Wars and Series 8 with DisConstructor.
Design
[
]
Demolition Doris was a six-wheeled, box-shaped robot painted red with details matching its name, including a woman's eye, a black eyepatch and a yellow/orange pattern resembling flames or blonde hair. Its weapons initially consisted of a CO2-powered ram and lifting forks, though the ram was later discarded when it proved ineffective at the Series 5 qualifiers. As a result, the forks were redesigned to incorporate both pneumatic rams into their mechanism, giving a lifting capacity of 80kg according to Team DisConstructor.[1]
Drive power came from two Lynch motors rated at 2kW, along with a pair of 4QD-300 speed controllers. These gave Demolition Doris a claimed top speed of 20mph and the ability to pull a Ford Focus car at 15mph. The robot was armoured in titanium with additional polycarbonate and ABS plastic; 6mm aluminium side panels were initially considered, but swapped out for titanium ones to meet the 100kg heavyweight limit.[1][2]
Team DisConstructor built Demolition Doris with a six-wheel drive system using go-kart components. However, recurring problems with slipped chains during initial testing forced the team to convert it into a four-wheel drive machine three days before the qualifiers, albeit with no significant effect on performance.[2]
Qualification
[
]
Demolition Doris attended the Wembley Arena stage of the Series 5 qualifiers, which took place as part of a nationwide live tour. Although it is unknown which opponents it faced, Team DisConstructor encountered severe radio reception issues throughout, largely as a result of their decision to house its aerial within its chassis. This led to input lags between the robot's transmitter and drive motors, resulting in Demolition Doris spending much of its time in battle over the Flame Pit. The robot also sustained damage to its top armour from Shunt's axe, while the titanium side panels were also bent far in enough to jam at least one of its go-kart wheels.[2]
Needless to say, Demolition Doris would not qualify for the televised Series 5.
Series Record
[
]
Outside Robot Wars
[
]
Following its unsuccessful attempt to enter Robot Wars, Demolition Doris appeared at the Sussex Robo Rumble charity event in Worthing, taking place in April 2002. For this, the damaged titanium side panels were replaced with equivalents made out of Kevlar.[3] At one point during the event, it fought Tornado, Wolverine and Spirit of Scorpion in the afternoon session, where it was repeatedly shoved and had its Kevlar panels damaged by the future Series 6 champion; Team DisConstructor later explained that the 'room-temperature resin' they used to make the panels was the cause behind their fragility.[4][5][3]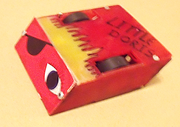 An antweight version, Little Doris, was also completed with a two-wheel drive system and a parallelogram-shaped chassis. Little Doris initially fought in Antweight World Series 37 in March 2012, winning its first battle over Oreo[6] before losing to E.B.O.G.'s Revenge[7] and Flippant 2.[8] It would also be paired up for the Tag Team event with one of Team DisConstructor's fellow antweights THRUST, but the duo lost to Fast Dalek and Wanted.[9] Two years later, Little Doris made a further appearance at Antweight World Series 40, losing its last-ever fight to another of the team's robots, ANTi Matter.[10]
References
[
]
External Links
[
]