"Derek didn't fare well in competition, but the judges said it was beautifully constructed ... and the winner is Derek! A surprise for many perhaps..."
— Jonathan Pearce announcing the Series 5 Best Engineered Award
Derek (also known as Derek! and Derek 2 in Series 6) was a competitor in Series 5 and 6 of Robot Wars. It was knocked in the first round in both of its appearances.
In Series 5, Derek! surprised many by winning the award for the Best Engineered robot that year, beating out robots which advanced further into the competition, including Dominator 2 who defeated it in the competition.
Design
[
]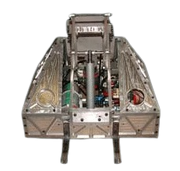 Derek was a four-wheel driven box-pyramid shaped robot with an emphasis on personalised engineering. Derek's chassis was made of machined aluminium and each piece was professionally milled using a CNC lathe. This provided thick and customised armour, albeit hard to replace due to its expense. For Series 5, Derek's weapons were a pneumatic forklift-style flipper, and a very small spinning disc at the rear. The team also intended to use argon gas to power the flipper, but had to switch to conventional CO2 to comply with the Robot Wars rules.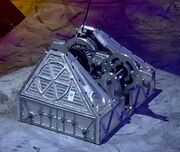 For Series 6, the team decided to build a vertical spinner as their new weapon after seeing 259's incredible performance at the qualifiers. This spinner was powered by a LEM, one of the most powerful motors available at the time. Derek! originally used a chain drive system but the team switched this out for a more reliable geared transmission system on Derek 2. Although Derek 2 now boasted powerful weaponry to compliment its thick shell, the robot could not self-right and it was immobilised relatively easily in both of its appearances.
Etymology
[
]
The name Derek was chosen by team member Andy Groves, who chose the name at random, with even the team having no clear reason behind the name choice.
"We needed a name for our robot, all the really good ones had been used like Razor, DrillaKilla, Chaos II, so we had to think really hard to get a good name that would express what our robot was all about ... Andy Groves came up with it "DEREK" and to this day we don't know why and probably never will."
— Carl Morris on the robot's name
Qualification
[
]
Building of the robot began in 1999, and the robot first entered the Series 3 auditions.
"Early in 1999 a brief conversation took place during coffee before we started work, about a new television program on BBC 2 the night before. The Program was Robot Wars, Frank asked enthusiastically if anyone had watched it? We were all big kids at heart of course we watched it and little did we realise the conversation would be the start of several years' of excitement and hard work for a few of us. Frank suggested that we give it a go ourselves as it looked like fun! So Ian sent off for the application forms and we started hanging around after work talking about different designs we had seen on the shows, trying to come up with a design for our robot."
— Carl Morris on entering Robot Wars
At the Series 3 auditions, Derek was still unfinished, and did not have a full armour shell. Despite this, it did well at the qualifiers, but the producers told the team they would have to finish the robot for them to be considered. The robot was damaged whilst driving in a pub car park shortly after the auditions, so the team failed to qualify for Series 3.
"it performed reasonably well destroying breeze block walls and running up and down ramps but the organisers told us to go home and finish DEREK off and put some body armour on it as all it was at that time was an open box. So what did we do? - well we went to the pub of course.... after some well deserved refreshments we decided to head home and redesign it but before we left the pub Andy Groves wanted a go driving DEREK and against Ian's better judgment he had a go. I can still see it now, the pub landlord was having a quiet pint out on the veranda overlooking the car park and Andy let rip with DEREK..... There was a bang and a little mini metro that was sitting there minding its own business took a whack to one of it's wheels and nearly rolled into the next car, it's tyre just ballooned up into an egg shape and everyone except me and ANDY legged it to their car's. It was left to me and Andy to pick up this lump of steel, rubber and batteries and throw it into the back of Andy's Land rover Discovery and escape. I don't know what the landlord of the pub thought was happening but we did not give him chance to find out."
— Carl Morris on the Series 3 auditions
Derek was developed over the next few months, but the team did not enter Series 4 because they were moving into a new factory at work.
Derek first attended the Manchester leg of the Series 5 qualifying tour in July 2001, where it lost to Bulldog Breed after its battery connector came loose and it lost all power, but was given a discretionary place because the judges felt it looked good and functioned well. Derek also took part in the qualifying event at Sheffield Arena in late July 2001, where it fought against Black Knight and S.M.I.D.S.Y. in one battle, and also fought DrillaKilla, which failed to qualify.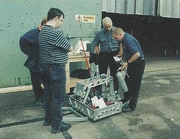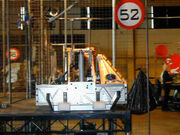 The original Derek fought Killer Carrot 2 and Night Raider to qualify for Series 6. Derek won the battle on a Judges' decision after Night Raider was quickly eliminated, and Derek then matched Killer Carrot 2 in a pushing stalemate[1]. The conversion from Derek to Derek 2 took place after the qualifier battle had already been won.
"The fight started badly, Night Raider got wedged in the pits, once under way we ripped it's battery lead off and that was the end of it. Then we got stuck into Derek, we shoved him around, but neither of us were really putting on much of a show... We shoved him about, and then he got his lifter tine [sic] stuck in the polycarb... couldn't release, and sowe [sic] ended, us shoving him about, him lifting us to stop it, then not being able to move ... Judges decision to Derek, prettier Robot, Adam was hacked off, I was releived [sic]."
— Team Dangerous Vegetables website
Robot History
[
]
Series 5
[
]
In the first round of the Fifth Wars, Derek! faced a tough draw against eleventh seed - and returning Semi-Finalist - Dominator 2. Derek! was immediately rammed by the much quicker Dominator 2, who swung its axe, but missed by centimetres. After the initial pushing and shoving from both robots, Dominator 2 slid beneath Derek and drove around, meaning that the Derek! forklift weapon gouged the wooden floor.
"Derek!, digging into the arena floor. Well, we don't take kindly to that Derek, with your little fangs, cutting up our lovely carpet as it were! Dominator 2, you are now on a mission for us then! To tidy things up!"
— Jonathan Pearce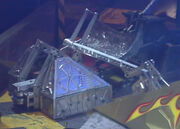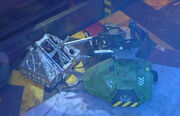 Dominator 2 then axed the internals of Derek! and pushed it into an arena side-wall, and reversed it into the wall where Derek! broke down completely. Derek! was hammered once again by Dominator 2 and once by House Robot Shunt. The Refbot closed in and counted out the immobilised Derek, eliminating it from the competition.
"Derek!, you're out. In comes Shunt. In comes Sgt Bash. Through go Dominator 2"
— Jonathan Pearce at the end of the battle
After the battle, the team discovered that their battery connectors had overheated when the spinning disc hit the floor (when Derek drove up Dominator 2's wedge, which was cut from the televised version) and caused a surge of current; this ultimately led to its immobilisation.
Despite its early exit from the competition, Derek! received the Best Engineered Robot Award at the end of the series.
Series 6
[
]
Derek 2 fought in the final Heat of the Sixth Wars. In the first round, it went up against long-time Robot Wars veteran Behemoth, former Extreme 1 Annihilator champion Disc-O-Inferno and series newcomer Tridentate.
Philippa Forrester: "Disc-O-Inferno's disc 1000rpm, yours 3000rpm."
Ian Rotheram: "There's going to be a few sparks, I think."
— Interview with the Derek 2 team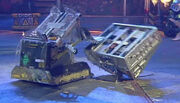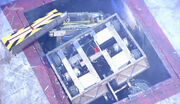 Derek 2 spun its blade up on the attack, but its own attack saw it ride up the front of Behemoth allowing the veteran to flip it over. After it was knocked back over by a weapon-to-weapon collision with Disc-O-Inferno, Derek 2 landed back on its wheels.Derek 2 then charged into Behemoth's side, cutting into the side pods of Behemoth and helping to disable half of its drive system in collaboration with Disc-O-Inferno. However despite causing critical damage to Behemoth, Derek 2 was then hit side-on by Disc-O-Inferno, being thrown into the arena side wall and becoming immobile.
Derek 2 was later counted out by Refbot and was declared the first to fall in the battle. At the end of the battle it was placed on the Floor Flipper, along with the similarly immobile Tridentate, with both competitors being thrown across the arena simultaneously. Derek 2 was briefly taken into Sir Killalot's CPZ, before the latter eventually pushed it into the pit to join Behemoth and Tridentate. With this, Derek 2 was eliminated from the Sixth Wars along with Tridentate.
Results
[
]
Wins/Losses
[
]
Series Record
[
]
Gallery
[
]
Outside Robot Wars
[
]
" It is in retirement now in my granddaughter's attic playroom and Derek has kindly donated some of its parts to many pieces of our production equipment over the years"
— Carl Morris on Derek after Series 6[2]
After its appearances on Robot Wars, Derek was retired and kept in the home of Carl Morris' young granddaughter, while other parts of Derek were returned to the team's engineering projects.
Trivia
[
]
"during one series of recordings I was on holiday and unavailable so Ian got a cardboard cut-out version of me made to take with them to the recording. The cut-out was kidnapped by an Italian TV presenter I believe for some sumo wrestling bouts but he later gave us it back, I must have been too tough for him…"
— Carl Morris on the cardboard cut-out of himself
For Series 5, team member Carl Morris could not attend filming, so instead a cardboard cut-out of him was taken to filming. This was supposedly hijacked by a presenter of the Italian dub of Robot Wars for a skit.
Derek won its Best Engineered Award, becoming the only robot to lose a fight to another robot but win an award where the winning robot was a nominee.
Both of Derek's battles featured a former semi-finalist who also finished as a runner-up in a side competition.
Both of Derek's battles featured Shunt as one of the House Robots and also involved it becoming immobilised and getting counted out by Refbot.
Killer Carrot 2, who Derek 2 beat in their Series 6 qualifier, appeared in the same heat as Derek 2 and both robots lost to Disc-O-Inferno in that heat.
References
[
]
External Links
[
]
Honours
[
]