Derek Foxwell is a British engineer, most famous for his role as Senior Technical Consultant on the UK robot combat game show Robot Wars and its spin-off Techno Games. He was responsible for overseeing the running of all series of Robot Wars prior to Series 8, although his involvement dates back earlier than this.
In 1995, Foxwell was commissioned by the BBC to design three robots for the 1995 UK Open Championship, one of which was possibly The Mouse. After the success of the pilot, Foxwell was taken on full-time as a technical consultant, alongside Mat Irvine, who was later promoted to the judges panel.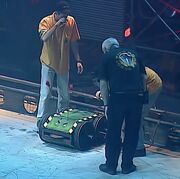 Foxwell took on many roles in his capacity of Senior Technical Consultant; these included drafting the Technical Manual, producing and enforcing the show's technical and sporting rules, giving advice to roboteers, assisting with repairs, and overseeing the weigh-in and scrutineering processes with robots intending to compete. Foxwell worked with his wife Val Foxwell, who was in charge of Transmitter Control. He is also credited with the creation of the unseen House Robot Shove, which was primarily used to clear the arena of immobile robots and debris following battles.
Derek Foxwell also made a few on-screen appearances throughout various versions of Robot Wars, usually to assist competitors who were encountering technical problems in the arena or to address certain scenarios relating to the show's rules. He also appeared in various interviews, including two with Jonathan Pearce during the second series of Robot Wars Extreme, and at least two with Micke Dubois in the Swedish version of Series 4, where he explained the show's weigh-in and scrutineering processes in Heat K[1] and his involvement with the show in Heat P.[2]
Outside of Robot Wars, Foxwell is keenly interested in model planes and R/C cars, designing and competing with them.
References
[
]