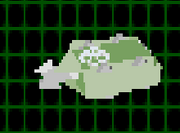 Destructive Criticism was a competitor from Season 2 of Robot Wars: Extreme Warriors. It was very successful, tearing apart several opponents before falling to eventual champion Panzer Mk 4 in the second round of the Grand Final. Destructive Criticism's only video game appearance was in the Game Boy Advance version of Robot Wars: Extreme Destruction, and is unlocked when the player beats the Gold level of Studio in Bash 'N' Dash mode.
Appearance and Armament
[
]
Destructive Criticism is a four wheel drive, invertible box shaped robot armed with a spinning disc, just like its real life counterpart.
Strategies
[
]
Using Destructive Criticism
[
]
Destructive Criticism has a powerful saw at the front, so try and attack your opponents at the side. Destructive Criticism is also quite strong compared to other robots. At the rear it also has great pushing power, so try and push them in the pit.
Against Destructive Criticism
[
]
Destructive Criticism may be invertible, but can be stuck on its side rather easily like other robots in this game. it is also easily flipped by a front-hinged flipper such as Firestorm.
Differences from Real Life
[
]
The disc functions similarly to a circular saw or cutting blade, rather than a horizontal flywheel.
Destructive Criticism's chassis is coloured entirely green, while in real life the bars surrounding the wheels are unpainted.
The wheels are completely covered up at the sides, instead of just being protected by the chassis bars.