Devil Rider was a robot built by Team Death to compete in Series 6 of Robot Wars. Despite immobilising Ming 3 in its qualifier, Devil Rider proved to be the only Team Death entry which did not qualify for the televised series.
Design
[
]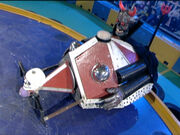 Devil Rider was a two-wheel driven robot driven by secondhand dodgem car motors, and built around an internal combustion engine. It boasted reasonable speeds, at the cost of a high ground clearance, particularly at the rear. Devil Rider's weapon was a 12" bar spinner, two inches in thickness, powered by the internal combustion engine and braked by a solenoid rubber plunger against the flywheel. This was the most effective weapon built by Team Death to date, capable of immobilising Ming 3, although it was easily pushed around. As with all Team Death machines, its armour was largely decorative, proving easy to damage, but gave the robot a unique aesthetic.
Etymology
[
]
Colin Scott has remarked that although Devil Rider was the name of the machine for Techno Games 2003, it likely used a different name for Robot Wars, although Scott cannot remember what this name may have been. After fighting it in the qualifiers, The Hassocks Hog team simply referred to the robot as "Immortalis"[3], the name of its predecessor.
The Team
[
]
Main article: Team Death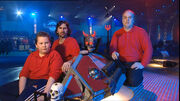 Devil Rider was the fourth machine built by Team Death, a group from Ossett in West Yorkshire led by team captain Colin Scott, a market salesman. He was joined by his friend Stephen Keating and son Jordan Keating. In Techno Games 2003, Stephen Keating was the driver of Devil Rider. Team Death had previously competed with Piece de Resistance, Death Warmed Up and Immortalis before building Devil Rider.
Qualification
[
]
In its qualifier battle for the Sixth Wars, Devil Rider took on the experienced Ming 3 as well as newcomers Revolution 2 and The Hassocks Hog. At the very start of the battle, Devil Rider targeted Ming 3 and used its bar spinner to knock out Ming 3's removable link for an instant knockout. However, soon after this Devil Rider became stuck on the uneven floor, and after thirty seconds it was counted out. After it had been eliminated from the fight, Revolution 2 and The Hassocks Hog collided with Devil Rider and freed it, allowing all three robots to fight on, although only Revolution 2 or The Hassocks Hog could now win the fight. On a Judges' decision, The Hassocks Hog won the battle and automatic entry into the Sixth Wars, while Ming 3 and Revolution 2 were also selected to compete - Devil Rider, however, was not chosen to compete in the series.
Series Record
[
]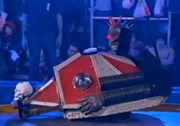 Although Team Death did not enter Series 8, Colin Scott's creation, Chimera, competed under ownership of a new team, who also entered Chimera2 into Series 9.
Outside Robot Wars
[
]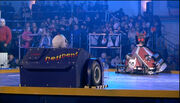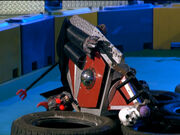 After Devil Rider had attempted to qualify for Series 6, it competed in Techno Games 2003 without the use of its bar spinner. This caused the machine to rear up on a drive more often. Devil Rider fought Hellbent in the Sumo event where it was pushed off the ring after 50.40 seconds, eliminating Devil Rider in the first round of the competition.
References
[
]