"Dozer was built by and the property of Derek Foxwell. It was used to clear the arena on the RW live tour (aka the auditions) for S5 (and S6?)."
Dozer (entitled as Dozzer on the robot) was an unseen House Robot which was built and exclusively used by the Robot Wars production crew. It was built around the time of Series 5, based upon the original designs for Shunt and the previous unseen cleaner House Robot, Shove, however sporting many differences. Dozer was used for the Series 5 qualifiers and live tour before being used for Series 6 and 7 to clean up debris from the Drop Zone.[2]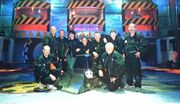 Dozer was based upon the original designs for Shunt and was a large, four-wheel drive robot built by Derek Foxwell, with a box-shaped chassis and a tall body resembling that of a large bulldozer, similar to that of Shunt. It greatly resembled its predecessor Shove in design, which was inspired by Shunt itself - for example, like Shove, the top part of its body featured black-painted panels resembling front and side windows, and the robot was equipped with a front shovel/scoop, which was smaller than Shove's original scoop and was used to clean up Drop Zone debris. Dozer also featured a rear hammer-like appendage, although its actual purpose is unknown. Dozer was slightly thinner than Shove in terms of the top body armour and was lighter in colour. Like Shove it featured a four-wheel drive system which utilised multiple Etek motors, making it twice as powerful as fellow House Robot Growler; the wheels themselves were protected by wheel guards consisting of metal beams and mesh.
Appearances in Robot Wars Media
Edit
Although Dozer never actually appeared in any episode of Robot Wars, it did feature in the Sir Killalot and the House Robots video/DVD, part of the Ultimate Warrior Collection. It appears without its bodyshell as part of a segment where Chris Reynolds explains how each of the House Robots' drive systems work, using it's four-wheel drive system. Reynolds described Dozer's chassis as being 'your basic robot chassis', implying its simplicity compared to the other House Robots. Dozer also frequently appears in the background throughout the course of the programme, whilst Reynolds is going through the technical aspects of the other House Robots.
References
Edit
↑ https://www.facebook.com/groups/UnofficialRobotWars/permalink/779237542356013/?comment_id=779263752353392&comment_tracking=%7B%22tn%22%3A%22R0%22%7D
Community content is available under
CC-BY-SA
unless otherwise noted.