Dystopia is a heavyweight robot which attempted to enter Series 8 of Robot Wars. It was not chosen to compete in the series, although it was active at live events around the time Team. Ablaze sent their application for qualification.
Dystopia was originally built by John Findlay as a new version of Ripper, which won the 2011 UK Championship as well as several other smaller championships including the Winter Tour. The robot gained its current name and appearance when it was sold to Gareth Anstee of Team. Ablaze in 2013.
Aside from team captain Gareth Anstee, Team. Ablaze also includes Laurie Calvert, builder of Lightning, Mike Onslow of the International Wreck Crew, and Chris Smith. Gareth Anstee would later join The Greenwich Greats to enter Series 9 with Trolley Rage, and did not apply for Series 10 due to clashes with exams[1].
Design
[
]
Dystopia is a wedge-shaped robot armed with a full-pressure pneumatic flipper. The flipper features a distinctively wide front plate to increase its surface area, with three smaller sections intended to help Dystopia get underneath opponents easier. This allows Dystopia to flip other robots over and out of the arena during live events.
The robot is painted black, red, blue and white, and is themed around a futuristic police vehicle, with red and blue LEDs and black police badge motifs painted on its flipper and back panel.
Series Record
[
]
Outside Robot Wars
[
]
Dystopia regularly competes at live events with considerable success, effortlessly capable of throwing other robots out of the arena at some point throughout its appearances.
After receiving an internal upgrade for 2015, Dystopia was entirely rebuilt for 2016, and competed in the 2016 FRA UK Heavyweight Championship as part of the Robots Live! Stevenage event. It reached the quarter-finals after flipping Photon Storm out of the arena, but was flipped out itself by Manta and lost its losers melee after becoming immobilised by Nuts and eventual champion Gabriel. However, it still won the Robots Live! Challenge Nut at the same event.[2]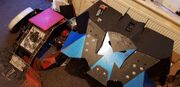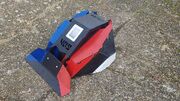 In July 2017, Team. Ablaze officially announced on Facebook that a new version of Dystopia was being worked on, featuring comprehensive 'all-round upgrades' and interchangeable weapons.[3] The original version of Dystopia was fully retired in 2018. In November 2019, Gareth Anstee revealed that work on the new Dystopia (designed in CAD by Adam Hamilton) had started, with an initial plan to compete with it at live events in 2020.[4] By the following September, work on the new build had progressed far enough for it to begin testing ahead of a 2021 debut.[5] In October 2021, the new Dystopia fought for the first time at the Robots Live! event in Crawley.[6]
In addition to Utopia, Gareth Anstee also competes in featherweight events with Defector, which is armed with a longer and narrower flipper, and finished fourth at the 2014 FRA UK Championships. He has also competed in antweight events with DystopiAnt and DefectAnt, miniature replicas of Dystopia and Defector built by Alex Shakespeare. DystopiAnt won the Ant Freeze 4 event in January 2017, with DefectAnt finishing fourth at the same event.[7]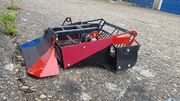 Dystopia also has a featherweight counterpart, Utopia, which was initially a scaled-down replica of Dystopia, before Gareth Anstee worked with Andy Russell to create a new design for Utopia which Gareth Anstee built in time for the FRA Featherweight International Championships 2017. The newest version used an intentionally basic open-plan design to inspire new builders, as well as a front-mounted pneumatic flipper. After a long undefeated run, Utopia encountered a gas leak, and settled for fourth place when defeated by 722 in the semi-final, and Amnesia in the play-off.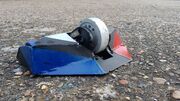 The following week at the European Beetleweight Championship, Team. Ablaze competed with R.P.M., a past success which had been re-branded under the team uniform. Armed with a vertical spinner, R.P.M. finished fifth, when it was knocked out by the eventual champion.
Gareth Anstee competed in the Chinese show This is Fighting Robots, as a part of Team Immersion and their robot Bonfire. For more information, see here.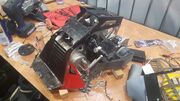 In August 2018, Utopia competed in the inaugural King of Bots UK featherweight championship, sporting a new 'exoskeleton' design after its newest version was not ready to compete. It performed strongly in its first battle against Barróg and Bane, only to be grabbed and pitted by the former, which also fell in the pit at the same time. However, the judges ruled that Barróg had hit the bottom of the pit first, leaving Utopia victorious. However, it was less successful in its following two matches, taking severe damage in its final loss to Get Shrekt, relegating Utopia to the eight-way battle to qualify for the Top 20. Utopia was one of only three robots active at the end of the time limit, but ultimately lost the Judges' decision to Barróg. However, after Tempest withdrew, Utopia replaced it within the Top 20 and fought the fellow substitute Calabash Bros, but it was quickly overturned and defeated, and was finally eliminated by DB12 during its losers' melee.
For more information on Gareth Anstee's work as part of the Greenwich Greats, including a new heavyweight robot named General d'Meaner, see Trolley Rage.
Robot Wars Live Events
[
]
After competing in live events as Ripper with considerable success, the robot was sold by John Findlay to Team. Ablaze in 2013, who proceeded to repaint it and rename it Dystopia. Dystopia first fought in the 2013 Winter Tour, but suffered from reliability problems that prevented it from achieving any particular success. Eventually, its age started to show, and Dystopia was extensively rebuilt in 2014 with new electronics, upgraded pneumatics and a revised paint scheme.
At its first returning event in 2015, held at Barnsley, Dystopia went on to win the championship, despite being low on power. Dystopia was thus seeded 8th for the 2015 World Championship, despite only competing in one event so far that year. At the World Championship, Dystopia reached the final 16 before being jointly flipped out by Manta and Iron-Awe.
Dystopia closed off 2016 successfully, placing second in the last Robot Wars live event in Maidstone, falling to Ripper in the final, having progressed through the opening melee with Ka-Pow!, before immobilising both Thor and Rattler to face Weird mAlice in the Semi-Final (which was won in less than five seconds).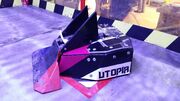 Gareth Anstee also competed in featherweight battles with a scaled-down version of Dystopia, known as Utopia, which at the time was an extensively rebuilt version of Rip Evo.
Trivia
[
]
The police badge motifs painted on Dystopia's flipper and back panel are silhouettes resembling the central part of the Robot Wars logo.
References
[
]
External Links
[
]