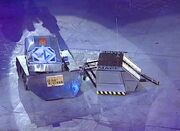 Flails are a loose hanging type of rotating weapon.
Definition
A flail is a spinning weapon that dangles loosely, usually by a chain. When it gets up to speed, it "flails" around, hence the name. Flails were sometimes used in conjunction with Full-body spinners, their flexible designs helped prevent backlash to the robot's shell.
Advantages and Disadvantages
Advantages
The flailing motion of the blades increases the amount of kinetic energy they carry. This allows them to cause more damage than an equivalent rigid weapon.
Flails absorb shocks better than rigid blades.
Disadvantages
Flails are prone to breakage, which could leave the robot spinning wildly off-balance. Mauler was infamous for flipping itself due to stability issues.
A dangling flail can often restrict a robot's ability to self right.
List of Robots with Flails
Robots are listed alphabetically. Robots that failed to qualify are listed with a blue background.
| Robot | Series Appearances with Flails | Notes |
| --- | --- | --- |
| Caliban | Series 2 | Pioneer of flails. Interchangeable with a full-body spinner |
| Hoot | Dutch Series 2, Nickelodeon | Loanerbot |
| Humdrum | US Season 1, Nickelodeon | Loanerbot |
| Inquisitor | Series 2 | Was destroyed by Razer before it had the chance to be used. |
| Jackson Wallop | Series 7 | Attached to a spinning disc. Largest body-to-weapon ratio allowed |
| Joker | US Season 2, Nickelodeon | Attached to an angled spinning disc |
| Mace | Series 2-3 | The flail weapon prevented Mace 2 from self-righting in the Semi-Finals. |
| Marauder | US Season 2 | |
| Mauler | Series 3 | Not allowed to compete due to safety concerns. |
| Scrap Dragon | | |
| Tantrum | Series 2 | |
| The Parthian Shot | Series 2 | Never made it into the arena |
| Tornado | Series 7 | One of its interchangeable weapons |
| Victor 2 | Series 3 | Interchangeable with a lawnmower blade |
| Whirling Dervish | Series 2 | |
| Whirlpool 70 | Extreme 1 | |