Flepser was a robot that competed in Dutch Robot Wars: Series 2. After defeating Series 1 Grand Finalist Bamm Bamm, it was torn to shreds by another former finalist, Twisted Metal Evo in the Heat Semi-Final.
Flepser was a tall, classic wedge-shaped robot. Its main weapon was a low pressure front-hinged triangular flipper, which only opened a small distance at speeds more like that of a lifter, but was capable of defending the robot's internals, much like Spirit of Knightmare. The rear of Flepser was decorated with a face and armed with a spike, which raised in conjunction with the flipper, and also had a small wedge underneath it, combining with the robot's 'face' to form a beak-like design.. Flepser was fast on its two-wheel drive, and had a reasonably low ground clearance on its wedge, but its exposed wheels and thin armour proved costly.
Robot History
Edit
Dutch Series 2
Edit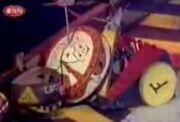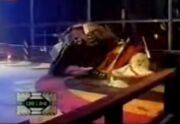 Flepser pulled off a major surprise in the first round against previous Grand Finalists Bamm Bamm. It pushed Bamm Bamm against the arena wall and held it there with its flipper, activating the pit at the same time. Flepser drove near the pit before attacking Bamm Bamm again, almost flipping it, and getting Bamm Bamm to get its axe stuck on the arena wall. In the rest of the battle, Bamm Bamm fought back, trying to pit Flepser, but Flepser was awarded the judges' decision.
In the next round, Flepser fought Twisted Metal Evo. Twisted Metal Evo's first attack ripped through Flepser's flipper. Twisted Metal Evo activated the pit and almost drove straight in, but escaped and punctured one of Flepser's tyres, leaving it to spin round in circles. Flepser held its own until it was pushed into Matilda's flywheel, flipping Flepser onto its side and shattering one of Flepser's wheels. The next attack by Twisted Metal Evo almost made it bounce straight into the pit of oblivion and hand victory to Flepser, but Twisted Metal Evo once again managed to get away. Flepser took terrible punishment from Matilda before Growler dragged the carcass of Flepser to the Floor Flipper and then The Drop Zone, where a set of wheels were dropped onto it, before finally pitting it.
Wins/Losses
Edit
Series Record
Edit
Community content is available under
CC-BY-SA
unless otherwise noted.