Philippa Forrester: "So you're responsible for making this flip flop thing? What's it called?"
Conrad Snook: "Flip Flop Fly"
Philippa Forrester: "Because it can flip, flop and it can fly."
— Brief pit report
Flip Flop Fly was a robot which competed in Series 3 of Robot Wars. Entered by the Snook family, who would later go on to build the Tetanus series of robots, it reached the second round before losing to Evil Weevil.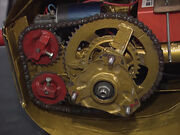 "An Anglo-French project! Building started in France with a moped, was finished in England with truck parts. The weapons; spikes and a rolling axe. He's not shy, Flip Flop Fly!"
— Jonathan Pearce introduces Flip Flop Fly
The robot was made up of a lot of parts from a French moped, and had the wheels from a Citroen 2CV car. It was an axlebot with a multi-coloured barrel shaped body and an axe on a fixed arm that swung overhead when stopped, a lot like Stinger. It was somewhat ponderous around the arena, running on four winscreen wiper motors, but was relatively well armoured for its time.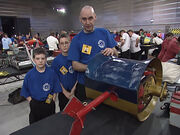 Flip Flop Fly was built by a Hereford-based team, captained by father Paul Snook. His young son Conrad Snook was also a member of the team, and the similarly aged Luke Angell completed the team. Flip Flop Fly's team would later compete in Series 5, 6 and 7 with the Tetanus series of machines.
Robot History
Edit
In its only victory, Flip Flop Fly fought Wild Willy as part of Heat L in Series 3.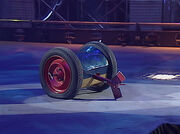 Wild Willy started much faster and used its axe many times. It attacked Sergeant Bash while Flip Flop Fly wobbled around the arena. Wild Willy then pushed Flip Flop Fly into the arena wall. One of Flip Flop Fly's tyres had been punctured, leaving it with very limited mobility. However, Wild Willy then mistakenly drove into the pit. As Flip Flop Fly was still just about mobile, the judges gave it the victory.
In the Heat Semi-Final, it faced Evil Weevil.
"It's a bit of a strange contraption, we don't really know what to do with it! We're going to push it around a bit and see what happens."
— Kevin Pritchard of Evil Weevil on his opponent
Evil Weevil escaped Flip Flop Fly's weapon and drove into the it repeatedly, before the House Robots ganged up on it. Despite no major damage bar another punctured tyre, Flip Flop Fly was deemed immobile and was eliminated from the competition.
Wins/Losses
Edit
Series Record
Edit
After Flip Flop Fly and Wild Willy fought each other in Series 3, both teams would later face off again in Series 6 with separate machines, with Tetanus 2 and Cyrax qualifying through the same first-round melee together.
Community content is available under
CC-BY-SA
unless otherwise noted.