"Family team, the Duhys have compressed air spikes to protect, attack and right the robot if it's flipped. The front end raises and lowers, just like expectations, I guess. Neat and trim this one, though."
— Jonathan Pearce introduces Flipper
Flipper was a competitor robot which appeared exclusively in Series 3 of Robot Wars. It was initially not selected to compete, but was instated as a reserve after The Parthian Shot withdrew. Despite showing good speed in its only battle, it lost against Ultor after becoming immobilised.
Design
[
]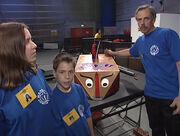 The Essex-based robot was a plain box wedge, with a small axe. The axe was claimed to be able to act as a small flipping arm like Cassius, but it was never seen in this capacity, although it could adjust its ground clearance at the front like Cassius.
Flipper also featured compressed air spikes used for protecting the robot, self-righting and attacking opponents, with the main spike on the top of the robot that could extend, pushing Flipper back onto its wheels.
Etymology
[
]
Due to Flipper's rather dolphin-like appearance, it is possible it was named after the famous film dolphin, rather than being named after its weaponry.
Robot History
[
]
Series 3
[
]
In Heat D of the Third Wars, Flipper was drawn up against fellow newcomers Ultor in its first round battle.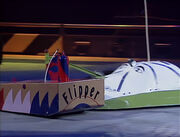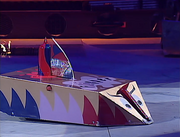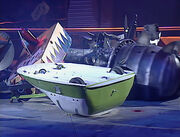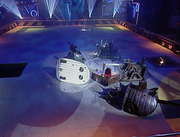 The robots dodged each other for a while, before Flipper reversed over and glanced off its opponent. Ultor chased Flipper, axing the Essex machine once but causing no apparent damage. However, soon afterwards, Flipper broke down. Ultor nudged it near the pit of oblivion. Flipper was then attacked by Shunt, Dead Metal and Sgt. Bash, before being deemed officially immobilised, eliminating it from the competition. Shunt then punched holes into Flipper's top, and a piece of armour was then sliced apart by Dead Metal, before cease was called.
"Literally hanging on by a metallic sliver"
— Jonathan Pearce exaggerating the damage done to Flipper by Dead Metal
Results
[
]
FLIPPER - RESULTS
Series 3
The Third Wars - UK Championship
Heat, Round 1
Heat D, Round 1
vs. Ultor
Lost
Wins/Losses
[
]
Series Record
[
]
Trivia
[
]
During Philippa Forrester's walk around the pits at the beginning of Heat D of Series 3, Flipper did not appear, as it was a substitute. Since Philippa didn't refer to The Parthian Shot by its name, and the robot was only partially assembled, it was simply labelled as its replacement, Flipper.