Flybot was a featherweight robot from Team BlazerBotics, which competed in the Featherweight Championship of Robot Wars Extreme: Series 2. One of two featherweights entered by the team - the other being Gladiator - it performed strongly in its heat, but lost after pushing Kitty into the pit and falling in itself seconds later.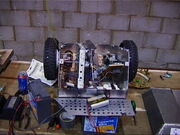 Flybot was a silver and black robot with a slanted box-shaped body and two-wheel drive, and had an learner driver's plate on its back. Its weapon was a long electric lifting arm, which proved effective in its only appearance.
Main article: Team MAD
Flybot was built by Team BlazerBotics, nowadays Team MAD, consisting of the young brothers Alan and Dave Young. Whilst Dave Young entered the Featherweight Championship with Gladiator, Flybot was controlled by the older brother Alan Young in its only battle. After Flybot was eliminated, Dave Young would then join the Gladiator team for the final in Extreme 2. Alan Young then entered Series 7 with the featherweight Alpha, and would eventually join his younger brother on the Apollo team in Series 10, having led the construction of the machine.
Robot History
Edit
Extreme 2
Edit
Flybot competed in the Featherweight Championship, broadcast as part of the Robot Rampage episode. In its heat, it fought fellow Team BlazerBotics featherweight Gladiator, as well as Cutlet, Dragon, Kitty and Micro-Mute.
"Flybot, top of your picture, making an early push."
— Jonathan Pearce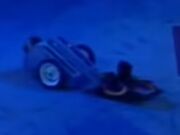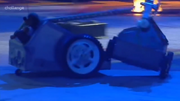 At the start, Flybot pushed Dragon away, before lifting Kitty up onto all four wheels. Kitty drove back down onto two wheels, before Flybot pressured it towards the pit, hooking its lifting arm under Kitty's wheel and flipping it in. However, this also caused Flybot to lose balance and throw itself head-over-heels into the pit as well.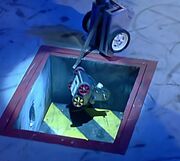 "Flybot and Kitty duelled together, good fight it was, Flybot pushing Kitty, then towards the pit, and oh dear they both toppled in!"
— Jonathan Pearce
Flybot was eliminated from the Featherweight Championship as a result, with it and Kitty eventually being joined in the pit by all of the remaining competitors and Refbot.
Wins/Losses
Edit
Series Record
Edit
NOTE: Monte, a robot built by Team MAD, was also loaned to Paul Streeter in order to enter the 2016 pilot
Outside Robot Wars
Edit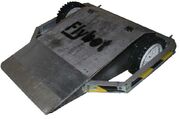 After Flybot's appearance on Robot Wars, Dave Young built a successor, Flybot Mk2, a wedge-shaped featherweight running on two wheels, providing an invertible drive system.
Community content is available under
CC-BY-SA
unless otherwise noted.