Force Majeure was a robot that was intended to enter Series 5 of Robot Wars. However, it was not finished in time for the series qualifiers, and withdrew from the application process as a result.
Design
[
]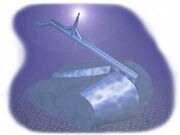 Force Majeure's weapon was similar to Hammer & Tong in that it was a spiked axe that could also be used as a lifting arm, capable of lifting up to 400kg. It was armed in titanium, and had top speeds of 16mph. The team also considered a plethora of alternative weapons before settling upon the spiked axe.
Qualification
[
]
The team originally intended to enter Series 2, but they did not finish their robot in time to enter. The original concept was a robot with a lifter powered by a pneumatic bag.
The team then considered arming the robot with a hammer, planning a jointed hammer design, but rejected this idea for being too complicated. The idea of arming the robot with a flywheel was also rejected for being too complicated.
In January 2000, the team posted their intentions on the Robot Wars forum, and Tim Woodburn of the Anvil team contacted them, claiming that he would like to help with the robot. Via email, Tim and the team discussed the design over the course of February, before a design was drawn in March. However, Tim Woodburn left the project in May to work on Anvil. [2]
Fortunately for the team, they managed to construct the robot in time for testing. During testing, the team found that Force Majeure was relatively quick, reaching a top speed of 16 mph. The lifting arm could lift up to 400kg and the armour was durable titanium plates.
The robot was not finished in time to attend the qualifiers for Series 5, so the team withdrew, and the team decided to give up their plans and sell the parts of the robot.
Series Record
[
]
NOTE: Original team member Tim Woodburn competed in Series 1 of Robot Wars Extreme with Anvil.
References
[
]
External Links
[
]