"I have been playing with this robot in the garden, and its a bit of a beast. The spiked chain will pick up all kinds of large household appliances."
— The team on testing Forklift's Revenge[1]
Forklift's Revenge was a wedge-shaped robot which competed in Series 3 of Robot Wars, falling in the first round to Suicidal Tendencies after being pitted by Sir Killalot. It was the successor to Series 2 reserve robot Forklift.
Design
[
]
"We used the basic chassis from forklift (its the bit I spent the most time on, and wasn't kept together with cable ties) but removed the fork runners, and extended the subframe, so that we could attach the armour plated directly to it, rather than the silly clamshell design we had last time"
— The Forklift website on building Forklift's Revenge[2]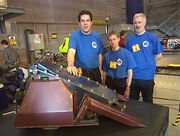 The robot was made from a welded steel tube body frame, and had MDF and steel panels. Forklift's Revenge featured wedge shaped forks made from industrial shelving for attacking low ground clearances, but its main weapons were two chains that ran up the wedge. These chains were toothed, so that they could hook other robots and drag them over its body. However, it was unable to use these to good effect against its only opponent Suicidal Tendencies. The Forklift's Revenge website claims it ran on two 120w wheelchair motors (on a 70A speed controller)[3], whilst the TV show claimed it ran on four wheelchair motors.
"The control systems were shrunk to a quarter of the size, and tidied up. We kept the old microswitch setup, so that we had backup if the speed controllers failed. With this setup, we could loose both speed controllers (weapon+drive) and still have a functioning robot (change to switched drive, and run the weapon continously)"
— The Forklift's Revenge website[4]
Qualification
[
]
"We still have yet to hear from Mentorn after the auditions.... 360 robots this year, and dispite a vastly improved robot, I have no idea how we will do."
— The team on the auditions process[5]
Forklift's Revenge attended the auditions for Series 3, and the team did not initially hear back from Mentorn on whether or not they had qualified, but it was later confirmed that Forklift's Revenge had qualified.
Robot History
[
]
Series 3
[
]
Forklift's Revenge competed in Heat A of Series 3, where it faced Suicidal Tendencies.
The two robots immediately slammed into each other in the middle of the arena and Suicidal Tendencies drove right on top of Forklift's Revenge's wedge, but got away. It then drove behind Forklift's Revenge and slammed into it, breaking some of its teeth off. Forklift's Revenge then ripped part of the Arena Flipper chevron tape off with its forks. Suicidal Tendencies pushed Forklift's Revenge towards the flame pit and into Sir Killalot's Corner Patrol Zone. Sir Killalot hooked its drill lance onto Forklift's Revenge's chains, allowing it to flourish in mid-air, holding it up and rolling it over in midair several times, at one point slamming it onto the ground, but picking it up again.
"This is a mere bauble - a toy - for Killalot - that's rather gruesome, all those weeks' works coming to naught, coming to a gruesome end..."
— Jonathan Pearce as Sir Killalot carries Forklift's Revenge
Sir Killalot took Forklift's Revenge over to the pit, dropping it in. This eliminated Forklift's Revenge from the competition, despite only entering the CPZ before being defeated outright.
Results
[
]
Wins/Losses
[
]
Series Record
[
]
Gallery
[
]
Trivia
[
]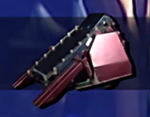 During its battle with Suicidal Tendencies, Forklift's Revenge's wedges pulled free a piece of tape that marked the area of the arena floor flipper.
Team member Bob Benton used to collect tumble dryer doors in his garage.
External Links
[
]
References
[
]