Forklift was a competitor robot that fought in the Reserve Rumble, held at the end of Robot Wars: The Second Wars. It lost the Rumble after driving itself into the PPZ and being attacked by the House Robots, sustaining severe damage in doing so.
John Benton would later compete in Series 3 of Robot Wars with a new team, and a new robot, Forklift's Revenge.
Forklift was a large orange, trapezoidal-shaped robot with steep front and rear wedges and a set of lifting spikes designed to resemble a forklift, hence its name. The lifting spikes were powered by a car windscreen wiper motor. Despite its size, it only weighed 55.4kg, making it one of the lightest heavyweight robots to compete in Robot Wars.
Robot History
Edit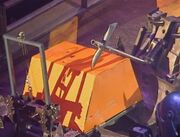 Having not been selected to compete in the main competition, Forklift appeared in the Reserve Rumble, which was broadcast as part of the Grudge Matches special. There, it fought Lateral Thought, Malice, Bumblebot and Jim Struts. Very little was seen of Forklift in the early stages, although it eventually drove into and nudged Jim Struts. Forklift backed away, only to suddenly stop in the middle of the arena. It eventually spun round and dodged an attack from Bumblebot, but drove into the PPZ in doing so and was promptly attacked by Dead Metal and Shunt. Shunt axed Forklift several times as Dead Metal grabbed it by the lifting spikes, leaving several holes through its bodyshell, before Sir Killalot came in and lifted it with his lance. Forklift was dragged and flipped onto its back in the process, before Sir Killalot grabbed it by its chassis and lifted it again. This caused Forklift's shell and a ballast brick to come loose as it was carried towards the Flame Pit.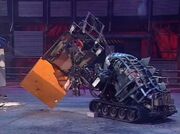 "It's gonna be burnt - it's on fire, Forklift! A fiery Forklift... well I don't think we've seen a robot mashed up quite like this one!"
— Jonathan Pearce as Forklift is burnt and pitted
There, Forklift's electronics caught fire, before Sir Killalot threw it onto its back and pushed it into the pit, minus its armour. As a result, Forklift was eliminated from the Reserve Rumble, which was eventually won by Jim Struts.
Wins/Losses
Edit
Series Record
Edit
External Links
Edit
Community content is available under
CC-BY-SA
unless otherwise noted.