"Nothing LA-confidential about this team from the West Coast, well known after six years together. Watch for a frenzied attack from the mighty axe, and at 209.4lbs, the heaviest here."
— Jonathan Pearce introduces frenZy
frenZy (also spelt as Frenzy) was an American competitor robot which fought in the War of Independence, broadcast as part of Series 4 of Robot Wars. Representing the USA, it reached the final before losing to UK series veteran Mortis, finishing runner-up overall. It also finished runner-up in the unaired MTV Pilot, losing to Mauler in the final there.
frenZy was designed by Patrick Campbell, a mechanical design engineer who works for Pace Technologies of Sun Valley, California. He was joined by his wife Joanna for the War of Independence, alongside his Team Minus Zero teammates George Melero and Emil Demillo, although only the latter two were mentioned on frenZy's statistics board during its introduction. Team Minus Zero would later fight in Season 2 of Robot Wars: Extreme Warriors with The Bat.
Design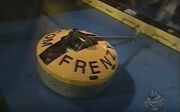 frenZy was a yellow and silver, circular-shaped robot made out of CNC-machined 6061-T6 aircraft aluminium, and armed with a powerful titanium spiked hammer as its weapon. The hammer, alternately referred to as an 'axe' or a 'meat tenderiser', was electrically-operated, and capable of acting as a srimech as well as inflicting substantial amounts of damage to other robots.
At 95.1kg, frenZy substantially exceeded the weight limit at the time of its appearance in Robot Wars.
Robot History
Series 4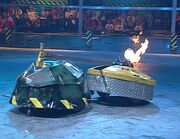 frenZy was one of four robots to represent the USA in the War of Independence, broadcast as one of several Christmas specials for the Fourth Wars. In its first-round battle, it fought UK competitor Detonator, and immediately smashed Detonator's top panel several times with its hammer after driving up to it. Detonator drove away, but frenZy continued attacking, repeatedly hammering Detonator until its top panel became almost completely flattened. In doing so, frenZy momentarily got its hammer stuck in the arena floor, but was freed by Matilda and continued pounding Detonator until it was able to get its hammer impaled through its shell and drag it along. frenZy then pushed and whacked Detonator before inflicting more hammer blows and steering it towards a flame jet, where Detonator promptly caught fire.
"Ooh, dear oh dear! There's a rhythm to it, a menacing, awful tattoo being beaten out there by the drum of frenZy's great axe, masher, tenderiser! Hardly kind to tender hearts!"
— Jonathan Pearce as frenZy attacks the immobile Detonator
More attacks from frenZy dislodged Detonator's top panel, before frenZy repeatedly hammered Detonator's now-exposed internals until the House Robots dispatched Detonator via the Floor Flipper and the pit. Following this dominant performance, frenZy advanced to the second round.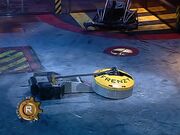 There, it faced Ming 2. frenZy initially did not drive away from Ming 2's initial charge, but its first blow immobilised Ming 2 immediately and allowed it to inflict a flurry of hits on the UK representative's flipper. Eventually, frenZy slipped off of Ming 2's wedge and began attacking it from the side, repeatedly striking its top panel and wheels until Sergeant Bash and Dead Metal came to damage Ming 2 and send it to the arena hazards.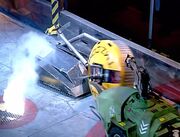 frenZy progressed to the final, where it fought former UK series Semi-Finalist Mortis. Again, it was slow to dodge Mortis' initial charge, but was scooped under, pushed and thrown onto its back by Mortis. frenZy self-righted, but was hammered and lifted again by Mortis, whose tanto blade caught the mechanism for frenZy's hammer and turned it over again in tandem with its lifter. It was momentarily held against the wall as it attempted to self-right again, but landed back on its wheels and hit Sergeant Bash after he grabbed it with his pincers. Lingering outside Sergeant Bash's CPZ, frenZy hit Mortis' top armour as it was pushed and pinned against the wall, and escaped as it used its hammer to throw itself over and re-right itself. It drove away from Mortis, only to be constantly axed and pushed around by the latter. frenZy was eventually pushed towards one of the side flame jets and turned over once again, but one of the motor magnets for its hammer broke, leaving it unable to self-right as Mortis hammered its underside several times. The House Robots proceeded to surround and attack frenZy, with Sir Killalot grabbing hold of it before leaving it on the Floor Flipper. frenZy was thrown across the arena before 'cease' was called, and finished runner-up in the War of Independence.
Results
Wins/Losses
Series Record
UK Series
US Series
Outside Robot Wars
frenZy made its combat debut in the 1996 Robot Wars event under the name TerMinal frenZy. There, it beat Nemesis before losing to the eventual heavyweight champion BioHazard. It competed under its current name in Robot Wars 1997, but lost its first battle to Mash-N-Go. Also during the 1997 competition, frenZy became the first robot documented to self-right using an overhead weapon, using its hammer to do so after getting overturned during a heavyweight melee.[1]
Patrick Campbell began competing in the original Robot Wars event in 1994, entering with a heavyweight and lightweight robot, both called TMZ. Both versions of TMZ were defeated in the first round by The Master and Pain Mower respectively.[2] Campbell also entered Robot Wars 1995 with another heavyweight, Cyberknight, which won its first battle against Spirit of Frank before losing to eventual finalist Thor.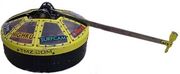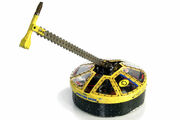 frenZy also fought in all series of BattleBots up to Season 5.0. In its first competition at Long Beach in 1999, it won its first two battles, one of which was against Mauler, before losing to Nightmare and Punjar despite progressing through the loser's bracket. At Las Vegas later that year, Frenzy again won its first battle against Annihilator before again losing to BioHazard, although it would later win a grudge match against Slugger.
Season 1.0 was the competition where the Robot Wars version of frenZy competed in BattleBots. It received a bye to face OverKill, but lost to the latter on a judges' decision. Sporting a new design, frenZy reached the semi-finals in Season 2.0, beating Panic Attack by knock-out along the way, only to be defeated again by BioHazard after its hammer stopped working and it was left unable to self-right. This was frenZy's most successful performance in BattleBots; in Season 3.0, it reached the round of 16 after defeating Towering Inferno via knock-out, before losing to Overkill again. frenZy would lose its first battles in Seasons 4.0 and 5.0, its final appearances in BattleBots.
Team Minus Zero also competed in the Super Heavyweight Division in Season 3.0 of BattleBots with Africanized Killer Bot which competed as Marauder in Season 4.0 and as Wendingo in Robotica.
Trivia
frenZy finished runner-up in both competitions in which it competed, each time to a robot that was entered into The First World Championship.
The version of frenZy that appeared in the War of Independence and the MTV Pilot was the version that entered Season 1.0 of BattleBots.
frenZy fought every UK representative in the War of Independence at some point in its career; three in the War of Independence itself, and the other in BattleBots.
In 2003, frenZy received an Honorable Mention in The Combat Robot Hall of Fame, in honour of its pioneering electric-powered pickaxe and flamboyant attacking style.[3]
References
External Links