G-Man was a competitor robot that failed to qualify for Series 6-7 of Robot Wars. It initially attempted to enter Series 6 [1], but failed to qualify after losing its qualifier battle to Inshredable. G-Man was modified in an attempt to qualify for Series 7, but again failed to qualify after reportedly suffering from battery failure.
Design
[
]
G-Man was a tall curved wedge-shaped robot armed with a large front lifter. It was painted red with blue and white stripes along its lifter, as well as a scowling face along the robot's sides. In Series 6, the robot also featured a front brace attached to the lifter which extended round to the robot's sides, which was removed ahead of its attempt to qualify for Series 7. G-Man's lifter was also modified into a narrower arm-like weapon as opposed to the full-size flipper-style plate it had in Series 6. The robot's overall design looked similar to that of the Hassocks Hog 2, only more compact and without "stabilising ears". G-Man was armoured in very thin fibreglass, which proved fragile against spinning weapons during its qualifiers.
Series Record
[
]
Outside Robot Wars
[
]
An earlier version of G-Man competed in live events for some time before its attempted Robot Wars entry, featuring a longer, lower and boxier chassis. Its appearances included the 'War in the Wolds' event held in November 2002 where it fought Stinger in one battle.
After Robot Wars ended, the robot was sold to Team Combat Penguin (The Hazzabigun on YouTube [2]), who has renamed the robot Metanoia, and was being returned to fighting form. In 2014, Joshua Hibbard of Team Psyclone purchased G-Man.
The chassis and speed controllers was put up for sale on eBay in 2016, selling for £190.
Trivia
[
]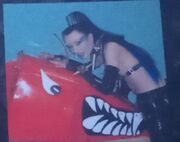 Despite failing to qualify for Series 7, G-Man made a cameo appearance in the Series 7 programme.
References
[
]