"Grievous Bot Harm? That's the intention of this team!"
— Jonathan Pearce introduces the original G.B.H.
G.B.H. (stylised as GBH on the robot) was a competitor robot which competed in Series 2 and Series 6 of Robot Wars. Entered by Team On-The-Edge, known as Team Joint Effort in Series 6, the original version reached the Semi-Finals of Series 2 before being eliminated at the Pinball stage. After initially being retired and replaced by the team's Series 3 entry, Facet, a new version, GBH 2, was entered by the team into Series 6. After a promising performance, GBH 2 was eliminated in the first round of the latter series following a split Judges' decision.
Versions of G.B.H.
[
]
G.B.H.
[
]
"G.B.H was built using Scrappers chassis. New gearboxes were added to give a final drive ratio of 44:1. This drove two alloy go-cart racing wheels booted with some slick Bridgestone rubber. Its main weapon was a lifting ramp powered by pneumatics, this could lift 100 Kg. At rear two 7" & two 9" saw blades were mounted spinning at 6000rpm. The sexy body was constructed out of 1.6mm perforated steel with several layers of glass fibre."
— The archived On The Edge Team website on G.B.H.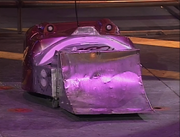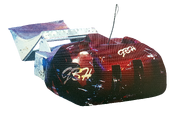 The original G.B.H. was a red and silver robot with a rounded bodyshell and a pneumatic lifting scoop capable of lifting 12 stone. The machine also featured a set of two 7-inch and two 9-inch saw blades at the rear, spinning at 6,000rpm, although these were hardly ever seen in action. It was made from the modified chassis of Team Joint Effort's previous entry Scrapper, but the electronics were moved to a small box at the back and featured pneumatic air cylinders to drive the ramp and DC servo motors for the main drive. The lifting ramp was capable of lifting 76 kilograms. Unusually, G.B.H. used a gearbox instead of speed controllers; the gears had a ratio of 44:1, giving the robot enormous torque and the capacity to pull a Mini Metro, with a top speed at 5mph. The robot's shell was made by Mike Rickard with an underskin of perforated steel mesh overlaid with three layers of fibreglass.
GBH 2
[
]
"With both of us interested in most forms of motorsport it was decided that this robot would be built to look like a LeMans racer."
— Team Joint Effort website
GBH 2 was a brand-new machine built for Series 6; a box-wedge shaped, two-wheel drive robot armed with two concealed flippers, modelled on an endurance racing car. The first of these flippers was a front-mounted, front-hinged arm, designed primarily to act as a self-righting mechanism. The second, rear-mounted flipper was designed to function as a lifting scoop, with a bucket-like profile and the objective to turn, rather than throw, opponents over.
"We decided that any axe or disc we could fit into our preferred shape would not be particularly effective so we went for a rear flipper as a secondary weapon."
— Team Joint Effort website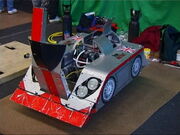 GBH 2's theme and shape were reflected in its original name, Mulsanne Monster, so-called after a famously-long straight on the Circuit de la Sarthe, home of the annual 24 Hours of Le Mans race. A key design feature relating to the theme was a streamlined cylindrical top section resembling the car's 'cockpit', which not only housed some of the robot's internals, but also concealed its front flipper when retracted. GBH 2's chassis was made from square section speed frame, and had separate sections to house specific internal components in addition to the 'cockpit'. However, its armour could easily be damaged, especially by opponents armed with heavy rotating weapons.
"Steve worked out the relative positions of all the key components and started to build the chassis. It was built from 1" square section speed-frame. The front lifting arm is cut from 10mm aluminium. The idea was to have a centre section to house the lifters and associated pneumatics plus the electronics and batteries. Each of the side pods houses the motors, drive train and Co2 storage."
— Team Joint Effort website
In a variation on its predecessor's colour scheme, GBH 2 was painted silver with red racing stripes and the Union Jack on its top-rear panels. Other key differences over the original G.B.H. and its direct predecessor, Facet, included the adoption of Bosch 750W motors - offering a reduction ratio of 8:1 and a top speed of 14mph - and 4QD speed controllers.[1] These components ensured that GBH 2 was fast and manoeuvrable across the arena floor, as well as highly reliable in combat.
Etymology
[
]
GBH typically stands for Grievous Bodily Harm. Although a few suggestions were made by Jonathan Pearce throughout the robot's Series 2 run as to what exactly the robot's name stood for (the most common being Grievous Bot Harm), it was never made completely clear what the letters in G.B.H.'s name stood for.
The Team
[
]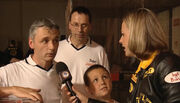 Team On-The-Edge originally consisted of Mike Smith, Mike Rickard and Charles Lavery, with the latter two being replaced by Smith's son, Alex, and Steve Dove by the time of GBH 2's Series 6 entry. Dove was the former captain of the Challenger team, who also drove Eubank the Mouse in Series 1, and had been work colleagues with Mike Smith.
Qualification
[
]
G.B.H. qualified for Series 2 through attending the auditions. It was then replaced by Facet for the Third Wars. It is unknown whether the team made a qualification attempt for Series 4 or 5, but the original version of GBH 2 known as Mulsanne Monster was first built in early 2001, which suggests it may have attempted to compete in Series 5 before changing its name to GBH 2.
GBH 2 attended the Sixth Wars qualifiers, and was placed in a four-way melee with Double Trouble, Infernal Contraption and Ripper 2, however Ripper 2 was forced to withdraw before the battle. In the battle, GBH 2 was experiencing radio transmission issues and took damage from the two spinners, nevertheless all three competitors survived to the end of the fight, and with no clear winner declared, all three were granted places in the main competition.
"The battle began. We got a good hit on Double Trouble quite early on, which pierced their armour and damaged their transmission on one side. GBH II had intermittent radio problems, so we hit them a few times, but didn't want to do them too much damage while they were immobile. Part of our polycarbonate armour split due to being cold formed into a curve, but luckily, no one got in to do any damage. By the end of it all, Double Trouble's disks had both come off, GBH II had a few gashes, but was otherwise fine, and we were still working, but with superficial damage. We came back down from the control pods, deactivated the robot, and waited for the decision. We were all well pleased when Bill Hobbins, the producer, told us that it was a good fight, so all three robots would be appearing on TV."
— Infernal Contraption website
Robot History
[
]
Series 2
[
]
"Better than Scrapper, Mike? Could be worse!"
— Jonathan Pearce as G.B.H. starts its Gauntlet run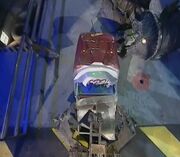 The original G.B.H. made its Robot Wars debut in Heat J of the Second Wars; it was the sixth and final competitor in that heat to attempt The Gauntlet. Slowly, it drove out of the starting pen into the wall of breezeblocks, ploughing through the wall with ease. G.B.H. pushed one of the fallen bricks aside, lifting its scoop as it made a successful drive up the see-saw. Bumping into Shunt, it was quickly pushed and turned under the see-saw by the House Robot, and rammed by Dead Metal as it tried to drive forwards.
"And now, in comes… the pressure and the punishment. G.B.H. – Grisly Brutish Hurt, from the House Robots!"
— Jonathan Pearce as Dead Metal attacks and damages G.B.H.
Sustaining damage to its bodyshell from Dead Metal's saw, G.B.H. proceeded to push the latter back, only for part of its scoop to be torn away. The two robots separated; G.B.H. raised its scoop again and became locked together with Dead Metal a second time, sparks flying as Dead Metal's saw made contact with the scoop. Both proceeded to push and drag each other, shuttling back and forth towards the end zone; despite Shunt and Matilda's attempts to block G.B.H., G.B.H. finally succeeded in pushing Dead Metal fully in.
"Push, push, push, they're saying! Almost… to the line! Dead Metal… almost forced back over the line! Well, have they crossed the line? Let's wait and see…"
— Jonathan Pearce as G.B.H. forces Dead Metal into the end zone
With G.B.H.'s front end also crossing the end zone boundary, it was declared to have completed The Gauntlet, finishing second in the results table and qualifying for the Trial stage.
"The G.B.H. boys tell us they've got a secret weapon…"
— Jonathan Pearce prior to G.B.H's Tug of War run
In Tug of War, G.B.H. was the second of the remaining competitors to begin its run. Before the run, Team On-The-Edge added a pair of spikes on the bottom of its chassis to prevent Matilda from dragging it forwards; these additions proved effective in the opening seconds, with the spikes digging into the platform as soon as Matilda yanked G.B.H.. Holding firm, G.B.H. continuously reversed and dug its spikes into the platform with every successive pull. However, the right-most spike bent after some time, eventually resulting in G.B.H. rocking and diving into the pit following a final tug from Matilda.
"Craig told us that Pavarotti's heavy but can't pull. Well, Matilda can't sing – she can pull! She pulled G.B.H. in the bot disco last night – and again tonight! Into the smoking furnace!"
— Jonathan Pearce as G.B.H. is dragged into the pit
Lasting 20.03 seconds, G.B.H.'s run was good enough for it to finish fourth overall in the results table, and to qualify for the Arena stage.
"Well, we bent our ram in the last round, and it's sort of working, but it's not working quite right. And we've got some glitches – we've just taken it into the test area, and sometimes it works, sometimes it doesn't work."
— Mike Rickard reports damage and reliability issues with G.B.H. before its Heat Semi-Final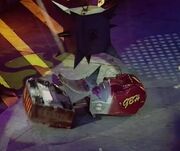 In its Semi-Final, G.B.H. faced Talos – before the battle, Mike Rickard reported to Philippa Forrester that it was suffering from electronic glitches as well as a damaged pneumatic ram. Fortunately, these issues were rectified in The Pits with assistance from other roboteers; in the opening moments of the battle itself, G.B.H. drove into Talos, firstly bumping into the latter's lance weapon before getting underneath its side with the scoop. It lifted Talos off the floor, almost turning it onto its side, only for Talos to escape. Immediately, G.B.H. collected Talos again as the latter reversed into it, before finally turning it onto its back, to the jubilation of Team On-The-Edge.
Craig Charles: "Well, how do you think that one went, then?"
Mike Rickard: "We'd been waiting to use that ram all the time, and it's worked as we wanted it to work!"
Craig Charles: "It worked really well – it flipped [Talos] right over its back!"
Mike Rickard: "We didn't think it was going to get it to work, but with some help from some other guys in there, we got it working – and it was really good to see it flip something!"
— The post-battle interview
G.B.H.'s victory did not come without issues, however. Shortly after immobilising Talos, its thermal trip cut out, leaving it immobile as well.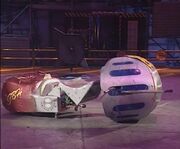 Once discovered by the team, the latter issue was rectified in time for the Heat Final, against series newcomer Ivanhoe. Both robots drove slowly towards each other in the opening seconds, with G.B.H. initially turning round and getting pushed sideways by Ivanhoe. Withstanding a blow from its opponent's axe, it eventually drove into Ivanhoe and gently tipped it onto its side with the scoop.
"A little bit of jousting, medieval dancing by Ivanhoe early on. The axe really hasn't come into play… but the ram has again! G.B.H. – Grand, Brave, Honourable winners, surely?!"
— Jonathan Pearce as G.B.H. secures its Semi-Final place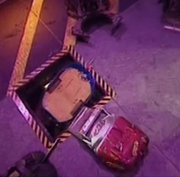 In celebration, G.B.H. spun round on the spot, before pushing the defeated Ivanhoe into the pit as the end credits rolled. With this, it progressed to the Series Semi-Finals.
Philippa Forrester: "So who are you most worried about facing in these Semis?"
Mike Rickard: "Roadblock, because he's so big. And… we could probably lift him up, but whether we could actually push him… I don't know. He's just an unmanageable size."
— Mike Rickard expresses reservations about a potential battle against the defending champion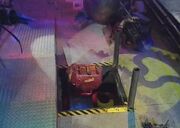 In Semi-Final 2, G.B.H. was the fourth machine to attempt the revised Gauntlet course. As in its Heat, it drove slowly into the centre route, demolishing the wall of breezeblocks with ease. However, G.B.H. stopped as Shunt rolled a sphere into its path, blocking its way past the nearby pit. Turning round, it slowly crept forwards and towards the pit, eventually toppling in itself.
"G.B.H. has been powerful and steady. Look at the front bucket there… can throw twelve stone – oh, ho, ha, ha, ha, ha, ha, ha! Oh, what on earth were they doing? Gormless… Brainless… Hideous, G.B.H.!"
— Jonathan Pearce as G.B.H. tumbles into the pit
Speaking to Craig Charles afterwards, Mike Rickard explained that the team had wound G.B.H.'s power down after experiencing traction issues beyond the breezeblock wall, hence its slow speed. In spite of its self-pitting, G.B.H. still reached a distance of 6.6m, enough for it to finish second in the results table and qualify for the Pinball Trial.
G.B.H. was the fourth robot to begin its Pinball run, which it started by driving through the rows of spikes and ploughing some of the top right-hand sets of bricks and barrels. It reversed away, getting hit by the sphere in the process, before turning round and knocking over another stack of bricks with its scoop. At this point, G.B.H. was lifted by Sir Killalot's lance, which resulted in it being manoeuvred into the nearby barrels and dropped on the fallen bricks. Stranded, it was attacked by Sir Killalot again, who lifted and grabbed G.B.H before carrying it over the see-saw and lowering it into one of the pits. G.B.H. scored a total of 145 points with this run – Craig Charles subsequently reminded Team Over-The-Edge that it would not earn any extra points for being carried over the see-saw. With Haardvark subsequently scoring higher, G.B.H. would finish fifth and last in the Pinball standings; as a result, it was eliminated from the Second Wars.
Series 6
[
]
"Steady, well-protected - quick, too."
— Jonathan Pearce introduces GBH 2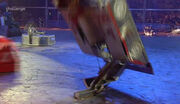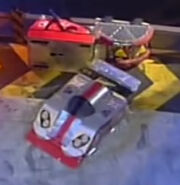 After a three-series absence, the G.B.H. name returned for the Sixth Wars, where GBH 2 competed in Heat D. In its first-round battle, the new machine fought fellow Robot Wars returnees in Sir Chromalot and The Alien, as well as newcomer ICU. GBH 2 started the battle tentatively, driving forwards to dodge The Alien before pursuing Sir Chromalot across the arena. Its efforts proved unsuccessful – after getting caught on the Floor Spinner, it reversed just as The Alien hit its left side and threw it over. GBH 2 immediately self-righted using its front flipper, but sustained a few more slams from ICU and The Alien respectively.
"GBH is turned over, The Alien has started well – GBH has righted in flamboyant style. This is a terrific melee so far!"
— Jonathan Pearce as GBH 2 self-rights following an attack from The Alien
It proceeded to ram Sir Chromalot as the latter flipped The Alien over, and dodged an axe blow from ICU before pushing and flipping the latter against the pit release button. As the Pit of Oblivion descended, GBH 2 dangerously reversed towards the arena hazard, before moving away again. As it did so, GBH 2 withstood another attack from The Alien's spinning hammers, before nudging Sir Chromalot and ICU once again. GBH 2 then pushed The Alien back using its front wedge, and attempted to flip it, albeit without success. In doing so, it sustained further damage from The Alien and ICU, both of which pushed GBH 2 sideways across the arena while attacking it with their weapons. GBH 2 kept bumping into The Alien and Sir Chromalot until it was flipped over by the latter. After being spun round, it self-righted a second time, and hesitated before spinning the inverted ICU aside. With ICU unable to self-right, GBH 2 concentrated on attacking its remaining opponents; it soon got underneath and carried The Alien towards the pit as the latter was lifted by Sir Chromalot, almost driving itself in in the process.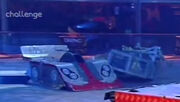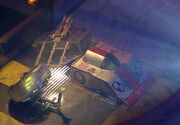 GBH 2 sustained a few more shoves and bumps from The Alien, before getting caught underneath an angle grinder for a few seconds. After momentarily driving towards one of the corner patrol zones as Shunt pushed a now-eliminated ICU, it simultaneously rammed The Alien and threw Sir Chromalot over with its rear flipper. Seconds after the Class Act machine self-righted, GBH 2 got underneath and attempted to push it, but was in turn spun round by a push from The Alien. The three surviving competitors met in the arena once again as GBH 2 sustained a side-on ram from ICU, which had been inadvertently re-righted by the Floor Flipper. GBH 2 proceeded to flip Sir Chromalot twice more, the second flip resulting in Sir Chromalot being turned over and left struggling to self-right in the top-left CPZ. It then lifted The Alien once more, before pushing and lifting the latter onto its side against the wall of the same CPZ, at the end of an exceptionally close melee.
'Cease' was called, with the battle going to a Judges' decision between the three remaining competitors. To a mixed response from the audience, the decision went 2-1 in favour of The Alien and Sir Chromalot; although GBH 2's final attack on the latter effectively immobilised it, the Judges ruled that Sir Chromalot had been more engaged throughout the battle. In a post-battle interview, Mike Smith also believed that the damage inflicted to GBH 2 by The Alien had resulted in the Judges voting against it. Despite a strong performance, GBH 2 was therefore eliminated from the Sixth Wars, in what proved to be Team Joint Effort's final appearance on Robot Wars.
Results
[
]
Wins/Losses
[
]
NOTE: G.B.H.'s Gauntlet and Trial runs are excluded from the tally
Series Record
[
]
Gallery
[
]
Outside Robot Wars
[
]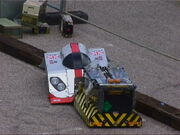 Following its initial completion in 2001, GBH 2 (known at the time as Mulsanne Monster attended Robot Mania 2001[2]. It fought Behemoth where it was flipped over the low arena wall, and although Mulsanne Monster self-righted back into the arena, it still lost the bout.
As Mulsanne Monster, GBH 2 also competed in the Assault Course of Techno Games 2002, but lost to Bugs Buggy in the first round.
Trivia
[
]
In the Series 2 Semi-Finals, G.B.H. was eliminated with a score which would have put it as high as second in the other Semi-Final.

In its Pinball run from the aforementioned series, had G.B.H. been awarded the fifteen points for traversing the see-saw ramp while being carried over it by Sir Killalot, it would have scored exactly the same amount of points as Haardvark.

During testing, G.B.H.'s lifting scoop threw Mike Rickard into the air while he stood on it.
GBH 2's design was inspired by a toy Le Mans race car owned by Steve Dove's son.
References
[
]
External Links
[
]