For the unrelated robot that failed to qualify for Series 2 see, Gnasher (Series 2).
Gnasher was a competitor robot which appeared in Series 3 of Robot Wars. It exclusively fought in the Robotic Soccer side competition, having not been selected to compete in the main competition of Series 3. It reached the final before losing to Evil Weevil after the eventual Soccer champion flipped it onto its side.
Gnasher was a uniquely-shaped robot painted silver and red, and armed with a jaw which could open and close. This jaw could grab hold of other robots and help Gnasher drag and push them around, and proved useful throughout its Soccer run.
Robot History
Edit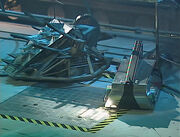 Gnasher originally attempted to enter the main competition of the Third Wars, but was not selected. However, it would appear as a competitor in the Robotic Soccer side competition. Gnasher was drawn up against Malfunktion in its qualifier, and immediately raced for the ball as Malfunktion struggled to get going. However, it was blocked by Dead Metal, only to collect the ball and send it rebounding into the goal, allowing it to proceed to the final.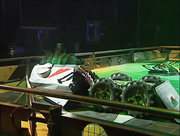 In the final, Gnasher faced Velocirippa, The General and main series competitor Evil Weevil. It started by attacking Matilda, who blocked the ball and accidentally passed it to Evil Weevil in doing so. Gnasher received the ball from The General, before being tackled by Matilda again and flipped over by Evil Weevil, eliminating it from the final. Evil Weevil would go on to win the final and the Robotic Soccer competition.
Series Record
Edit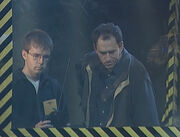 Community content is available under
CC-BY-SA
unless otherwise noted.