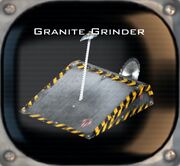 Granite Grinder was a middleweight competitor robot in the game Robot Wars: Arenas of Destruction. Its weapons were an axe and a circular saw and it was armoured in polycarbonate. It could self right.
Components
Locomotion: 4 x Medium Inner Pneumatic
Power: Yuarta 200 12 volt sealed lead acid battery
Drive: 4 x Drakonvlast 800 watt 24 volt sealed lead acid battery
Weapons: Small Eccentric Electric Axe & Hardened Steel Circular Saw
Strategies
Using Granite Grinder
Granite Grinder's axe and disc are relatively good at dealing damage, and can deal some impressive damage to even the toughest of armors, so it is a great idea to drive the robot into the side of the opponent and use the axe or disc to deal some damage.
Against Granite Grinder
Like most other robots, it is easy to just go for the unprotected sides and flip Granite Grinder over, though trying to outmaneuver it is difficult, and you have the added danger of the powerful axe and rear disc.

Community content is available under
CC-BY-SA
unless otherwise noted.