"3,2,1 Activate! Watch the hit television show come to life right before your eyes, with the HEXBUG Robot Wars Arena! Now you can hold your very own action-packed battles at home! Select your fearsome robot of choice and eliminate the competition."
— Product description
The HEXBUG Robot Wars Arena was a playset released by HEXBUG on June 18th, 2018, a recreation of the Robot Wars Arena seen in the reboot, and was the second playset of the Robot Wars Arena, after the Minibot Arena which recreated the Series 4-7 arena. The playset was priced at £79.99, recommended for ages 8+, and was initially sold exclusively through Smyths toy-stores before reaching other retailers.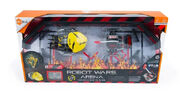 The arena was sold as a flat cardboard base, folded in half, along with solid arena walls to cover the perimeter. The solid arena walls can be outfitted with transparent plastic walls around the corners, representing the higher arena walls seen in the Series 8-10 arena, although these are not present above the arena entry gates, as per the real arena. Unlike the Minibot Arena, no active hazards are present in the arena, although they are all represented aesthetically, including the Doom Dial above the Arena Tyre.
The HEXBUG Robot Wars Arena was also packaged with two remote-controlled toys and their controllers, with stickers, named Impulse and Royal Pain. For more information on these toys, see HEXBUG Robot Wars Head-to-Head.
Differences from Real Life
Edit
Rather than being square in shape, the HEXBUG Robot Wars Arena uses curved sides, likely to accommodate the hammers seen in the corners of the HEXBUG BattleBots Arena, a very similar toy which was released by HEXBUG over a year prior.

In order to accommodate the curved sides,the outlines of the CPZ are now found more centrally within the arena, rather than being directly in the corners.

The walls surrounding the arena are directly upright, rather than being sloped.
All of the arena hazards are inactive.
In order to promote the release of the HEXBUG Robot Wars Arena, Dave and Alan Young of Team MAD recorded a video of Alan Young driving Impulse to victory against Royal Pain, driven by Dave Young, within the Arena, and released the video on the Apollo Facebook page, having been provided the product by HEXBUG.

A similar video was later released by Gabriel and Esme Stroud of Team Legion, and by Stephen McCulla and Anthony Murney of Team S.Tek, with products provided by HEXBUG.
External Links
Edit
Community content is available under
CC-BY-SA
unless otherwise noted.