Hades was an antweight robot which competed in the Antweight Championship of the second series of Robot Wars Extreme. One of two robots entered into that championship by Team BlazerBotics, along with Chroma, it was eliminated from its heat after being turned onto its side by Anty B and pitted.
Hades was a tall, two-wheeled robot armed with a flipper. It was capable of running inverted, although despite having metal spikes and plates intended to stop it from being side-stranded, it was still vulnerable to doing so in its only appearance. Hades was finished in dark grey with checker-plated effects on the flipper, and had green wheels with dark blue tyres.
Main article: Team MAD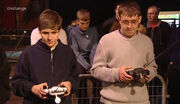 Hades was built by Team BlazerBotics, nowadays Team MAD, consisting of the young brothers Dave and Alan Young. Whilst Alan Young entered the Antweight Championship with Chroma, Hades was controlled by the younger brother Dave Young in its only battle. Dave Young also drove the featherweight Gladiator, and would later become a Robot Wars champion, after driving Apollo to success in Series 8.
Hades solely competed in the Antweight Championship, broadcast as part of the Robot Rampage episode. In its heat, it fought Anty Geddon, Mesmer 2, Combatant, Anty B, and fellow Team BlazerBotics' machine, Chroma.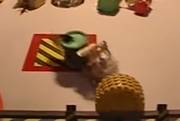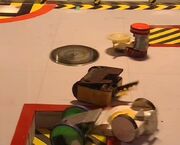 Hades went straight for the pit release button, pressing it, but was immediately flipped onto its side and pushed onto the pit square by Anty B. Spinning helplessly on its side, it descended with the opening pit seconds later, and was eliminated from the battle early on. Hades was eventually joined by defending Antweight champion, Combatant, and proceeded to help push the latter out of the pit after being re-righted at some point. Despite this, and spending the remainder of the battle attempting to drive itself out of the pit, Hades was already eliminated from the Antweight Championship, with Chroma also being eliminated after getting side-stranded by Anty B.
NOTE: Monte, a robot built by Team MAD, was also loaned to Paul Streeter in order to enter the 2016 pilot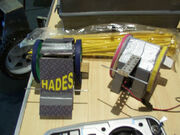 One week after attending filming for Extreme 2, Hades competed in Antweight World Series 9, winning the event outright after defeating War Ant in the final. However, it was eliminated in the second round in its next appearance at AWS 11, and reached the third round and Round 2D of the European and World Series competitions at AWS 12.[1]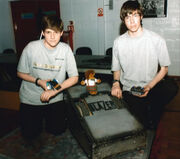 Community content is available under
CC-BY-SA
unless otherwise noted.