Halo is a heavyweight robot built by John Findlay of Team Roaming Robots, which attempted to enter the Series 8 of Robot Wars. It was lent to Krissy Knee for entry to Series 8 after Knee was unable to complete his own robot, Rybot in time. However, it was not selected to compete in the series.
Findlay never intended to enter Halo into Series 8 himself, as he already applied for the series with Ripper and expected Halo to be in Moscow, Russia, for educational purposes at the time of filming. Upon finding out that the Russian trip would end just before filming of the series began, Findlay entrusted Halo under Krissy Knee's ownership, as a replacement for Rybot.
On 16th May 2016, it was revealed by his son George on Facebook that Halo's driver and temporary owner, Krissy Knee, had died after having cancer for the past seven years, in his lung, his kidney, his heart and his brain.
Design
[
]
Halo is a roughly wedge-shaped robot armoured in HARDOX and armed with a pneumatic axe as its weapon. The axe is capable of inflicting high amounts of damage, can act as the robot's srimech, and features interchangeable tips including a sharp spike, a square-shaped blade and a longer parelleogram-shaped blade that travels a third of the main axe arm, this weapon is actually the axe and mechanism of the Series 6 version of X-Terminator, a robot John Findlay managed to acquire for his shows in 2015. Halo cost under £1000 to build.
Robot Wars Live Events
[
]
As Halo was finished on New Year's Eve of 2015, Halo was yet to make its first appearance at a Robot Wars Live Event, with Halo's combat debut being The World of The Robots 2016, held in Dublin, where it was defeated by fellow Team Roaming Robots machine, Ripper. At the event, Halo bent its axe shaft significantly, leading to considerable reinforcement afterwards.
Halo made its Robot Wars live events debut at the Manchester event in 2016. It did not take part in the main show fights, but fought in a series of special battles at the end of each show where VIP audience members could drive it and other 'retro' competitors including Bulldog Breed, DTK, The Steel Avenger and Stinger. It later made an appearance at the next event in Portsmouth, fighting in a four-way melee against Thorak, Luzifer and Gabriel as part of the main show. Halo performed well in this fight, landing a few axe blows on Thorak until it became immobilised near the side of the arena.
Series Record
[
]
Krissy Knee
[
]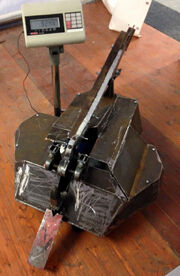 John Findlay
[
]
Trivia
[
]
During the build process of Halo, John Findlay asked users of the Official Robot Wars Facebook group to suggest names for the at-the-time unnamed Halo. A popular suggestion was "Chipper", to tie in with Findlay's other robots Ripper and Gripper, though ultimately Halo was chosen by Findlay himself.