"Bit psychedelic, bit flower power, bit expensive - £2000!"
— Philippa Forrester on Hefty
Hefty (also known as Tank Slapper during construction), was a competitor robot that fought exclusively in Series 3 of Robot Wars. Despite being one of the most expensive robots in the competition at a cost of £2000, it was eliminated in the first round after being flipped and immobilised by X-Terminator.
Design
[
]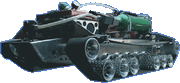 Hefty was a rounded, wedge-shaped tracked robot which was built on a tank-like TIG-welded aluminium chassis (hence its original working name) and armoured with a black Kevlar and carbon fibre composite shell. Its primary weapon was a retracting spear which fired at 150psi, and the robot was painted yellow and blue with multi-coloured flowers all over its bodyshell. Hefty was also originally intended to feature a self-righting mechanism consisting of two arms built into its sides, which had to be removed as they made the robot 2kg overweight. This ultimately cost Hefty in its only battle once it was flipped by X-Terminator.
The Team
[
]
"The name Madcamo was Karen's chat name on the internet for a while and she thought it would be a good name for the team."
— The Hefty website on the origins of the MadCamo team name[1]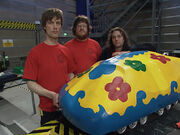 Hefty was entered into Robot Wars by MadCamo, a team from West Yorkshire. The captain was Stuart Reynolds, described by the team's website as a 'a reformed street-bike racer'. He was the designer of Hefty, and led the construction and welding process. He was joined by Bernard Mosley, who built animatronic creations for theatrical productions and films by profession. The third team member Darren Brown was responsible for the electronics and programming of Henry.
Stuart Reynolds' wife Karen also contributed the team name, and was the subject of staged drama on the show as she was supposedly unaware of Hefty's true cost. After Philippa Forrester revealed the robot's cost as being £2000, Karen 'demanded' that Stuart take her out to dinner as compensation for Hefty's loss.
Qualification
[
]
Hefty qualified for Series 3 after attending the auditions and running the obstacle course. It subsequently returned for Series 4 the following year, relatively unchanged from its Series 3 appearance. It entered the qualifying arena on the first day of the Series 4 qualifiers, but for unknown reasons was removed from the battle it was set to participate in. Hefty ultimately did not qualify for the Fourth Wars.
Robot History
[
]
Series 3
[
]
In Round 1 of the Third Wars, Hefty went up against fellow newcomer and future success, X-Terminator.
"All peace and love - except that spike on the front"
— Jonathan Pearce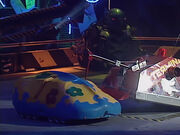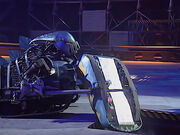 Both robots started quickly with Hefty dodging X-Terminator's axe. Then X-Terminator landed an axe blow and its axe got stuck, but when it attempted to retract its axe Hefty was lifted up and was rolled onto its back. Hefty was close enough to the arena wall to fire its spike, and push itself a few feet, but had no means of self-righting. Sir Killalot then came in and lifted Hefty up by the track, and dumped it into the pit, eliminating Hefty from the competition.
"It'll be Karen's house paying for that dinner."
— Jonathan Pearce, on the £2000 cost of Hefty after it lost to X-Terminator
Results
[
]
Wins/Losses
[
]
Series Record
[
]
Gallery
[
]
External Links
[
]
Trivia
[
]
References
[
]