"An axe of extraordinary soul splitting power and a flipper to toss its enemies into The Pit of Doom."
— The Hellbent website on the weaponry
Hellbent was a competitor robot which appeared exclusively in Series 7 of Robot Wars. An entry from a team of newcomers, it dominated its first-round battle in its televised debut, before being defeated in the second round after getting swiftly thrown out of the arena by Atomic.
Design
"A cut-off wedge design, with forks on the front, the axe on the slope, two wheels protrude to the sides, they do have metal guards. Problems; a lightweight chassis and bolted-on armour, too."
— Jonathan Pearce reviews Hellbent's statistics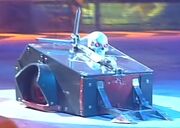 Hellbent was a two-wheeled robot with a cut-off wedge-shaped body and two weapons – a front set of lifting forks and a top-mounted axe. Both of its weapons were pneumatically-powered and proved very effective, capable of flipping or piercing opponents with ease. The robot also featured metal spiked wheelguards to prevent it from being side-stranded, although its lightweight chassis and bolt-on armour were both cited as its main weaknesses.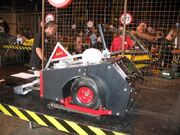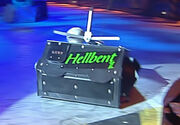 Hellbent itself was painted black and red with a skeleton printed on its top panel and a skull positioned beside the axe. The robot also had a message written on its baseplate which read "Matilda, will you marry me?", referencing the House Robot.
The model of Hellbent which appeared in Series 7 was also known by the team as Hellbent 2 (stylised on its back panel as Hellbent II), although the robot was never referred to as such on TV.
The Team
Hellbent was entered into Series 7 by a family team from Yelverton in Devon. Although they were newcomers to Robot Wars for the series, the team had already gained experience through competing on the TV show Techno Games. The robot was primarily built by its team captain John Wilkinson, who participated alongside his wife Vicky and his son James.
Qualification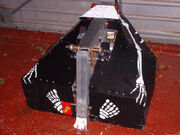 An earlier version of Hellbent had previously attempted to enter Series 4 with its team, which was roughly pyramid-shaped and featured a flipping arm with a lifting capacity of over 250kg. The arm could also extend outwards to function as a second flipper, and had a spike at the end to double as an axe. Despite being victorious in the qualifiers, Hellbent was not chosen to appear in Series 4 for unknown reasons; it is also unknown which opponents it faced in its qualifier battles.
The version of Hellbent which entered Series 7 was originally intended to enter Series 5 and Series 6, but the team could not finish the robot in time for it to attend the qualifiers in either series.
Robot History
Series 7
Jayne Middlemiss: "Have you ever fought another robot?"
John Wilkinson: "No, I've turned dustbins over, bicycles and things in the garage, but we've never actually fought another robot!"
Jayne Middlemiss: "Wow! So this is gonna be the first fight this robot has!"
— The interview before Hellbent's debut
Hellbent competed in Heat G, where it faced fellow newcomers Araknia, Mean Streak and I Bot One Beta in its first-round battle.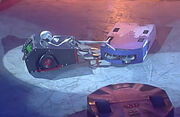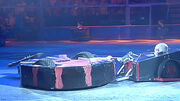 At the start, it immediately drove towards and flipped Mean Streak using its forks, before piercing the latter's armour with its axe. Hellbent turned and attempted to axe Araknia twice, but missed both times, but dodged the flame jet to attack Mean Streak again, piercing and dragging it around in circles. Seconds later, Hellbent turned away and pursued Araknia, eventually burying its axe deep into Araknia's cardboard armour and flipping it over as the latter tried to escape. It proceeded to bump, axe and push I Bot One Beta over the Flame Pit, although without damaging the German machine's tyres or chassis. After pursuing and missing I Bot One Beta again, Hellbent eventually held it with its axe and slammed it into the wall, the axe thrusting through one of I Bot One Beta's weapon mounts before retracting.
"...and Hellbent, in their first-ever battle... doing splendidly."
— Praise from Jonathan Pearce as Hellbent axes Mean Streak again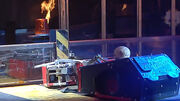 These attacks left I Bot One Beta immobilised, with Hellbent then axing Mean Streak and lifting itself off the arena floor in an attempt to break free. Eventually, the two robots became separated, and Hellbent bumped into Araknia again, causing the latter's top panel to detach as it spun round in circles. Hellbent was deflected away by numerous hits from Araknia, before briefly attacking Mean Streak again. Eventually, it axed Araknia's baseplate and slammed it into Mean Streak, before lifting Araknia with the forks and leaving it immobilised in the corner. Hellbent axed Mean Streak yet again as they positioned Araknia close to the flame jet, damaging its top panel, before dragging and pushing the former across the arena. With Araknia catching fire and I Bot One Beta being thrown by the Floor Flipper, Hellbent advanced to the second round along with Mean Streak, after a dominant performance.
There, it avoided the heat's seeded robot S.M.I.D.S.Y., but ultimately faced the more dangerous opponent Atomic.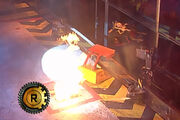 As the battle began, Hellbent dodged Atomic's first flip, briefly using its forks to keep the latter off the floor before attempting to drive around its side. However, it was soon scooped up and thrown into the air by Atomic, but landed on its wheels behind Atomic before retracting its axe and spinning around. Hellbent drove away as Atomic bumped it, but exposed its side as it spun round a second time, allowing Atomic to get underneath, push and throw Hellbent over the wall.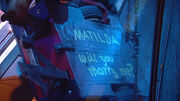 "This is a durable little machine, new to Robot Wars – until that moment! Well it was just a little bit too lightweight, and out it went!"
— Jonathan Pearce as Atomic throws Hellbent out of the arena
As a result, Hellbent was eliminated from the Seventh Wars, its defeat lasting only 26 seconds. Outside the arena, Hellbent's romantic message to the House Robot Matilda was revealed.
Results
Wins/Losses
Series Record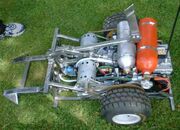 Outside Robot Wars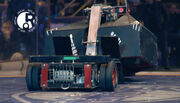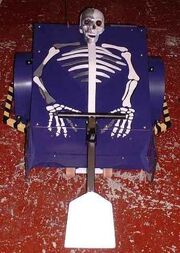 As with several other Robot Wars entries, Hellbent's team originally entered the 2002 series of Techno Games with a weaponless version of the Series 4 model, renamed Hell Bound. Hell Bound entered the Sumo competition in that series, defeating Ridgeback in the first round before losing to Big Bro in the semi-finals, then to Chip in the playoff, ending fourth overall. It also entered the Tug of War, where it lost to Sprocket in the first round, and the Assault Course, where it reached the second round before losing to Technomoth.
The Series 7 Hellbent also entered two events at the 2003 Techno Games under its original name. In the Football tournament, it was paired with Constrictor to form "The Skeleton Crew". Together, they defeated 2002 silver medallists Team Snow Kat 2-1 in the first round but lost 2-0 to Make Robotics in the quarter-finals. Hellbent also entered the Sumo with a front-mounted spade, where it reached the semi-final; losing to All-Torque.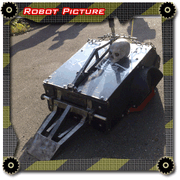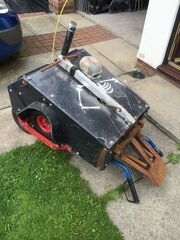 Whilst Robot Wars entered its twelve-year hiatus, Hellbent fought a few times in FRA-sanctioned live events, by then officially known as Hellbent 2 and sporting a conventional front flipper instead of the forks. Bought by Team Smash in 2009, its last known appearance came in that year's UK Championships, where it failed to qualify despite winning a qualifier battle against Tilly 2 Evo. In 2014, after being left inactive for some time, Hellbent 2 was given by Rob Lewis to Team Toon, who intended to return it to a combat-ready condition.[1] As of 2018, Hellbent 2 remains in Team Toon's ownership; although the team have since considered it too fragile against opponents with modern high-pressure flippers, they still expressed intentions to use it for occasional fights in the near future.[2]
Trivia

Hellbent is one of the few Robot Wars competitors to use the same name in Techno Games, as it appeared on Techno Games first. Despite this, Hellbent originally used the name Hell Bound on Techno Games before later changing to Hellbent.
References
External Links
Community content is available under
CC-BY-SA
unless otherwise noted.