Hoot was a heavyweight robot which fought in Nickelodeon Robot Wars and the second series of Dutch Robot Wars. It appeared in a single battle in each series, losing both times. As a loanerbot, Hoot was drafted in to replace robots which weren't working at the time, replacing The Piecemaker in Nickelodeon Robot Wars, and Reflex in Dutch Series 2.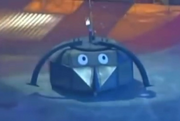 Hoot is an octagonal shaped robot. Its weapon is an overhead three bladed flail which was very ineffective and also had a rather high ground clearance. In Nickelodeon Robot Wars, the flails were close to the body, with the robot being a dark black/brown color. For Dutch Series 2, the flails were extended, and the robot was given a white color, with a golden "beak", and eyebrows, resembling the cover art of the 2002 novel Hoot.
Robot History
Edit
Nickelodeon
Edit
Hoot was loaned to The Piecemaker team and fought Bunny Attack in a Vengeance battle relating to The Piecemaker's Annihilator loss earlier on in the series.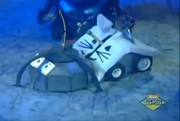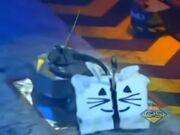 Hoot's flailing arm hit Bunny Attack early on, but caused no damage. Bunny Attack's equally ineffective weaponry tapped Hoot in retaliation. Sir K pushed Bunny Attack away from Hoot, before Bunny Attack drove onto a CO2 vent and got stuck. Hoot slammed into Bunny Attack in an aggressive manoeuvre, but its blades flew off in the process. Matilda then pressed the pit release button and Sir K attacked Bunny Attack, cutting off its sledgehammer with his claw. Time ran out, but Sir K backed both competitors into the pit of oblivion. A crowd vote still declared Bunny Attack the winner.
Dutch Series 2
Edit
Hoot was loaned to the Beaverbot team (whose machine had already lost in round one in an earlier heat in the second Dutch Series), to replace Reflex.[1] It faced Pika 3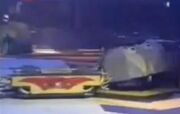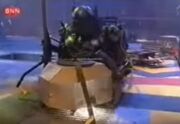 Pika 3 was on the offensive straight away, slamming Hoot into submission against the pit release button. This made Hoot lose drive on one side, allowing Sir Killalot to pick it up. After the House Robot released Hoot, Pika 3 pushed it onto the edge of the pit, where Hoot put itself out of its misery by reversing in.
"A suicide attempt from Hoot!"
— Eric Corton
Wins/Losses
Edit
US Wins: 0
US Losses: 1
Dutch Wins: 0
Dutch Losses: 1
Series Record
Edit
US Series
Edit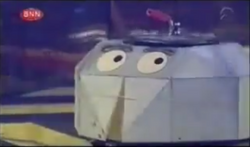 Dutch Series
Edit
Hoot's design resembles the cover art of the 2002 novel Hoot.
References
Edit
Community content is available under
CC-BY-SA
unless otherwise noted.