Horizontal Crushers are a prominent form of gripping weapon, but grip the sides of robots. The first robot to use this design was Milly-Ann Bug, and Scarab was the first competitor to use it as a piercing weapon. The more successful robots with this weapon included Tough As Nails and Kan-Opener.
Definition
A horizontal crusher uses two large claws or rods to crush or pierce the sides of robots.
Advantages and Disadvantages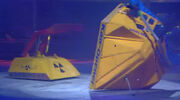 Advantages
They are also easier to implement into an invertible design than their vertical counterparts.
Following the example of house robot Dead Metal or competitor Big Nipper, the horizontal pincers allow ample opportunity for a good weapon synergy.
Horizontal crushers can bite directly into the opponent's wheels, severely hampering robot's movement. Tough As Nails used this to score easy victories over potent opponents like Disc-O-Inferno and Gravity.
Disadvantages
Horizontal crushers provide a gaping ground clearance for opponents to get underneath. Kan-Opener's battle with Atomic was an example.
Horizontal crushers have trouble getting unstuck after piercing an opponent's armour. This cost Kan-Opener the melee in Series 6 when it got stuck into Demolition Man and couldn't evade the attacks of the other two robots, and again in its Series 7 melee when it spent most of the match stuck inside Barbaric Response, which cost it the judges' decision.
List of Robots with Horizontal Crushers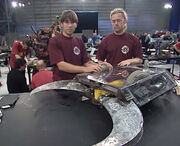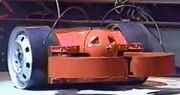 Robots are listed alphabetically. Robots that are not heavyweight are listed with a green background. House robots are listed with a red background.
| Robot | Series Appearances with Horizontal Crushers | Notes |
| --- | --- | --- |
| 4x4 | Series 6 | |
| All Torque | Series 3 (World Championship only) | Added a small snowplough between the claws |
| Big Nipper | Series 5, 7 | Mounted the claws on a lifting arm. |
| Bot-Ugly | US Season 1 | Pincers moved in a straight line instead of an arc. |
| Dead Metal | Series 1-7, Extreme 1-2 | |
| Infinity | Series 6, Extreme 2 | |
| Kan-Opener | Series 5-7, Extreme 2 | Twice Annihilator champion |
| Katnip | Extreme 2 | |
| Mechadroid | US Season 2 | |
| Milly-Ann Bug | Series 2 | Two static beams attached to the front dome. |
| Monad | Series 5 | |
| Scarab (Dutch) | Dutch Series 2 | Walkerbot |
| Scarab (UK) | Series 3 | First robot to use such a weapon. |
| Staglet | Series 7 | |
| The Stag | Series 6-7 | |
| Thermidor 2 | Series 3-7, Extreme 1-2 | Claws combined with flipper |
| Thor | Series 6 | |
| Tough As Nails | UK Series 7, Dutch Series 2 | The only robot with a horizontal crusher as its primary weapon to reach a series semi-final. |