"We've produced some handy dandy guides to the mandatory safety requirements for new and old roboteers alike. Safety THEN Smashy!"
— Official description for the first video
How to Build a Robot is an online-only series of safety videos initially uploaded by the official Robot Wars Facebook page. These videos, first made available around the time of Series 9's initial broadcast, discuss various safety precautions and equipment used for robots competing on the show, including removable links, locking bars and regulations on pneumatic and hydraulic mechanisms. The information is delivered by James Cooper, Robot Wars crewmember and part-owner of Robo Challenge.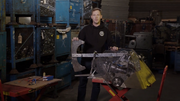 Terrorhurtz makes a prominent appearance in most instalments of How to Build a Robot, as the robot demonstrating the rules and safety equipment being discussed. Expulsion, Draven and Crank-E also appear in the opening and end titles of each video, each undergoing various stages of repairs, assembly or testing.
On 30th November 2018, all five parts of the How to Build a Robot series were uploaded by the official Robo Challenge YouTube channel, although with the opening and closing sequences omitted for the 'Pneumatics' and 'Locking Bars' instalments.[1]
Episode Guide
[
]
Video Title
Number in series
Date uploaded
Notes
Link
Safety Links and Safety Lights/
Links and Lights
1
5th April 2017
Discusses removable links and power lights, with a model of an electric circuit used to demonstrate them in operation. The positions of Terrorhurtz's link and power light are then shown.
[2]
Pneumatic Safety/
Pneumatics
2
6th April 2017
Discusses both low- and full-pressure pneumatics systems, as well as different types of CO2 bottles (fire extinguishers, paintball bottles), pressure relief valves and dump valves. Advice on custom pneumatics systems and how to deal with damaged bottles is also given, as well as an explanation of the pneumatics system for Terrorhurtz's axe.
[3]
Locking Bars
3
6th April 2017
Explains the rules regarding locking bars, along with demonstrations of those used on Terrorhurtz.
[4]
Pit Safety
4
7th April 2017
Explains a few safety precautions and pieces of equipment used for working in The Pits, including protective covers and robot cradles.
[5]
Hydraulics
5
8th April 2017
Explains the regulations for hydraulic systems used in crushing/gripping weapons.
[6]
References
[
]
External Links
[
]