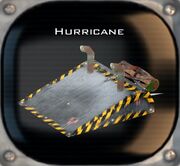 "Like a whirlwind of terror...the Hurricane is here to inflict pain!"
— Jonathan Pearce
Hurricane was a lightweight competitor robot in the game Robot Wars: Arenas of Destruction. Its weapons were a lawnmower blade and some spikes and it was armoured in polycarbonate. It couldn't self right.
Components
Locomotion: 4 x Small Inner Pneumatic
Power: Evercell 12 volt nickel cadmium battery
Drive: 2 x Purtuba 400 watt 12 volt DC electric motor
Weapons: Lawnmower Blade & Triple Spike
Strategies
Using Hurricane
Probably the best tactic is to reverse into your opponent using the lawnmower blades and triple spike combination, although the lawnmower blades aren't the most reliable of weapon, and reversing into your opponent if they have a flipper gives them a larger ground clearance to exploit. Hurricane's armour is fairly good, and the wedge shape means that if all else fails you could use it to get underneath and push enemies into arena obstacles.
Against Hurricane
Hurricane has no weapons on its front, so attacking this area is low-risk, and should lead to victory. Otherwise, flipping it, either using an active weapon, or even brute force (pushing into its front), will leave Hurricane defenseless, without a self-righting mechanism. Try to avoid taking damage from the blades at the rear, as the AI will usually turn to use these.

Community content is available under
CC-BY-SA
unless otherwise noted.