Hydrotec was a Swiss robot that competed in German Robot Wars. Hydrotec was built by Paul Koch, who would later build Snake Bite, which would make two appearances in international competitions in the UK Series. For unknown reasons, Koch was unable to attend filming for German Robot Wars. Despite this, Hydrotec did relatively well in its only competition, defeating Delldog in Round 1 but losing to the eventual champion, Black Hole, in the Heat Final. Hydrotec was scheduled to take part in the Losers Melee to determine fifth through eighth place, but withdrew, presumably due to damage sustained from Black Hole.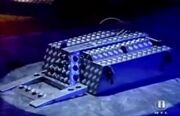 Hydrotec used an axe and lifter combination, similarly to robots such as Mortis and Hydra. Interestingly, unlike Mortis and other similar robots, Hydrotec had a rear hinged axe that struck opponents behind the machine rather than facing in the same direction as the lifter and combining with it to attack opponents in front. The robot was the largest in the German series, including the largest weapon.
Robot History
Edit
German Series
Edit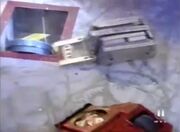 Hydrotec's first round battle against Delldog and Not Perfect was very quick. It was almost caught out very early on by Not Perfect pressing the pit release button, but moved out of the way in time. Hydrotec then capitalised on Delldog colliding with Sir Killalot to push Delldog down the pit, eliminating it from the competition. Hydrotec continued to clash with Not Perfect after securing the knockout, but this made no bearing on both robots qualifying.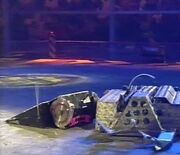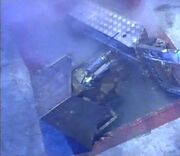 In the second round, Hydrotec faced Black Hole, who immediately buckled the flipper on Hydrotec, rendering its weapon useless. Black Hole did not relent, continuing to attack the Swiss machine until it broke down in the arena centre. After being counted out by Refbot, Hydrotec was attacked by Shunt and Mr. Psycho, put onto the flipper and eventually pitted by Shunt, who fell in as well.
Hydrotec was set to appear in the four-way 5th Place Playoff, but had to withdraw. Ultimately, Hydrotec was the only one of the four machines which did not enter the arena in some form.
Wins/Losses
Edit
Series Record
Edit
German Series
Edit
UK Series
Edit
Team Hydrotec was the only Swiss team to compete in any version of Robot Wars.
Community content is available under
CC-BY-SA
unless otherwise noted.