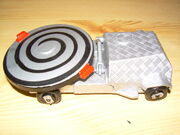 Hypno-Disc was the first UK competitor robot to be turned into a pullback. It featured the horizontal flywheel of the real robot, activated by moving the pullback forward/back, as the front wheels axle connects to the flywheel. The rear armour was interchangeable, allowing the user to attach the spiky rear end of the Series 4 iteration (without the srimech), or the plain armour of the Series 3 version, this armour also featured the srimech. Underneath the armour plates was a small representation of Hypno-Disc's innards.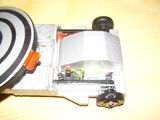 It has the wheels from the Series 3 version, but the tyres on them can come off and are easily lost. The pullback's flywheel is based on the series 3 version of Hypno-Disc, as it has the same type of teeth seen on that model (one on the edge of the flywheel, one on the top). A pitstop and a minibot were also released.
Accessories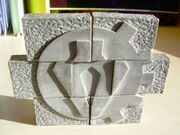 The Hypno-Disc pullback came with a grey wall, similar to the ones at the beginning of the Series 2 Gauntlet. When assembled properly, the bricks show the Robot Wars Logo on the front.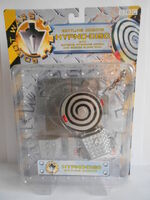 Difference from real life
Of the two shells featured with the toy,(the series three one, and the series 4 one (with the spikes)) the srimech is found on the wrong one (the series 3 one)
Despite being based upon the series 4 version of Hypno-Disc, it features the series 3 wheels.
The disc on the model is the series 3 disc, with one thin blade.
Community content is available under
CC-BY-SA
unless otherwise noted.