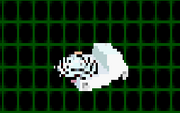 Hypno-Disc is a robot that competed from Series 3-6 of Robot Wars plus both series of Extreme. It was hugely successful, coming second in its first series, and only once failing to reach the Grand Final afterwards. Hypno-Disc previously appeared in Robot Wars: Arenas of Destruction, Robot Wars: Advanced Destruction, and also featured in the PC and Xbox version of Robot Wars: Extreme Destruction. It is unlocked when the player beats the silver level of Melting Pot in Bash 'N' Dash mode.
Appearance and Armament
Edit
Hypno-Disc greatly resembles its real life counterpart; a box shaped robot armed with a horizontal flywheel; but the back is rather taller and thinner than in real life. The in-game model appears to have been based on the Series 5 version of the machine rather than its later appearances.
Strategies
Edit
Using Hypno-Disc
Edit
As with any game, the using the disc is the best tactic. It does damage opponents with low armour easily, but takes time on those with strong armour. Hypno-Disc does have decent pushing power in the game, so can manoeuvre opponents towards hazards.
Against Hypno-Disc
Edit
If your robot has weak armour, stay away from the weapon. Flipping Hypno-Disc is one tactic, as long as you flip from the back rather than from under the disc. Hypno-Disc has one of the more weaker armours in the game, so saws or axes can break Hypno-Disc quickly.
Differences from Real Life
Edit
Much like the Series 3 and 5 versions, the spikes on top of the robot are absent.
The srimech bar is not visible, although Hypno-Disc is able to self right in the game.
Hypno-Disc self rights by somersaulting into the air over its front in a similar fashion to robots such as Cassius and Firestorm, rather than the side bar simply pushing it back onto its wheels.
Hypno-Disc's rear chassis is somewhat taller and thinner.
Community content is available under
CC-BY-SA
unless otherwise noted.