"Our first year at Robot Wars is already over, IDO has driven and behaved in the arena with dignity."
— Team M.I.E.T.E.R.S.[1]
IDO (Identified Destroying Object) was a Dutch robot that competed in Series 2 of Dutch Robot Wars under a female-led team. It lost to Hammerhead 2 in its only battle. Team captain Carlijn Meyboom would later compete in the modern British Robot Wars with TMHWK.
"IDO has an octagon as body and two "arms" are attached to it. These arms are The first two weapons of our robot, because there are a number of small pins on it. If we hit another robot hard or rotate around our own axis, we can damage the other robot. At the back is a "tail", with which we can ram. The 2 small side pieces ensure that you can not only ram straight back, but also rotate again. So if we spin we have 3 points with which we can hit the opponent."
— Team M.I.E.T.E.R.S. website on IDO's offence (translated from Dutch)[2]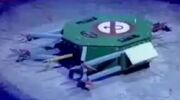 IDO was an invertible, octagon-shaped robot painted green and armed with several spikes on the front and on two 'arm'-like sections on either side. It also featured a double-sided stationary pickaxe at the back which was intended to cause damage when the robot spun, while the spikes were designed to impale other robots as IDO pushed them around. IDO ran on a two-wheel drive, with an added ball swivel castor at the front. The frame was made up of 30x30mm iron bars, with the robot's 3mm aluminium armour (5mm iron on the baseplate) being topped with 6mm acrylic glass. IDO contained a 70A, 4QD NCC-70 24V speed controller, and its gearbox ran at 1:10 reduction.
"The robot has a turning circle of zero degrees, because the two (main) wheels are driven separately. The four swivel wheels (2 above and 2 below) ensure that the turning is also smoother. This is done because we can drive on 2 sides. The main wheels therefore also protrude at the top."
— Team M.I.E.T.E.R.S. website on the fundamentals of IDO (translated from Dutch)[3]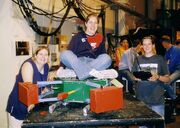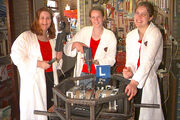 Team M.I.E.T.E.R.S. was one of the few all-female teams to compete in Robot Wars, with their name being an acronym for "Meesteressen In Ellende, Terrosisatie En Robots Slopen", Dutch for 'Mistresses At Distress Terrorisation And Destructing Robots'. Indeed, the team listed their strength as 'Girl power', and painted a 'no men allowed' symbol on IDO's top panel. The team itself consisted of captain Carlijn Meyboom, and teammates Lisette Kloos and Joke Verheijen.
Carlijn Meyboom, nowadays Caroline van der Meer, later entered Series 9 with TMHWK.
Qualification
Edit
IDO qualified directly for Dutch Series 2 due to the low number of entrants. Team M.I.E.T.E.R.S. started a rebuild of IDO, intending to enter Robot Wars: The Seventh Wars, but the project was not completed, and the team disbanded shortly afterwards[4].
Robot History
Edit
Dutch Series 2
Edit
IDO competed in Heat C, where it was drawn against the flipper of Hammerhead 2.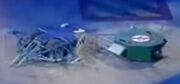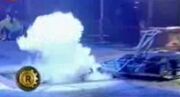 In the battle, IDO spun wildly at the start, trying to clip Hammerhead 2 with its spikes. Hammerhead 2 then flipped IDO and backed away, before IDO drove away and was slammed close to the wall by Hammerhead 2. IDO smacked the pit release button, then got caught in one of Hammerhead 2's side hammers and spun into the pit while trying to free itself from Hammerhead 2. This eliminated IDO from Dutch Series 2.
Wins/Losses
Edit
Series Record
Edit
Dutch Series
Edit
UK Series
Edit
NOTE: TMHWK also competed in Series 10 as part of the World Series, but Carlijn Meyboom was absent whilst she was pregnant.
Outside Robot Wars
Edit
In July 2002, IDO attended a Dutch live event in Enschende shortly after the filming of Dutch Series 2. Here it fought Tough as Nails[5].
External Links
Edit
References
Edit
Community content is available under
CC-BY-SA
unless otherwise noted.