"A big spinning drum thing."
— Jonathan Pearce's enthusiastic but blunt summary of Infernal Contraption
Infernal Contraption was a robot that competed in Series 6-8 series of Robot Wars, also entering in the second series of Robot Wars Extreme. It lost in the first round in all of its main series appearances, but reached the second round in the Extreme 2 University Challenge and won an untelevised whiteboard match against Turbulence.
Infernal Contraption was built by students and staff from Imperial College London, the college it represented in the University Challenge. In 2016, Gary Ewer returned with three new team members. The robot was originally named Gahra, but this was changed after the Series 5 qualifiers.
"We changed because nobody could say it properly!"
— Infernal Contraption website on the name change
Much like PP3D the year before it, a Kickstarter campaign was used fund the costs of the upgraded Infernal Contraption in time for Series 10. Rewards included posting a picture of the backers' faces onto the robot. Although the completed robot arrived at Series 10, it completed filming as an unused reserve.
"A two wheeled 'axle' robot with a vicious 16kg, 10mm-thick steel drum, that spins at 1000rpm and flips back and forth as the robot accelerates. Infernal Contraption's body is made out of a sewage pipe, which doubles as plastic armour, and its wheels are old car tyres. As a party trick, the robot can spin on one wheel due to the 'gyroscopic forces from the weapon.'"
— Robot Wars website on Infernal Contraption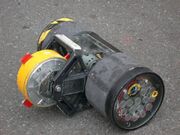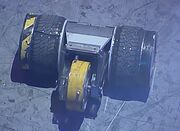 Infernal Contraption was invertible and cylindrical, armed with a 16 kg vertical spinning flywheel with four large teeth spinning at 1000rpm, like a larger version of the one used by Tornado, that could get up to speed in three seconds so the machine doesn't have to wait between attacks for the weapon to recover. It was made up of two independent wheel modules made from sewage pipe and was designed so that the whole body would swing overhead when the robot reversed, making it an axlebot. However, the radio reception of the robot was unreliable, and the robot was generally hard to keep stable.
"Infernal Contraption features a vicious 16kg, 10mm-thick steel drum that spins at 1,000rpm and flips back and forth as the robot accelerates."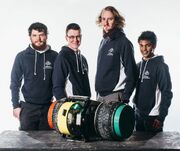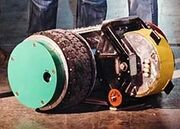 For Series 8, the original robot was refurbished with a few updated parts. However, the robot stayed the same for the most part. The wheels now had 1" plastic as its armour over the Lexan used in the previous entries. The multi-coloured tyres and LED lights on the sides of the drum and wheels were a new addition for Series 8 as well, and the robot's weight was reduced from 97kg to 86.65kg by utilising modern internals such as lithium ion phosphate batteries.
"Infernal Contraption's body is made out of a sewage pipe, which doubles as plastic armour. Its wheels are old car tyres."
— Robot Wars: Build Your Own Robot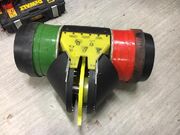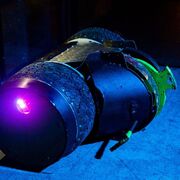 For Series 10, Infernal Contraption was completely rebuilt, using HARDOX armour, and a thinner 20mm vertical spinning disc in place of the former drum. This disc could reach top speeds of 4800rpm, and was powered by 30V brushless motors. The top and bottom panels of the robot featured the names and faces of the Kickstarter contributors towards the project. In spite of the Kickstarter being successful, the robot did not compete in Series 10 of Robot Wars. Instead, the robot first fought at Extreme Robots Maidstone in November 2017.
Qualification
Edit
The building of the robot began in January 2001, and the robot cost £3000 to build. The original team captain Jonathan Pillai was a member of the Stinger team in Series 3, and Stinger was an influence on Infernal Contraption's design.
"When I left the Stinger team after my year out, I wanted to build a robot of my own. I wanted to evolve the Stinger concept by implementing an active (powered) weapon."
— Johnathan Pillai on the Infernal Contraption website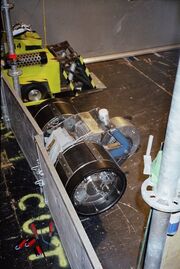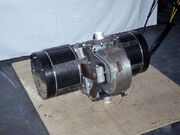 Infernal Contraption, under the name Gahra, first entered Series 5. It was only finished the day of the qualifiers, when it attended the Wembley Arena live show. Upon being weighed, the team discovered Gahra was 15kg over the weight limit. Gahra was put up against another robot that was over the weight limit. Despite winning the battle, the team failed to qualify.
"In the back of our minds we remembered that this was going to be the first time the robot had ever been run - we had not had time to even do the most basic of tests on the robot! ... When given the word, we powered the robot up and attempted to drive it out into the arena. This turned out to be remarkable difficult! As hard as I tried, the robot refused to go in anything remotely like a straight line ... It was then 3-2-1 Activate! and I immediately span the disk up. After a bit of dancing around I managed to get some good hits with the disk, which killed the opposition. We later found out that their removable link fell out. ... Basically we had bent their lifting weapon, and ripped apart the angle brackets that were holding their 5mm Ali armor together. Not bad we thought for a first test! After the fight many people came a speak to us, saying how they thought the robot looked really good. The guy in charge of the house robots even came over, and said that in his opinion, if we could control the robot, we would have a winner. Anyway about a week later we heard from robotwars that we had not qualified for the show."
— Infernal Contraption website on the Series 5 qualifiers[1]
Within three days after the qualifiers, the team were able to lose the 17kg of weight from the robot. The team then entered Series 6, and faced Double Trouble, GBH 2 and Ripper 2. Ripper 2 had to withdraw before the battle, and in the battle, all three robots survived to the end. All three were given places in the series.
"The battle began. We got a good hit on Double Trouble quite early on, which pierced their armour and damaged their transmission on one side. GBH II had intermittent radio problems, so we hit them a few times, but didn't want to do them too much damage while they were immobile. Part of our polycarbonate armour split due to being cold formed into a curve, but luckily, no one got in to do any damage. By the end of it all, Double Trouble's disks had both come off, GBH II had a few gashes, but was otherwise fine, and we were still working, but with superficial damage. We came back down from the control pods, deactivated the robot, and waited for the decision. We were all well pleased when Bill Hobbins, the producer, told us that it was a good fight, so all three robots would be appearing on TV. We were due back in three days, so had the weekend to sort out our armour."
— Infernal Contraption website on the Series 6 qualifiers[2]
Infernal Contraption successfully qualified for Series 7 and 8, although it did not enter Series 9 as team captain Gary Ewer was travelling in New Zealand[3].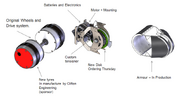 Infernal Contraption was rebuilt for entry into Series 10, and this was recognised by the producers, as Infernal Contraption was selected to attend the filming of the series. However, Infernal Contraption's position was awarded only as a reserve, and the robot would eventually be one of only two reserves to go unused, alongside Harpy.
"3/5 reserves got used, we were just unlucky. They choose the reserves based on the "best fit" for the fight. We'll be back next time. The producers do really like us and we think we have a good chance of making it. As a note there are only 30 robots competing this series, last series was 40. They invited 35 including reserves, so we know we're on the right track and last season we'd have been in!"
— Alex Joseph
Robot History
Edit
In the first round of the Sixth Wars, Infernal Contraption went up against 259, Aggrobot 3 and Infinity.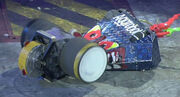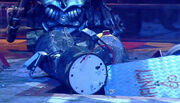 Infernal Contraption concentrated its efforts on 259. During the first attack one of the two weapon drive belts was severed on 259. 259 buffeted Infernal Contraption's body, eventually tearing off its back panel. Infernal Contraption was still moving, but a strip of rubber was starting to fall off its wheels. 259 came in and continued battering Infernal Contraption's rear, nearly getting it out of the arena in one instance. Infernal Contraption was having control issues due to heavy damage to one wheel's motor set, and drove onto the pit to reduce further damage. It couldn't get completely inside since Infinity was already there, but Refbot counted it out nonetheless.
Extreme 2
Edit
Infernal Contraption represented Imperial College in the University Challenge of Extreme Series 2. In Round 1, it went up against C.V. and the experienced Behemoth.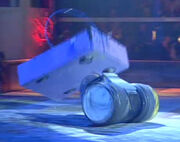 Infernal Contraption was charged immediately by Behemoth, in an effort to nullify its spinning drum. When Behemoth shifted its focus towards C.V., Infernal Contraption stayed out of the main action. During the battle, Behemoth became immobile, so Infernal Contraption attacked it to ensure its victory, and celebrated by throwing C.V. into the air with a strong hit from the drum.
In the second round, it faced Infinity once more, whose pincers were already damaged from its first round fight.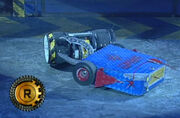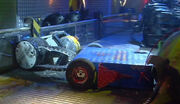 Nevertheless, Infinity displayed good aggression from the start, pushing Infernal Contraption around, and shoving into a wall. Infernal Contraption then managed to strike Infinity with its flywheel and bent one of its pincers upwards. Unfazed, Infinity continued pushing and pinning Infernal Contraption. Infernal Contraption then drove into a CPZ, and while it did escape in time to avoid Killalot, it was having trouble getting both of its wheels to work in sync. Infinity wedged underneath it with its bent-out-of-shape pincers, and carried it around until time ran out. The Judges' decision was in favour of Infinity.
Craig Charles: "How do you think the Judges split you up then?"
Jonathan Pillai: "I think they had a dartboard with Infinity there, Infernal Contraption there!"
— The teams agree on a close decision
In its first round melee of the Seventh Wars, Infernal Contraption went up against Jabber, Mantis and the 12th seeds Bulldog Breed.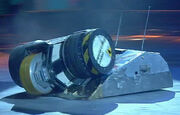 Infernal Contraption was immediately pushed into a corner by Bulldog Breed. The seeded machine flipped Infernal Contraption a couple of times, but could not get it out of the arena. All four robots met in the centre of the arena, and Infernal Contraption hit Mantis with its drum. Infernal Contraption continued to attack Mantis, but didn't appear to do much damage. All four robots were still mobile at the end, so the battle went to a judges' decision, and they ruled that Infernal Contraption had not done enough to go through to the next round.
"...we inflicted major damage on Bulldog Breed, on inspection in the pits we had twisted their chassis by more than 10mm all of their wheels were not in contact with the ground and they had to work very hard to be ready for the next round..."
— Ray Thompson
Infernal Contraption also took part in the Battle of the Spinners in Series 7, along with Barber-Ous 2'n a Bit and Shredder Evolution.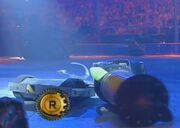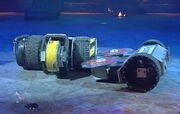 It ran into problems early on when Shredder Evolution hit one of its wheels and sheared something off. Shredder Evolution then forced it into Mr. Psycho's corner. It escaped, but had lost drive in one wheel, and was therefore immobile. After being counted out, it was picked up by Mr. Psycho, who torched it over the flame pit. Infernal Contraption's drivers attempted to throw Mr. Psycho off balance, almost succeeding, but were then dropped it into the pit.
Infernal Contraption competed in Heat 5, where it faced Beast, Gabriel and Crazy Coupe 88 in its first round melee.
It was very passive at the start of the fight, attempting to spin its drum up to speed, but could not do so. When Crazy Coupe 88 was immobilised, Gabriel landed blows onto Infernal Contraption, while Beast overturned it on top of the flame pit. With no weapon to cause damage with, Infernal Contraption pressed the pit release button but, after being turned over by Beast, it reversed straight into the pit, eliminating it in the first round for a third time.
"They had the brawn, they said they had the brains, yeah, really? Out go Infernal Contraption!"
To entertain the crowd in untelevised battles, Infernal Contraption competed in two whiteboard matches. In the first, it faced Eruption.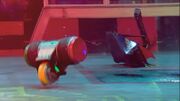 Due to Infernal Contraption's high ground clearance, Eruption was capable of repeatedly getting underneath, to throw Infernal Contraption into the plexiglass walls repeatedly. Infernal Contraption responded, and landed some hits, denting the RAEX front plate of Eruption, which also became stuck on the flame pit. However, Infernal Contraption lost the link that powered its spinner, and was thrown around the arena again, until eventually its power link detached, immobilising it. Infernal Contraption lost the battle, but a clip of the fight is used in the opening sequence of the series.
"Due credit to the team, for such an old machine it stood up to a huge number of impacts after being flipped and it was only the links that let them down in the end!"
— Team Eruption
Infernal Contraption also fought the winner of the pilot episode, Turbulence. Infernal Contraption won this battle within a short amount of time after Turbulence's safety link fell out, pressured by Infernal Contraption's drum.
INFERNAL CONTRAPTION - RESULTS
Series 6
The Sixth Wars - UK Championship
Heat, Round 1
Heat E, Round 1
vs. 259, Aggrobot 3, Infinity
Eliminated
Extreme Series 2
University Challenge
Round 2
Round 1
vs. Behemoth, C.V.
Qualified
Round 2
vs. Infinity
Lost
Series 7
The Seventh Wars - UK Championship
Round 1
Heat K, Round 1
vs. Bulldog Breed (12), Jabber, Mantis
Eliminated
Special Events
Battle of the Spinners
Battle of the Spinners
vs. Barber-Ous 2'n a Bit, Shredder Evolution
Lost
Series 8
Series 8 - UK Championship
Round 1
Heat 5, Group Battle
vs. Crazy Coupe 88, Gabriel, Beast
Eliminated
Whiteboard Matches

Head-to-Head
vs. Eruption
Lost
Head-to-Head
vs. Turbulence
Won
Wins/Losses
Edit
NOTE: Whiteboard matches are not included
Series Record
Edit
NOTE 1: Jonathan Pillai entered Series 3 with Stinger
NOTE 2: Gary Ewer failed to qualify for Series 4 with The Necromancer
Outside Robot Wars
Edit
After the cancellation of Robot Wars, Infernal Contraption retired as a display piece in the Undergraduate Electronic Engineering Lab at Imperial College London, the college that Infernal Contraption represented in the University Challenge episode. It remained there for eight years, before being brought back out of retirement.
In April 2017, Team Infernal Contraption launched their Kickstarter campaign, which raised £1090 to fund Infernal Contraption prior to Series 10.
The version of Infernal Contraption that tried to qualify for Series 10 of Robot Wars made an appearance at the Extreme Robots event at Maidstone in November 2017 when it was finally allowed to use its spinner. It fell in the first round of the competition against Tauron and Gabriel after its disc got jammed up by Gabriel's fitted entanglement device. It then fought in whiteboard fights, first in a three-way melee against Tauron and Cyclone where it won after its opponents became immobilised. Next it fought another three-way melee against Iron-Awe 6 and Harpy where its motor for the weapon went up in smoke and was forced to withdraw from the fight. It took part in a four-way melee against Ripper, Harpy and Expulsion fitted with the old spinning drum where it did well landing a few hits on the other robots until it landed in the pit.
Infernal Contraption found more success at the Manchester Extreme Robots event in April 2018, where Infernal Contraption used its spinner to damage 2point0, before it was knocked out of the competition in the second round in a damaging loss to Donald Thump.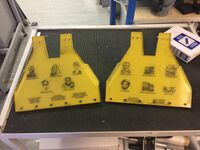 During the Kickstarter Campaign, several users on Reddit worked together to get Jonathan Pearce's face on the side of Infernal Contraption. It was successful, and his face was placed on one of the panels under the name r/robotwars.
Infernal Contraption was the only axlebot to appear in the Seventh Wars.
Infernal Contraption's working title before Gahra was Factor X.
Although Infernal Contraption's VT would go unused on television in its entirety, various clips from it were used in the opening sequences of Series 8.
If Infernal Contraption competed in Series 10, mechanical engineer and magician by hobby Alex Joseph would have joined the team on television.
External Links
Edit
References
Edit