For the Welsh machine that competed in UK Series 6 and Extreme 2, see Infinity (UK).
Infinity was a robot that took part in the second series of Dutch Robot Wars. It lost its first round battle to Bloody Murder Weapon after breaking down in the opening moments, and did not appear in any other series.
Design
[
]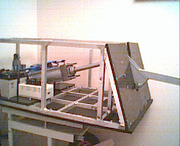 Infinity was a tall box-shaped robot with angled sides, flat front and rear panels and armed with a pneumatic axe as its weapon. It was painted black with several stars and flaming comets to depict a starscape.
Robot History
[
]
Dutch Series 2
[
]
As part of Heat D, Infinity faced Bloody Murder Weapon in the first round.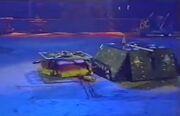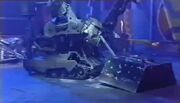 It started rather sluggishly, bumping into Bloody Murder Weapon but not being able to get its axe into any effective use. As Bloody Murder Weapon went for the pit release tyre, it had become apparent that Infinity was immobilised near the Disc of Doom. Refbot counted it out, leaving the House Robots free to attack the now-eliminated Infinity. Infinity axed Mr. Psycho's head with its axe, before Mr. Psycho hammered it in retaliation, smashing through its top armour panel. Dead Metal then shoved Infinity onto the Floor Flipper, where it was tossed over before suffering more damage from Mr. Psycho and Dead Metal and being pitted.
Results
[
]
Wins/Losses
[
]
Series Record
[
]
| Dutch Series | Infinity Series Record |
| --- | --- |
| Series 1 | Did not enter |
| Series 2 | Heat, Round 1 |
Outside Robot Wars
[
]
Infinity made its combat debut at the Dutch Robot Games in 2001, between the two Dutch series of Robot Wars. At the time, Infinity wielded two axes instead of one. It did not enter the main bracket, fighting only against a weaponless Twisted Metal in an exhibition match, where Infinity was defeated[1].
External Links
[
]
References
[
]