"We intend to send the other robots Interstellar!"
— Dr Maggie Aderin-Pocock
Interstellar: MML was a stock robot that competed in Robot Wars: Battle of the Stars, filmed as part of the ninth series. It was entered by space scientist Dr Maggie Aderin-Pocock, hence the robot's astronomical name. Aderin-Pocock was mentored by Shane Swan of Team S.Tek throughout the competition process. After a slow start, Interstellar: MML managed to place third in Episode 1 by defeating The Cat.
Design
[
]
"Simple is good, this is especially important for a first robot."
— Dr Maggie Aderin-Pocock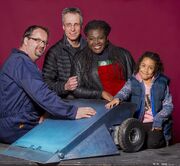 Interstellar: MML was a wedge-shaped robot with a front-hinged flipper, the design being inspired by the championship run of Apollo[1]. The flipper covered the entire top surface of the robot, with a front wedge separate from the rest of the flipper so that it could hug the surface of the floor. Interstellar: MML had fairly potent armour, consisting of 6mm HARDOX and 2mm steel. However, its two-wheel drive system was completely exposed, and often struggled to gain traction on the arena floor. Interstellar: MML was also equipped with an on-board camera, although this was not used to great effect.
"The flipper is very wide, which is great for me, because it means that no matter what angle I go, I can actually get another robot on top, but it's very snug to the sides - if I get an impact to the side, the flipper could get stuck!"
— Dr. Maggie Aderin-Pocock
Team
[
]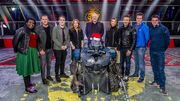 Dr. Maggie Aderin-Pocock, MBE is a scientist in the field of space, and is an Honorary Research Associate in UCL Department of Physics and Astronomy. Her award-winning career in science led to Aderin-Pocock being offered positions on television, presenting one-off shows such as Do We Really Need the Moon? and In Orbit: How Satellites Rule Our World.
"Dr. Maggie, super hands on with fixing!"
— Gabriel Stroud describes Aderin-Pocock's involvement with repairs during a podcast
Aderin-Pocock was joined on the team by her daughter Lauren, who operated Interstellar's flipper in its first match, and husband Martin, who operated the flipper in the remaining fights.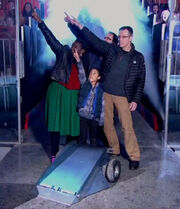 Shane Swan is the captain of Team S.Tek. He made his Robot Wars debut in Extreme 2, in the New Blood Championship, where he competed with Hell's Teeth. Swan also competed in Series 7 with Trax. However, his most successful Robot Wars campaign was in Series 8, where he reached the Heat Final with Dantomkia. On the basis of his success in the at-the-time newest series, Swan was selected as a mentor to guide Aderin-Pocock with her build. Swan would later compete in Series 9 and 10 with his own front-hinged flipper, Push to Exit.
As with all Battle of the Stars competitors, Interstellar: MML was built by Robo Challenge, producers of the show who had also built the House Robots.
Robot History
[
]
Battle of the Stars
[
]
Interstellar: MML competed in Episode 1. Dara Ó Briain jokingly remarked that the presence of Dr. Maggie Aderin-Pocock on the show was 'unfair' on the other celebrities, due to her existing expertise in engineering.
"I think this is absolutely cheating, I think this team shouldn't be allowed in!"
— Dara Ó Briain
In its first battle, Interstellar: MML fought Arena Cleaner, the robot entered by Scott Mills and Chris Stark.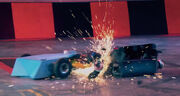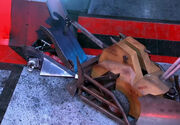 When the fight started, Interstellar: MML approached Arena Cleaner, but turned away as it drew nearer to the opposition. This proved to be a fatal mistake, as Interstellar: MML exposed its wheel to the spinning bar, and the tyre was ripped off completely. Interstellar: MML could still drive in a restricted fashion, but its other wheel was promptly torn into pieces. The robot took more damage from Arena Cleaner, and could only fire its flipper in response. Interstellar: MML was axed by Shunt, and cease was called. Regardless, Shunt caused more damage, sliding Interstellar: MML into the wall and punching through its flipper.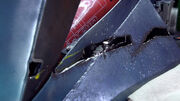 "She loves space, part of her robot...is in space!"
Interstellar: MML then had to be repaired within the short timespan of a single hour. There, it was revealed that Arena Cleaner had almost sliced through Interstellar: MML's gas canister, which would have caused an explosion if struck, and also that its on-board camera had been destroyed.
"I was actually an avid listener of Scott Mills...not no more!"
— Shane Swan
Next, Interstellar: MML fought the Brownlee Brothers' robot, JAR.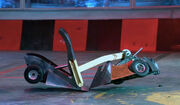 Aderin-Pocock's driving was once again cautious, but to greater effect, successfully evading blows from JAR's hammer, although its attempt at flipping JAR failed, as Interstellar: MML's wedge did not gain enough purchase. Interstellar: MML charged into JAR, but still could not get its flipper into play. The tides turned, and Interstellar: MML was struck by JAR's hammer twice, before JAR lost the use of its weapon. However, it was at this point that Interstellar: MML lost drive to one wheel, and it was hounded by Matilda. Interstellar: MML did not leave the space it was stuck in until time expired at the end of the three-minute battle.
Jonathan Brownlee: "Hit him now, go on!"
Dr. Maggie Aderin-Pocock: "It's a 'she', actually!"
— The conversation in the booth
The battle was sent to the Judges, who unanimously voted in favour of JAR, meaning that Interstellar: MML could no longer reach the final of the episode. Regardless, Interstellar: MML fought The Cat in its final battle.
"You really have to get a long way under, to make it go interstellar!"
— Dara Ó Briain on Interstellar: MML's wedge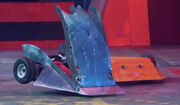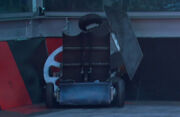 It slowly approached The Cat when the battle began, and after a glancing blow, The Cat backed away, leading it to collide with Sir Killalot. This contact immobilised The Cat, so Interstellar: MML had won the match via knockout. Regardless, it pressed the pit release button, pushed The Cat into an arena corner, and finally flipped an opponent for the first time, throwing The Cat into the wall. Interstellar: MML was awarded 3 points for its win via KO, giving it more points overall than JAR. As a result, Interstellar: MML finished third overall in the episode.
"The bit I really enjoyed today, was trying to put it back together! Because it was fantastic!"
— Dr. Maggie Aderin-Pocock
Results
[
]
Wins/Losses
[
]
Series Record
[
]
NOTE: This series record reflects the performance of mentor Shane Swan
Trivia
[
]
Interstellar: MML was first revealed officially on Christmas Day, in a BBC Make it Digital article. The article referred to the robot simply as Interstellar.
References
[
]
External Links
[
]