JAR, alternatively Jarbot, was a stock robot which competed in Robot Wars: Battle of the Stars, filmed as part of the ninth series. It was entered by Olympic medallists Jonathan and Alistair Brownlee, mentored by Gabriel Stroud throughout the build process. It finished the Head-to-Head stage with 2 points, putting it in fourth place in Episode 1.
Design
[
]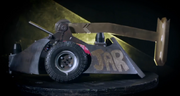 JAR was armed with an 800psi pneumatic golden hammer, and had its name written on the surface. The front of JAR was protected by a steep front scoop, which was taken from Gabriel Stroud's Sabretooth. This provided strong armour at the front, with the remainder of the robot being covered in 6mm HARDOX and 3mm steel, but the internals of JAR were completely exposed to overhead attacks, lacking any sort of armour on top, and the robot's two-wheel drive was also exposed. At 11mph, JAR was the fastest robot in its episode, and the strength of JAR's hammer was capable of causing trauma damage, but also brought with it recoil damage, which could cause the robot to lose power to the weapon, or break down altogether.
The Brownlee Brothers originally wanted to compete with a clusterbot, according to Jonathan Pearce. However, this was discouraged by Gabriel Stroud.
Etymology
[
]
The name JAR stands for Jonny & Alastair's Robot, as confirmed by Gabriel Stroud[1].
The Team
[
]
"We've got enough gold. We're here to make some scrap metal!"
— Alistair Brownlee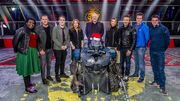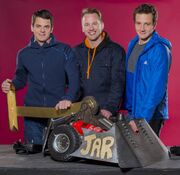 Jonathan Brownlee and Alistair Brownlee, MBE, known collectively as the Brownlee Brothers, are triathletes, who represented Team GB in the two most recent Summer Olympic Games. Notably, they are the only pair of brothers to pick up a silver and a gold medal in the same Olympic competition, with Jonny Brownlee picking up the silver medal, and Alistair Brownlee winning the gold in the triathlon, also being the first sportsman in the event to defend his title. The Brownlee Brothers gained further fame in September 2016, when Alistair sacrificed his chances of winning the Triathlon World Series to carry his fallen brother across the finish line.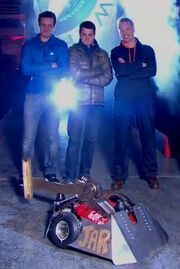 The brothers are long-time fans of Robot Wars[2], and were eager to learn how robots were built and controlled.
Gabriel Stroud is the captain of Team Legion. Leading into Battle of the Stars, Stroud had competed in three series of Robot Wars with Sabretooth, also competing in Series 9 while Battle of the Stars was being filmed. Although his robot was yet to pick up a combat win before Sabretooth's televised appearance in Series 9, Gabriel proves to be a popular roboteer, and appeared frequently in promotional material for Series 8. As such, he was chosen to mentor the Brownlee Brothers throughout the build and competition process.
As with all Battle of the Stars competitors, JAR was built by Robo Challenge, producers of the show who had also built the House Robots.
Robot History
[
]
Battle of the Stars
[
]
JAR competed in Episode 1, where its first battle was against the entry of Suzi Perry and Dallas Campbell, The Cat. The Brownlee Brothers were nervous due to their lack of experience, but developed a strategy of keeping JAR's front wedge facing forwards at all times.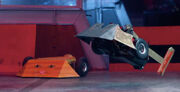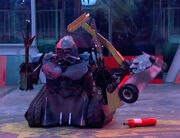 When the battle began, JAR closed in on The Cat, and fired its hammer, but did not lever it all the way over, failing to strike its opponent. JAR's second swing missed, striking the floor, and the retrieval of the hammer threw JAR into the arena. Upon landing, JAR had lost mobility, and cease was called shortly afterwards. Sir Killalot closed in and grabbed JAR by the hammer, parading it around the arena until one of JAR's gas canisters fell out.
In response to this loss, JAR's weapon was reduced in power, ready for the next battle against Interstellar: MML, in hopes to avoid recoil damage, while still holding enough power to cause damage.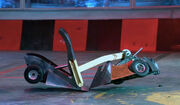 At the start of the battle, JAR drew near to Interstellar: MML, but repeatedly missed with its hammer blows, throwing itself through the air, and was slightly pushed back by Interstellar. Eventually, however, JAR landed a blow, forcing its opponent to drive over the flame pit, and landed another blow in an empty CPZ. However, forcefully withdrawing the hammer once again backfired on JAR, causing its gas canister to erupt, rendering the hammer useless. JAR could only push its opponent, which had also lost drive to one side. JAR kept its distance from Matilda, which attacked Interstellar: MML. JAR continued to press its opponent until cease was called.
"We've kinda become experts at hurting ourselves"
— Jonathan Brownlee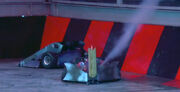 The unanimous Judges' decision was called in favour of JAR, awarding it the two points necessary to stay in the competition. In order to make the repairs to JAR, Gabriel Stroud needed to take components from another robot, and warned the Brownlee Brothers that breaking the components again would leave the team with no replacements.
"I need to be more conservative with the hammer, I was a little bit trigger-happy in the last round, but I'm going to wait for the big hit and go for it!"
— Jonathan Brownlee
In order to qualify for the Grand Final, JAR needed to defeat the robot of Scott Mills and Chris Stark, Arena Cleaner.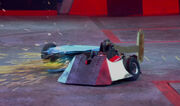 JAR attempted to flee, but its mistake soon proved fatal, as the first contact from Arena Cleaner's blade immobilised JAR. Arena Cleaner skirted around JAR's armour and wheels with its weapon, inflicting damage until cease was called. Although Shunt intended to attack JAR, it too was immobilised by Arena Cleaner, so JAR's run ended there.
As Interstellar: MML had managed to earn three points in its last battle, JAR was left in last place of the episode, with only two points. It was later revealed[3] that there was a twenty-minute period between JAR and Arena Cleaner entering the arena, and the battle starting. During this time, JAR's safety link was removed, and reinserted by the Robot Wars crew incorrectly.
Results
[
]
Wins/Losses
[
]
Series Record
[
]
NOTE: This series record reflects the performance of mentor Gabriel Stroud
Trivia
[
]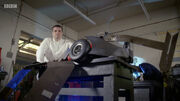 JAR was first revealed officially on Christmas Day, in a BBC Make it Digital article. The article referred to the robot as Jarbot, a name which Jonathan Pearce occasionally used in fights.
Despite entering three U.K. Championships with Sabretooth, Gabriel Stroud had not won a televised combat victory until JAR's defeat of Interstellar: MML.
JAR was one of eight robots whose silhouette was used as a placeholder when demonstrating the Series 9 episode format. During this demonstration, JAR, Soldier Ant and Kadeena Machina were all eliminated by Kan-Opener (despite it not being possible for only one robot to qualify from a four-way melee).
A partially-assembled JAR made a cameo appearance in Episode 2 of Robot Wars: World Series, where it appeared alongside Alan Gubiev during a VT segment on his World Series competitor Weber.
References
[
]
External Links
[
]