Jim Struts was a walking robot that competed in the Reserve Rumble at the end of Robot Wars: The Second Wars. The first walkerbot to ever appear in Robot Wars, it also became the first to win a battle, emerging victorious in the Rumble after all of its opponents became immobilised around it.
As it only competed in the Reserve Rumble, Jim Struts is one of the few robots to have never lost a televised battle, a feat which was later repeated by its successor, Miss Struts.
"I came home from work one Friday evening to be bombarded with questions from our children saying "Daddy we saw a program of fighting robots, can we make one". I watched the repeat on Sunday and I thought it looked a lot of fun. For the next couple of weeks I mulled over the idea of building a robot for the program, and then decided "let's go for it!" . It appealed to me as I have since a child wanted to build a robot, and the competition gave me the reason for doing so. It also brought together, rather nicely, a lot of my interests into one project, electronics, radio frequency equipment, machines, computers, and programming... paradise."
— Ian Inglis on building Jim Struts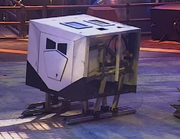 Jim Struts was a large, white and black cube-shaped
walkerbot
. Its locomotion came from four hydraulically-powered legs with long ski-like 'feet', which were also designed to be able to lift and clamp on opponents, although with limited efficiency. However, Jim Struts was essentially weaponless, and had a low top speed that limited its movement across the arena. Ian Inglis of
Team EyeEye
also revealed that the robot was too heavy to walk effectively and had numerous stability issues during testing.
"It's not very stable. It keeps on falling over in the garden, we've crashed a few rose bushes and things like that."
— Ian Inglis explains to Philippa Forrester about Jim Struts' stability issues
At 175.9kg, Jim Struts weighed nearly 22kg over the Super Heavyweight limit and almost 40kg over the original weight limit for heavyweight walkerbots.
Robot History
Edit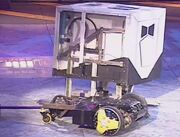 Jim Struts competed exclusively in the Reserve Rumble, broadcast as part of the Grudge Matches special. There, it fought Lateral Thought, Malice, Bumblebot and Forklift. Jim Struts immediately walked to the centre of the arena, dodging an initial hammer blow from Bumblebot as it did so. It was then rammed into by Forklift, although it backed towards Forklift in response. As Lateral Thought and Malice became eliminated through attacks from the House Robots, the three surviving robots briefly gathered round in the centre, with Jim Struts attempting to pursue Bumblebot. Forklift was then turned over and severely damaged after driving into the PPZ, leaving Jim Struts and Bumblebot as the last two robots standing. Bumblebot drove in between Jim Struts' feet, only for Jim Struts to catch its hammer while trying to 'flick' it away.
"You'll be drawing your pension by the time Jim Struts gets into a gallop!"
— Jonathan Pearce as Jim Struts attacks Bumblebot
Jim Struts then reversed into Bumblebot as it lingered near the PPZ, where Dead Metal and Shunt attacked Bumblebot. With Bumblebot immobilised as a result, 'cease' was called, and Jim Struts was declared the winner of the Reserve Rumble.
"And meanwhile Jim Struts, alone, undaunted, unmarked, and I think a very curious winner!"
— Jonathan Pearce as Jim Struts emerges victorious
Wins/Losses
Edit
Series Record
Edit
Community content is available under
CC-BY-SA
unless otherwise noted.