"Mission Statement : To build the meanest, baddest, mechanised masher, and dominate the competitors of Robot Wars UK"
— Project DarkMine outline their plans to compete on Robot Wars
Judge Mental was a robot by Project DarkMine built with the intention to qualify for Series 6 of Robot Wars, but was unsuccessful in doing so. It was designed by brothers Colin and Andrew McCarthy, as well as friend Richard Kilbey.
Design
[
]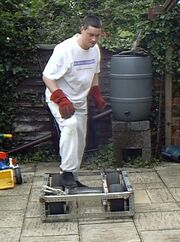 Judge Mental was an invertible, four-wheel drive robot armed with a 10kg horizontal flywheel salvaged from an old Rover engine, driven by a 24v motor from a Pihsiang mobility scooter. For drive, a pair of 12v wheelchair motors powered four go-kart wheels via timing belts. The robot's main chassis was built from square tube steel, and armour was made from various pieces of angled Dexion steel.[1]
"The timing gears from our Volvo engines are mounted up on the appropriate axles, and connected by the timing belts. With the motor gearboxes taking up some of the lenght of the robot, we are having to use two different belt lengths, which seem quite easy to come by. Our whacking great Deta batteries sit centre-back to offset the weight of the flywheel (from a straight 6 Rover engine). this leaves us loads of room for speed controllers, and the drive for the flywheel in the middle."
— The team explain Judge Mental's design on their website
It is currently unknown whether the team attended qualifiers with Judge Mental, or attempted to enter any future series.
Series Record
[
]
References
[
]