"Inspired by Chaos 2, apparently, this is basically a box on wheels, made out of aluminium panels from a telephone exchange."
— Robot Wars Magazine[1]
Juggernot 2, styled as Juggernot II, was a robot that entered Series 5 of Robot Wars. It was easily flipped in its only battle against Bulldog Breed 3.
The team originally attempted to compete in Series 3's Super Heavyweight Championship with Juggernot 1. Although it passed the audition, Juggernot 1 ultimately did not compete because of a behind-the-scenes accident that caused the cancellation of various side events, including the Super Heavyweight championship.
After Series 5, the team planned to build a new robot called Bearbot, which was described by the Robot Wars Magazine as "a teddy bear driving the Batmobile". Although first planned for Series 6, it was never completed until the show was cancelled, so development of the robot was halted.
Design
[
]
"A pneumatic front scoop flipper, a petrol driven axe and automatic srimech. Parts come from old shelving, military aviation equipment and rubbish from skips!"
— Jonathan Pearce introduces Juggernot 2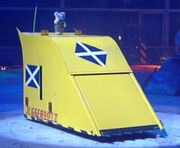 Juggernot 2 was a large yellow box wedge shaped robot armed with a pneumatic scoop flipper, a petrol engine and an automatic srimech comprising two self-righting arms on the side of the robot designed to right it if tipped on its side. However, the team had to destroy most of the robot to meet the weight limit (as Tony Somerfield mentioned during the post battle interview); this left it with no self-righting mechanism, and it also appeared slow and fairly unstable with a high ground clearance.
Also featured on Juggernot 2 was a teddy bear on top, which held a wooden stick and had a face painted to look like the Cross of St. Andrew. The word "Oops!" was imprinted in green on the bottom of the robot.
Qualification
[
]
"ROBOT JUGGERNOT 1 has also qualified for the super heavyweights at 116kg still waiting for more info."
— Kenneth Mudie on the Tinweb forum
The original Juggernot 1, which used an axe as a weapon, auditioned for a place in Series 3. Weighing 116kg, the machine received a place in the Super Heavyweight Championship.[2] However, the behind-the-scenes accident prevented Juggernot 1 and other super heavyweight hopefuls from competing on the show. Juggernot 1 would later compete in the SECC event in Glasgow.
Meanwhile, Juggernot 2 attended the Series 5 qualifiers. Currently, it is unknown who it competed against and whether it won its qualifying battles. Nevertheless, Juggernot 2 successfully earned a place for the series.
Robot History
[
]
Series 5
[
]
Juggernot 2's only fight came against Bulldog Breed 3 in a Series 5 Heat B clash.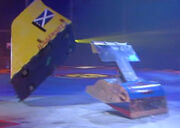 Juggernot 2 started with its back to Bulldog Breed 3 and moved very sluggishly in the opening moments. It then started to move freely next to the Floor Flipper, but after a period of the two machines keeping their distance from one another, Bulldog Breed 3 caught a spinning Juggernot 2 side on and threw it over, revealing the "oops!" message on the underside of Juggernot 2 and popping a panel off of the rear of it. A follow-up rally of flips from Bulldog Breed 3 knocked off Juggernot 2's mascot teddy bear, and although Juggernot 2 found itself back on its wheels at one stage, it wasn't long before Bulldog Breed 3 lifted it up and onto its back.
"Oh, flower of Scotland, when will we see the likes again? Hopefully, never! We're "sending them heyward" to think again! Try, try, try again as Robert the Bruce would say, but try even harder!"
— Jonathan Pearce makes Scotland related jokes as Juggernot 2 is flipped around
After this, Bulldog Breed 3 came in with a long distance charge on Juggernot 2, and activated the Pit release tyre - dislodging it from its position against the arena wall in the process. A final flurry of flips and rams from Bulldog Breed 3 completely removed Juggernot 2's flipper, before Shunt came out from his CPZ and slid Juggernot 2 into the Pit, eliminating it from the competition.
"Jugger-not a good robot!"
Results
[
]
JUGGERNOT 2 - RESULTS
Series 5
The Fifth Wars - UK Championship
Heat, Round 1
Heat B, Eliminator
vs. Bulldog Breed 3
Lost
Wins/Losses
[
]
Series Record
[
]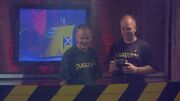 Trivia
[
]
The TV show claimed that Juggernot 2 used an axe for a weapon as well as a scoop, even stating "powerful axe" as Juggernot 2's strength on the statistics board. However, only Juggernot 1 featured an axe.
On the Juggernot 2 statistic board, the photo was over-cropped and placed the wrong way up, showing Juggernot 2 on its side.
Juggernot 2 was mistakenly referred to as Juggernaut 2 in the original Robot Wars Magazine.
The Juggernot 2 team were the only team in Heat B of Series 5 not to appear in a subsequent series.
References
[
]