Junkyard Queen was a German robot that competed in German Robot Wars. After progressing over Ansgar's Revenge, Junkyard Queen was eliminated in the final round of its heat by Son of Armageddon, but appeared in the Fifth Place Play-Off against Not Perfect where it was indirectly responsible for toppling the House Robot Mr. Psycho.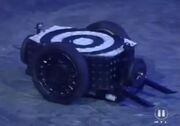 Junkyard Queen was a white box-shaped invertible two-wheeled robot, decorated with a black circle on top. Its weaponry at the front consisted of two lifters, with a bludgeoner in-between. The rear end of the robot was also armed with a drill. Junkyard Queen's armour was strong, and its tyres were durable in spite of being exposed, but the robot had a very high ground clearance and lacked any pushing power.
Etymology
Edit
The name Junkyard Queen was chosen in reference to its usage of scrap materials. The robot was originally planned to be named X-Ray, but Frank Fietzek changed this name after discovering an existing robot with the same name[1].
Junkyard Queen was entered by a singular team member, Frank Fietzek, from Berlin. Nevertheless, he was assisted throughout the series by Dirk Ferachen from the Golem team, despite the two robots battling each other in the first round of the championship. The team were known as Bots from Berlin[2][3].
Qualification
Edit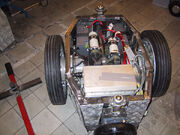 In order to qualify for the German series of Robot Wars, all German competitors were required to attend an inspection run by Derek Foxwell in May 2002, to receive safety advice, and pointers with the build. Frank Fietzek attended the event despite not having a working robot yet, and as German Robot Wars had less applicants than the number of spaces for competitors, Junkyard Queen was automatically accepted for the German series. Frank Fietzek started building the robot only after he had been accepted as a participant in the series.
"after finally the OK for England was given, the project starts: few parts and a basic idea (rather simple - from both sides mobile bot, wheelchair motors, rotating weights front and rear as a weapon - no pneumatics, but I'm a little too sensitive in the short time) --- I go now first to the junkyard to find parts ..."
— Frank Fietzek on starting the build process of Junkyard Queen after attending the auditions (translated from German)[4]
Robot History
Edit
German Series
Edit
Competing in Heat A, Junkyard Queen fought Ansgar's Revenge and Golem in its first-round melee.
Junkyard Queen suffered from control problems during its eliminator, showing only fits and spurts of life. It spent the early part of the battle being shoved around by Golem; however it turned the tables later in the battle, pushing Golem, who had lost a wheel earlier in the battle. It was this late fight back that earned Junkyard Queen the judges' vote over Ansgar's Revenge, which was eliminated.
In Junkyard Queen's second fight, it fought Son of Armageddon, to potentially earn a place in the Grand Final.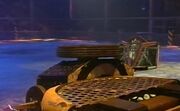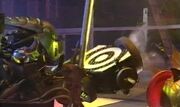 Junkyard Queen was flipped onto its side very early on, balanced on its broad wheel by the lifter. Although Junkyard Queen could turn on the spot by running its wheels, it could not bring itself down with the arena wall in the way, and was counted out by Refbot. Junkyard Queen then took punishment from the House Robots, first having its tyres shredded by Matilda, then being placed on the Drop Zone, and finally being pitted, eliminating it from the competition.
Junkyard Queen made a final appearance in the play-off for fifth to eighth positions. In reality, Junkyard Queen was guaranteed at least sixth position, as Golem and Hydrotec withdrew before the battle began. This left it in a head-to-head battle against Not Perfect.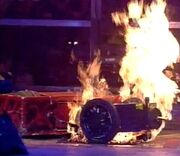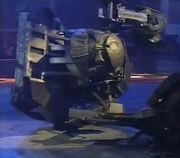 Junkyard Queen was pushed against the arena wall by Not Perfect before breaking down over the flame pit, at the same time getting stuck by its bludgeoner to Not Perfect. Mr. Psycho broke the stalemate by picking them both up, causing Not Perfect to fall, but keeping hold of Junkyard Queen. Due to turning too quickly, Mr. Psycho. overbalanced and toppled over, the first of two times it would be defeated. The immobilised Junkyard Queen was then pushed onto the Drop Zone by Refbot, where the chassis of defeated competitor Golem was dropped onto it, although Golem largely missed its target, only striking Junkyard Queen's wheel. Defeated, Junkyard Queen finished sixth overall in the series.
Wins/Losses
Edit
Series Record
Edit
Outside Robot Wars
Edit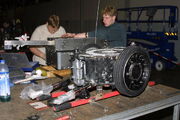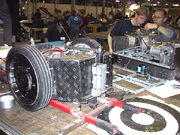 Junkyard Queen attended the Dutch Robot Games early in 2003, its only appearance outside of the TV show. However, across its two fights, Junkyard Queen hardly worked, only travelling about five metres in the entire event in its two losses to Bamm Bamm and Reaper NP2[5]. Junkyard Queen was subsequently retired.
"The JUNKYARD QUEEN still exists, but in Holland she did not make a very splendid picture and in two fights she drove a total of about five metres - well, that's not the youngest anymore."
— Junkyard Queen website on its live appearance (translated from German)[6]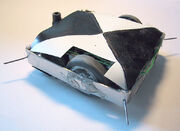 Frank Fietzek also built an antweight robot named Jupper, a 148g sit-and-spin invertible design using the same black and white colours of Junkyard Queen. It fought at an event in Rijswijk with reasonable success, winning two or three fights within the losers' bracket.
Due to the nature of the German Robot Wars format, Junkyard Queen is the only robot to officially place sixth in a series.
External Links
Edit
References
Edit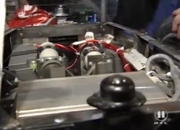 Community content is available under
CC-BY-SA
unless otherwise noted.