"More bite than a Great White!"
— The robot's tagline
Kan-Opener was a competitor robot which competed in Series 5 to 8 of Robot Wars, as well as the second series of Robot Wars Extreme. Although Kan-Opener never progressed beyond the first round in any of its four main competition appearances, it won two separate Annihilators, one in Extreme 2 and the other in Series 7. This made Kan-Opener the only robot ever to win more than one Annihilator, and to defend its Annihilator title.
Versions of Kan-Opener
"The Kan-opener concept was thought up by Alistair O'Neal of West Bromwich in the early days of the TV series Robot Wars. Alistair then sought the help of Andy Kane, a hydraulic engineer, for the hydraulic design concept. It soon became apparent that the complimentary skills of Alistair and Andy would be better suited to a team approach and the Kan-opener team was formed to include Andy's son Tom then aged 9."
— Kan-Opener website on the origins of Kan-Opener
In all appearances, Kan-Opener was a yellow robot, heptagonal in its first four versions, with two large horizontal crushing claws with hardened steel tips, driven by a 6.6 ton hydraulic ram, delivering 6.4 tonnes of force and capable of crushing car skins and chassis. It also featured two wet go-kart tyres, making it very quick and agile, and the robot had a total of four sets of jaws, all of which were interchangeable.
Kan-Opener's pincers sometimes posed a problem in that they would get lodged in their opponent's armour and were difficult to retract. Examples of this include the first round in the Seventh Wars, as well as a qualifier for the Fifth Wars that it lost, despite pitting its opponent.
Kan-Opener A-spec (Series 5)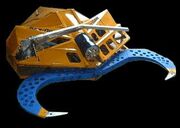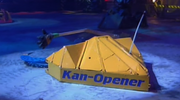 Kan-Opener A-spec, which competed in Series 5, was the only version of Kan-Opener to not be invertible. Instead, it featured a self-righting mechanism in the form of a sideways-opening bar, like that of Hypno-Disc. However, it proved unable to right the robot in battle. The robot's armour was pyramid-shaped, and was filled with holes in order to meet the weight limit. The robot took 18 months to build.
Kan-Opener B-spec (Series 6)
"The BBC told us they loved the shape of this first Kan-opener as it was good for TV, we decided to scrap it and make a new one that could work just as well up side down, even though we were not happy with a box."
— Kan-Opener website on redesigning Kan-Opener after Series 5.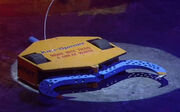 From Series 6 onwards, Kan-Opener was much flatter and invertible. In terms of armament, a battering ram was added to the back of the machine. Kan-Opener's armour was also upgraded to Grade 4 titanium, while its ground clearance was lowered. The Series 6 version took 4 months to build, using most of the internal components from Kan-Opener A-Spec. However, Kan-Opener B was a completely different machine to A spec, with a complex hydraulic system, which now featured a double hydraulic pump and associated valves.
Kan-Opener C-spec (Extreme 2)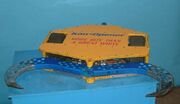 "Filmed in the autumn of 2002 it was time for a new Kan-opener, even though Kan-opener B was only three months old. It was decided by the team to de-rate the hydraulic system as we had caused so much damage in friendly fights with the previous Kan-openers. With the help of our hydraulic sponsors "Bosch Rexroth" a new lightweight design was envisaged. Kan-opener C differed from B with making the hydraulic system a much lighter design with the weight saved being put into side armour an increase in thickness from 1mm to 5mm titanium. It was felt by the team that this would give our opponent spinner teams a little more indigestion chewing 5mm thick material."
— Kan-Opener website
Despite looking near-identical to the previous version of the machine, Kan-Opener was still upgraded after it was defeated by Fluffy in Series 6. In order to help defend against similar attacks in the future, the team significantly increased the thickness of Kan-Opener's side armour. Other changes included an expanded array of interchangeable claws.
Kan-Opener D-spec (Series 7)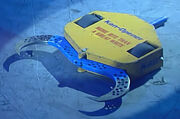 "The major changes on Kan-opener D spec was the wrap around armour with major structural strengthening while saving weight from other parts at the same time."
— Kan-Opener website
Series 7 continued the trend of Team Kan-Opener building a brand-new robot, once again looking much like the previous versions. New internals improved the robot's performance, and more armour was added to the section of the robot housing the pincers.
Kan-Opener J-spec (Series 8)
"The most powerful crusher in the competition, Kan-Opener has 12 tonnes of crushing force – equivalent to the weight of a London bus – at the very tip of its pincers. The robot cost over £25,000 to make over the last 15 years. The robot is fully invertible, and can work upside down."
— The Robot Wars website on Kan-Opener J-spec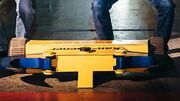 Kan-Opener J-spec was the largest deviation from the original design, having been built by Jason Marston, but was lent to its original team for the sake of the competition, while Jason Marston entered Thor. The robot now featured a much more compact design, being much wider than its length, and featured stronger HARDOX armour than the version of Kan-Opener previously seen on TV. Its two large tyres were also mounted externally, and the robot was faster at 16mph.
"Kan-Opener's force of crushing (bite) is five times the force of a great white shark's bite. Although the crusher may not externally damage a competitor as a spinner might, the pincers will cause massive internal damage, which affects wiring/batteries etc."
— The Robot Wars website on the crushing system of Kan-Opener J-spec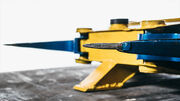 It also has stronger crushing claws, which have 12 tonnes of force at the tip of the pincers, making them the strongest crusher in the history of Robot Wars. A small wedgelet was also present at the front of the robot, allowing it to drive slightly under the other robots before crushing them, a feature not seen on previous versions of Kan-Opener. Additionally, with no rear spike weapon, Kan-Opener J-spec was capable of driving on its back end briefly, if lifted into that position.
"The team are worried that as the robot has a larger ground clearance than many of its competitors, it may be susceptible to flipper attacks."
— The Robot Wars website on a potential weakness of Kan-Opener J-spec
The Team
Throughout the original run of Robot Wars, the team consisted of the captain and lead builder Alistair O'Neil, alongside Andy Kane and his young son Tom Kane. However, when Robot Wars returned for Series 8 in 2016, Alistair O'Neil did not return to the team, with Tom and Andy Kane borrowing the newest version of Kan-Opener from its builder Jason Marston. Now aged 25, Tom Kane became the team's captain, and driver of Kan-Opener, while 64-year old father Andy Kane, a retired hydraulic engineer, operated the weaponry.
Qualification
In order to qualify for Series 5, Kan-Opener fought in two battles of the live tour. In its first, Kan-Opener fought veteran robot Arnold A. Terminegger, and emerged victorious. This allowed it to move on to a battle with fellow newcomer 8645T, although Kan-Opener did not win this battle. Regardless, Kan-Opener had done enough to qualify for the Fifth Wars.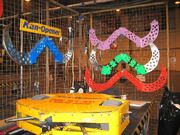 In its Series 6 qualifier, Kan-Opener fought Boudicca, Retribution, and future heat winner 13 Black. Kan-Opener was instrumental in immobilising Retribution in a combined attack with 13 Black, with Kan-Opener being the robot to disable its power circuit. Kan-Opener also landed one of the final blows on Boudicca, which was largely immobilised by 13 Black. This left the two remaining robots to fight alone, but Kan-Opener sustained a huge blow from 13 Black, causing a shard of its titanium to burn up. After this, both robots suffered from radio interference. Kan-Opener was still able to grab 13 Black, but the interference stopped the robots from causing major damage to each other. Although the interference subsided eventually, time expired on the battle, and Mat Irvine was to declare a winner. Although he decided that 13 Black had won the battle, he was also impressed with Kan-Opener's performance, and immediately offered it a place in the Sixth Wars.
Kan-Opener would also successfully qualify for the Seventh Wars after competing in a live qualifier, and qualified for Series 8 through open applications, after the team borrowed their robot from Jason Marston. The team did not return for Series 9 due to work commitments.
Robot History
Series 5
Kan-Opener made its first appearance in a Heat B first round battle during The Fifth Wars, where it faced returning Series 4 Heat Finalists and number 22 seed, Atomic.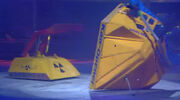 The opening moments saw Kan-Opener dart around the arena as it attempted to move into position to attack Atomic 2. Kan-Opener then turned into Atomic 2 though, and was flipped over as a result.
"Kan-Opener with the jaws, with the go-kart tyres, with plenty of features worthy of mention. But with a suicidal tactic - opening itself up right for an attack by Atomic."
— Jonathan Pearce
Kan-Opener landed back on its tyres after being hurled into Sir Killalot, but was soon turned over again by the seeded machine. As it attempted to right itself, Kan-Opener's self-righting arm buckled outwards. With the srimech now unable to retract, Kan-Opener was immobilised and subsequently counted out.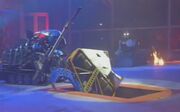 "When it's up on its side they (Kan-Opener's jaws) look like buffalo horns, but there's no charge about Kan-Opener at the moment."
— Jonathan Pearce as Kan-Opener is flipped again
Kan-Opener was then chucked by the Floor Flipper, thrown by Sir Killalot, and finally pitted by the same House Robot.
"Kan-Opener gets turned into a tin of beans!"
— Craig Charles, following Kan-Opener's defeat
Series 6
Kan-Opener returned for Series 6, with its Round 1 opponents consisting of Double Trouble, Demolition Man, and Series 5 Heat Finalists Fluffy.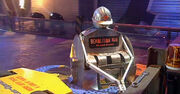 Kan-Opener's first movements saw it hover towards Demolition Man, where it arced its jaws around the meter tall robot. Kan-Opener then attempted to retract its jaws, but was unable to work its right-hand claw loose, which allowed Double Trouble to reverse into Kan-Opener and move it around. Then, Kan-Opener's other claw found itself with company too, as Double Trouble stranded itself on top of the left side of the weapon. Double Trouble finally wriggled its way off of Kan-Opener and moved away, but despite this, Kan-Opener was still welded to Demolition Man. With Kan-Opener still open to attack, Fluffy came in with a crippling assault to Kan-Opener's right-hand side.
"Look at this attack, here: slicing into Kan-Opener, and that has opened a can of worms for those boys..."
— Jonathan Pearce as Fluffy slashes away at Kan-Opener's right side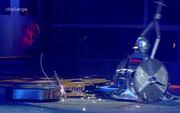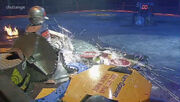 After this attack, Kan-Opener showed no signs of life, with neither its drive or weapon moving. Follow-up attacks came in from Double Trouble, and Fluffy once more, before Sir Killalot finally separated Kan-Opener and Demolition Man, dropping Kan-Opener in the centre of the arena. Although it was no longer linked to Demolition Man, Kan-Opener was still unable to provide any movement, which prompted Refbot to start his count.
"Well they certainly bore the brunt of the initial attacks; everyone seemed to gang up on poor Kan-Opener!"
— Jonathan Pearce as Kan-Opener is counted out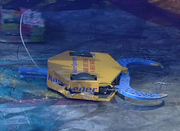 After being counted out and then driven across the arena by Double Trouble, Kan-Opener was subjected to further punishment by Sir Killalot, as it was chucked aside by the Floor Flipper. After this, Kan-Opener sat motionless while Demolition Man was finished off by the Drop Zone, which joined Kan-Opener in being eliminated from the competition after damage in the initial binding between the two.
Extreme 2
Kan-Opener's next appearance came in the Annihilator competition of Extreme 2, as it faced off against Major Tom, Thermidor 2, Typhoon 2, Raging Reality and Revenge of Trouble & Strife. Pre-battle, Team Kan-Opener outlined how they intended to survive the Annihilator format.
Alistair O'Neil: "We're going to hold back for as long as possible and keep out of the way."
Philippa Forrester: "You think survival is the key to this first round?"
Alistair O'Neil: "Absolutely, absolutely."
— Kan-Opener prepares for Annihilator action
The early stages largely saw Kan-Opener hover around the arena in an active, yet retreating fashion. As it hung next to the arena wall for a period, Kan-Opener was met by the drifting Typhoon 2, with contact between the two carrying Kan-Opener's left claw through the shell of the cone spinner. Kan-Opener darted away after the pair were separated, but was quickly met by Thermidor 2, which flicked Kan-Opener up with its flipper. Meanwhile, Typhoon 2 was still feeling the effects of the collision moments beforehand, and was unable to spin back up to speed. This allowed Raging Reality to slide in underneath the Air Cadets' machine without fear of damage, and Typhoon 2 was flipped over.
"We've got Typhoon 2 in major trouble, we've got Kan-Opener flicked up but coming heavily down..."
— Jonathan Pearce as Typhoon 2 is immobilised during an active spell for Kan-Opener
Then, Kan-Opener responded to Thermidor 2's attack by ramming into it with a reverse drive. Kan-Opener then engaged in a tussle with Raging Reality - a machine which initially sent it up with a flip, before Kan-Opener backed it towards the arena wall. Both Thermidor 2 and Raging Reality then combined in an attack on Kan-Opener to flip it over, but Kan-Opener's job was done for the first round anyhow, as the toppled Typhoon 2 was counted out by Refbot. Cease was called, and Kan-Opener progressed to the second round with the other four active machines.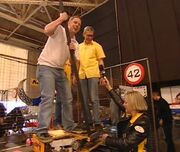 In the pits before the second round, Team Kan-Opener had to tend to their machine, as Kan-Opener's frame had been twisted after the collision between it and Typhoon 2 in the first round.
Andy Kane: "We didn't hide, and we had a good go, and we knocked the robot out that caused us damage, so we feel better."
Philippa Forrester: "You're having to twist it back into shape. Can you do that, do you think?"
Andy Kane: "We might need to do a bit of cutting and shutting!"
— Talk during Kan-Opener's repair job
After activate was sounded at the start of Round 2, Kan-Opener moved towards Major Tom. However, after turning around, Kan-Opener was met by a rear flip by Raging Reality. Kan-Opener then hovered around the rear of Thermidor 2, before darting away, over the Flame Pit. Kan-Opener soon rejoined the action, and used its rear battering ram to drive Raging Reality into the arena wall. Kan-Opener kept up its assault on Raging Reality by plunging its jaws through the side of the flipper robot - an attack which left Raging Reality motionless in the centre of the arena. After a spin of delight in celebration followed by another squeeze on the immobile Raging Reality, Kan-Opener was flicked by Thermidor 2.
"Raging Reality, in the horns of a dilemma, clutched by Kan-Opener."
— Jonathan Pearce
The attack did little to trouble Kan-Opener though, and its route through to Round 3 was close to being confirmed as Refbot started his count down for Raging Reality. Then, during the count, Kan-Opener grabbed hold of Revenge of Trouble & Strife, and directed it towards the Pit of Oblivion. Kan-Opener succeeded in disposing of Revenge of Trouble & Strife, but the count for Raging Reality was complete by the time of the pitting anyhow, eliminating it from the competition.
Despite progressing again, Kan-Opener had sustained key damage during the second round battle, with a number of repairs needed to ensure Kan-Opener's jaws were active for Round 3.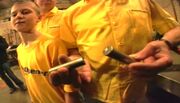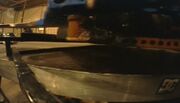 Philippa Forrester: "Now, you've had problems, and this is part of the problem - keeping it going. That snapped, now where does that go?"
Andy Kane: "That lives in the main shaft. It's the pivot for the jaws."
Philippa Forrester: "And you've had to fix that by putting a new shaft in and then - let's have a look underneath - all that welding work."
— Kan-Opener's repair job is described
Round 3 started with Kan-Opener bumping into Revenge of Trouble & Strife before moving away into space. Kan-Opener then rejoined the action by moving in behind Major Tom and driving into into the side wall. Suddenly, Thermidor 2 flipped Revenge of Trouble & Strife, and with the dual-wielding robot in trouble, Kan-Opener darted in and wrapped its jaws around it.
"Revenge of Trouble & Strife being kept down by Kan-Opener's claws!"
— Jonathan Pearce
After leaving Revenge of Trouble & Strife on the lip of the Pit, Kan-Opener descended the arena hazard by activating the Pit release tyre. A nudge from Thermidor 2 left Revenge of Trouble & Strife propped up on the corner of the Pit, before Kan-Opener pushed it down and out. Major Tom swiftly followed the beaten machine in the Pit, but it had still done enough to advance with a dancing Kan-Opener and Thermidor 2.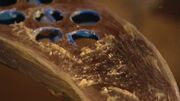 With no major repairs needed, the biggest change for Round 4 came in the form of Kan-Opener's jaws, which were now coated in grease in order to help retract the claws smoothly after penetrating an opponent.
"We are charged up, greased up, and fired up!"
— Tom Kane before Round 4 of the Annihilator
Major Tom was the immediate target for both Kan-Opener and Thermidor 2, with a Kan-Opener charge and then a Thermidor 2 flip leaving it overturned. Major Tom was then dragged away, but inadvertently bundled back onto its wheels by Kan-Opener.
"Not exactly a firing squad for the major, but they're all lining to have a pop, as Kan-Opener rolls it towards the angle grinder."
— Jonathan Pearce
Kan-Opener and Thermidor 2 then met head-on with each other, before a backtracking Kan-Opener was clipped on its right-hand claw by Major Tom's spinning weapon. Kan-Opener's next move was to descend the Pit of Oblivion, but the arena hazard wasn't needed to eliminate Major Tom from the competition, as it slowly ground down to a halt next to the Pit release tyre after a minor pinch from Kan-Opener.
"Major Tom, clawed by Kan-Opener. Greased up and about to send Major Tom slip-sliding away, perhaps."
— Jonathan Pearce
A merciless demolition job was then carried out on Major Tom, with it finally given some form of relief after cease was called. Kan-Opener had survived again, and was now in the final of the Annihilator.
With Thermidor 2 left as Kan-Opener's last opponent, Team Kan-Opener changed to a different set of claws - ones which they described as "lobster crackers".
Philippa Forrester: "Now, you've changed your claws at this late stage in the proceedings - is that because the others were knackered?"
Andy Kane: "No, because they're lobster crackers."
Philippa Forrester: "You think these will do more damage?"
Andy Kane: "They close completely."
— Team Kan-Opener prepare to dissect their lobster-themed opponent
Kan-Opener charged into Thermidor 2 straight away, which flicked Kan-Opener up but not over with its flipper. A couple of mistimed Thermidor 2 flips then allowed Kan-Opener the chance to squeeze Thermidor 2 with its new jaws.
"It (Thermidor 2) comes from the ocean depths, and will it return to the depths of despair here, as Kan-Opener gets it in those greased-up, lobster-crushing claws."
— Jonathan Pearce
Kan-Opener also tried to angle Thermidor 2 towards the recently descended Pit of Oblivion during the attack, but Thermidor 2 wriggled itself loose. Kan-Opener was in hot pursuit of the lobster though, and a Thermidor 2 flip at thin air was taken advantage of, as Kan-Opener prised its jaws between Thermidor 2's shell and its right-hand tyre. A repositioning of Kan-Opener's weapon then allowed it to pierce the rear-end of Thermidor 2 and press its opponent against the arena wall.
"The tyre looks tattered, to me. Infact, it looks a tired machine, Thermidor 2."
— Jonathan Pearce after a strong Kan-Opener start causes damage
After Thermidor 2 moved away, it responded by flipping Kan-Opener, although once again Kan-Opener wasn't turned over, and instead landed on top of Thermidor 2, with its jaws gaining purchase on Thermidor 2's flipper panel. Kan-Opener's wheels were off the ground because of this though, and Thermidor 2 took advantage by carrying Kan-Opener into the CPZ. Kan-Opener then came under pressure from both Shunt and Sgt. Bash, although it escaped danger largely unscathed, while Thermidor 2 attempted to flip Kan-Opener again.
"That's good driving by Thermidor 2. This is very close."
— Jonathan Pearce as Thermidor 2 responds
As they moved into the centre of the arena again, both machines were starting to show battle scars, as Kan-Opener's jaws were bent at an angle, while Thermidor 2 hobbled along, with holes and scratches aplenty. Thermidor 2's left-hand claw then jammed itself inside of Kan-Opener, which lead to both machines spinning around while conjoined, until they split apart again. A glancing flip from Thermidor 2 was then followed by a sharp pinch from Kan-Opener on Thermidor 2's right claw. Suddenly, Thermidor 2's right tyre locked up, leaving it moving only on one wheel.
"Look at the bashed-up effect on Thermidor 2! I'm not too sure if that wheel, as we saw at the far side, is working. I don't think it is."
— Jonathan Pearce as Kan-Opener grinds Thermidor 2 down
Thermidor 2 desperately tried to fend off the approaching Kan-Opener with a flip, but Kan-Opener closed in. With time ticking down, Kan-Opener grabbed hold of Thermidor 2 and slowly turned it towards the Pit of Oblivion, peeling the front of Thermidor 2's flipper panel up in the process. The ten-second timer then flashed up on screen, and with a Judges' decision closing it, Thermidor 2 flapped away with its weapon in an attempt to hold on. Kan-Opener continued its drive though, and with only 4.16 seconds remaining, managed to drop Thermidor 2 down into the Pit.
"They'll go to the judges, I think. What a worthy final for the Annihilator - will they go to the judges!? No! Right at the death there, pitted! Kan-Opener the annihilator champions, Thermidor couldn't quite hold on!"
— Jonathan Pearce
A Judges' decision was no longer necessary to separate the two machines, leaving Kan-Opener as the last remaining machine, the winner by knockout, and the Annihilator champion.
Series 7
"Never beyond Round 1 of a Robot Wars heat."
— Jonathan Pearce introduces Kan-Opener
With the Extreme 2 Annihilator success under its belt, Kan-Opener returned in Series 7 as it attempted to get its first win in the UK Championship. Kan-Opener's opponents in the first round of the Seventh Wars came in the form of three robots entering their second main series, Barbaric Response, Big Nipper, and The Grim Reaper.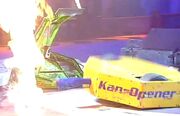 Kan-Opener started rashly, as it skirted over Barbaric Response's flipper before driving onto Big Nipper. As it tried to move away, Kan-Opener was lifted up by The Grim Reaper, although its flipper was unable to overturn the wide machine. Kan-Opener responded swiftly, as it plunged its jaws into Barbaric Response while it was sparring with Big Nipper, before The Grim Reaper attempted to flip the bound pair. With its weapon capably wrapped around Barbaric Response, Kan-Opener attempted to move it towards danger, although it was only able to arc Barbaric Response around inside of its own circumference.
"Kan-Opener and Barbaric Response in their own little duel."
— Jonathan Pearce
A long drive across the arena floor from Kan-Opener followed, still holding Barbaric Response, although its forwards-and-backwards motions started again soon after, as Kan-Opener held Barbaric Response in and around the Pit area - which had yet to be descended. With it becoming increasingly clear that the two machines were stuck together, the House Robots closed in, in an attempt to separate the duo. After a minor push from Big Nipper on the front of Barbaric Response, Growler charged in, although he was unable to release Kan-Opener's left claw. After the House Robot moved away, the Pit release tyre was activated, leaving Kan-Opener resorting to edging Barbaric Response towards the arena hazard. Time was ticking down though, and Kan-Opener was unable to finish Barbaric Response off in the remaining seconds.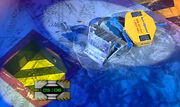 "Time is ticking down. No one down the pit yet. Heave, ho! Will it, go? Yes, no! It all goes to the judges!"
— Jonathan Pearce on Kan-Opener attempting to pit Barbaric Response in the last few seconds
With all four machines still active, the battle went to the judges. They went in favour of The Grim Reaper and Big Nipper, which meant Barbaric Response and Kan-Opener were eliminated from the competition in the first round.
After going out of the UK Championship in Round 1 for a third time in a row, Kan-Opener was given the opportunity to defend its title in the Series 7 Annihilator contest along with Ripper, Flippa, Robochicken, Ewe 2 and Raging Knightmare. In a competition where it was the only robot not to feature a flipper, Andy Kane aired his concerns about the type of weapon Kan-Opener was going in to face.
Jayne Middlemiss: "Current Annihilator champions."
Andy Kane: "That's right, but not for long, probably. There's a lot of flippers in this round, so, basically, it's near enough five flippers against one crusher."
— Kan-Opener gears up for Annihilator action once more
Kan-Opener's opening movements saw it shuffle around engaging with another machine until Ripper came over towards the champion and flipped it over. While the other machines scrapped with each other, Kan-Opener decided to grab hold of Robochicken - which was flipped in the opening seconds by Ripper and was unable to right itself - and carried it towards the arena wall. Kan-Opener then drove Raging Knightmare into an unoccupied CPZ, although Kan-Opener was soon in trouble itself, as Raging Knightmare flipped it twice. The second flip left Kan-Opener dangling over the arena wall by its jaws, which took Kan-Opener's tyres off the arena floor in the process. Soon after, the pair were joined in the CPZ by Ripper, which tried to flip Kan-Opener out of the arena. However, just as Ripper attempted to use its upright flipper blade to fully push the upright Kan-Opener over the side wall, Dead Metal charged into the CPZ and sawed into it. Kan-Opener dropped back down, although it landed on top of the House Robot in doing so.
"Kan-Opener is on the verge of oblivion - right on the arena side wall!"
— Jonathan Pearce
Finally, after Dead Metal moved away, Kan-Opener's left claw dropped down from the arena wall, leaving Kan-Opener free to move into the centre of the arena, where it spun around. After the CPZ drama dissipated, it became increasingly apparent that Robochicken was not able to self-right, with Ewe 2 and Flippa also unable to get back into the action. Still, because Refbot had not yet counted a machine out, Kan-Opener continued to fight with Ripper and Raging Knightmare - the latter of which it then backed into the Pit release tyre. Ewe 2 was then bundled away from the arena wall, which allowed Kan-Opener to guide it into the Pit of Oblivion, although by the time of the pitting, Refbot had completed a count that saw Robochicken eliminated from the competition. Cease was called, with Kan-Opener progressing to the second round of the Annihilator after its initial scare.
In the next round, Flippa failed to make it into the arena due to technical problems. As a result, Round 3 immediately began between the four machines that had already made their way into the arena for Round 2.
Kan-Opener held back in the opening moments, as the three flippers battled with each other. Kan-Opener then charged towards Raging Knightmare - which had just been flipped - but Kan-Opener quickly moved into the centre of the arena again after missing with its drive. Kan-Opener finally managed to get into the action by wrapping its jaws around Raging Knightmare, before it engaged in a tussle with Ewe 2.
"And look at Kan-Opener: linked together with Raging Knightmare - pinched together, perhaps."
— Jonathan Pearce as Kan-Opener gets into the action
Kan-Opener managed drag Ewe 2 with its claws, but Ewe 2 responded by turning Kan-Opener over. Ewe 2 itself was then flipped by Ripper, and showed no signs of being able to self-right as it landed on its side. After this, Kan-Opener focused its attacks Raging Knightmare again - a machine which it grabbed hold of before activating the Pit release button. With its claws firmly around Raging Knightmare next to the descending Pit, Kan-Opener decided to edge it towards the arena hazard. Meanwhile, Ewe 2 was being counted out by Refbot, and although there was still time for Kan-Opener to eliminate Raging Knightmare, it was only able to hang Raging Knightmare over the Pit due to its right claw getting embedded inside Raging Knightmare's shell.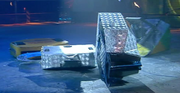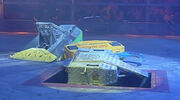 "And Ewe 2 is about to go out - or will it! Will they beat the count here as Raging Knightmare topples! Has to go down quickly to save Ewe 2! It's a matter of seconds! Ewe 2 or Raging Knightmare? It's Ewe 2! Bang, gone! Raging Knightmare survives, by the skin of their teeth!"
— Jonathan Pearce
Ewe 2's count for elimination was then complete, with Raging Knightmare still holding on, and after Matilda shattered part of Ewe 2's armour, cease was called, giving Kan-Opener confirmation of a place in Round 4.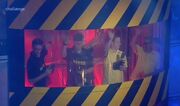 Kan-Opener had made it into the final three, with the remaining opponents being Ripper and Raging Knightmare. However, before Round 4 began, Jonathan Pearce alluded at the potential for a two versus one scenario to occur against Raging Knightmare.
"The teams, very close friends, I can tell you - will they gang up on Raging Knightmare?"
— Jonathan Pearce on Team Kan-Opener and Team Roaming Robots
Immediately, Raging Knightmare found itself under pressure from the pair, with a succession of flips from Ripper, as Kan-Opener hovered in close. After Ripper put Raging Knightmare under pressure from Sgt. Bash, Kan-Opener grabbed hold of Raging Knightmare and then drove it towards Ripper, which came in with another flip. After a mistimed flip from Ripper, Kan-Opener charged at Raging Knightmare, which responded to Kan-Opener's drive by flipping it over. Ripper and Kan-Opener quickly assumed control of the fight again though, and another Ripper flip allowed Kan-Opener to pierce Raging Knightmare while holding it next to the Flame Pit.
"Look at the holes now, in Raging Knightmare. Still brave enough to self-right - punctured though."
— Jonathan Pearce
The hole-ridden Raging Knightmare continued to soldier on, as it fended another Kan-Opener attack off by lifting it up, but a hurl from Ripper left Raging Knightmare in Dead Metal's claws. Kan-Opener then took possession of Raging Knightmare away from the House Robot, with Ripper darting off to activate the Pit release tyre.
"If Raging Knightmare is beaten here and the two other teams go through, will friendships end there? Will rivalry - intense rivalry, take over?"
— Jonathan Pearce
Kan-Opener drove Raging Knightmare over to the descending Pit, and although it was unable to release its grip on Raging Knightmare just like in the previous round, a succession of rams from Ripper saw Raging Knightmare drop into the Pit of Oblivion. Raging Knightmare was eliminated from the competition, and Kan-Opener was through to its second successive Annihilator final.
"Forget the old truce - now is the moment of truth. The Annihilator final between Kan-Opener and Ripper: the flipper against the pincers - who will prevail?"
— Jonathan Pearce
The final started quickly, with Kan-Opener chucked over by a strong attack from Ripper. A mistimed flip from its opponent then allowed Kan-Opener to slide underneath Ripper's ground clearance, but it was unable to move Ripper around, so moved away. Kan-Opener was inverted again soon after, but withstood the next Ripper attack and crashed it into the arena wall. After this collision, it became apparent that Ripper had lost drive on its right-hand side, with it only able to arc around within its own circumference. Ripper attempted to defend itself by firing its weapon as Kan-Opener closed in, but Kan-Opener was able to drag Kan-Opener out to the centre of the arena.
"They're moving because Kan-Opener is dragging them. I think they've lost forward motion, Ripper. Which means that Kan-Opener, although for long periods in this Annihilator has not looked at its best, could well triumph again!"
— Jonathan Pearce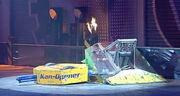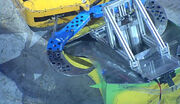 Kan-Opener then moved into space, and with Ripper still unable to drive towards it, Kan-Opener decided to activate the Pit release button. After this, Ripper was nudged into Mr. Psycho, which rained down with multiple blows onto Team Roaming Robots' machine. Then, after squeezing Ripper with its jaws, Kan-Opener suddenly began to smoke and was unable to move away. However, when Refbot came over, Ripper was the machine that was to fall victim to the count after the issues that had surfaced earlier in the battle, leaving Kan-Opener as the last remaining robot and the Annihilator champion once again.
"When you go into the UK championship, you get one chance at it, and you kill. This Annihilator is a different game altogether - it's staying alive that counts."
— Andy Kane explains the reason behind Kan-Opener's Annihilator success
Series 8
Despite no longer owning the machine, Tom and Andy Kane were lent Kan-Opener J-spec by its owner, Jason Marston, and competed with it in Heat 4 of Series 8. In the first round, Kan-Opener fought Gary Cairns for a second time as it was drawn against PP3D, as well as newcomers Apollo and Sweeney Todd.
"I just want to see somebody's poor robot being picked off the teeth of your robot!"
With it starting directly in front to the Pit release tyre, Kan-Opener's first move was to activate the trigger, descending the Pit of Oblivion. After this, Kan-Opener darted across the arena to attack PP3D, although the spinning machine slipped away from Kan-Opener after the Floor Flipper separated the two when it launched Apollo. Kan-Opener was soon airborne itself, as it was hurled by a strong Apollo flip. Kan-Opener quickly found its feet again though, and properly grabbed hold of PP3D after targeting it again.
"PP3D in trouble. Kan-Opener has them in their grip."
— Jonathan Pearce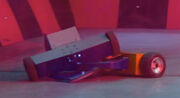 Despite being clutched, PP3D still had traction with its left tyre, and forced the pair onto the Floor Flipper, where an activation of the arena hazard and a follow-up flip from Apollo separated the pair once more. Kan-Opener was not deterred in its pursuit of PP3D though, and although it was turned over again by the Floor Flipper, Kan-Opener started to wrestle with PP3D again. Unfortunately for Kan-Opener, Apollo was lurking, and an attack from behind by the sent Kan-Opener through the air, with the landing dislodging Kan-Opener's removable link.
"Kan-Opener: "More bite than a great white"? Or is it small fry?"
— Jonathan Pearce
This left Kan-Opener unable to move, and it was eliminated from the competition with Sweeney Todd after it was finished off by Apollo and PP3D in the remaining period of the battle.
Results
KAN-OPENER - RESULTS
Series 5
The Fifth Wars - UK Championship
Heat, Round 1
Heat B, Eliminator
vs. Atomic 2 (22)
Lost
Series 6
The Sixth Wars - UK Championship
Heat, Round 1
Heat F, Round 1
vs. Demolition Man, Double Trouble, Fluffy
Eliminated
Extreme Series 2
Annihilator
Champion
Round 1
vs. Major Tom, Raging Reality,
Revenge of Trouble & Strife, Thermidor 2, Typhoon 2
Qualified
Round 2
vs. Major Tom, Raging Reality,
Revenge of Trouble & Strife, Thermidor 2
Qualified
Round 3
vs. Major Tom, Revenge of Trouble & Strife, Thermidor 2
Qualified
Round 4
vs. Major Tom, Thermidor 2
Qualified
Final
vs. Thermidor 2
Won
Series 7
The Seventh Wars - UK Championship
Heat, Round 1
Heat B, Round 1
vs. Barbaric Response, Big Nipper, The Grim Reaper
Eliminated
Annihilator
Champion
Round 1
vs. Ewe 2, Flippa, Raging Knightmare,
Ripper, Robochicken
Qualified
Round 2
vs. Ewe 2, Flippa,
Raging Knightmare, Ripper
Qualified (by default)
Round 3
vs. Ewe 2, Raging Knightmare, Ripper
Qualified
Round 4
vs. Raging Knightmare, Ripper
Qualified
Final
vs. Ripper
Won
Series 8
Series 8 - UK Championship
Heat, Round 1
Heat 4, Group Battle
vs. Apollo, PP3D, Sweeney Todd
Eliminated
Wins/Losses
The second round of The Seventh Wars Annihilator, where Flippa forfeited, is omitted from the Wins tally.
Series Record
Outside Robot Wars
Between Extreme 2 and Series 7, Kan-Opener D-spec competed at the Dutch Robot Games in 2003, winning its first-round melee over PulverizeR and Scraptosaur. It advanced to the semi-finals against Tough as Nails and Ansgar 3, but lost to Tough as Nails there. Nevertheless, Kan-Opener still won a non-competition rumble against MOS and Slider's Playmate[1].
At the 2006 UK Championship hosted by Roaming Robots, Kan-Opener famously defeated American success story Sewer Snake. However, it still fell in the group stage after being stranded on the arena wall by Beast, and being pitted by Ka-Pow! in a battle where Kan-Opener was otherwise on top.
As of 2012 there have been nine versions of Kan-Opener (taking a letter sequence as opposed to a numerical sequence), with a further two in the build stage. Both of them (G and H) were sold to Team Bud after Team Kan-Opener retired from the event circuit. Tom Kane has also become a member of Team Bud, adding Kan-Opener G and H to Team Bud's armada of robots. Kan Opener G has been kept by Jason (previously a member of Team Bud) and Kan Opener H has been sold to Mario of Team KODOX. In 2015, Jason built Kan-Opener J which was a complete departure from previous models in shape, but still retains the same design concept in being invertible with the crushing jaws. It is also the version that entered Series 8 of Robot Wars.
Kan-Opener H-spec in original shape participated in the Bronebots 2016 competition in Moscow. After this event Marco van Hek took over Kan-Opener H-spec.
As of February 2017, Kan-Opener J-Spec belongs to John Findlay, joining the fleet of TV robots that Findlay has managed to acquire for the Platinum VIP experience at his Extreme Robots events. Other such robots include Stinger, DTK, Bulldog Breed and The Steel Avenger. Since then, it has had its hydraulic system previously used for the jaws replaced with a pneumatic system to reduce the amount of damage that Kan-Opener was capable of causing to the other Platinum robots.
Kan-Opener made a televised appearance in 2017 during the thirteenth series of The Apprentice. As a reward for selling household robots to the consumer market, a group of businesswomen were able to drive Kan-Opener in a battle against Ripper, under the guidance of John Findlay.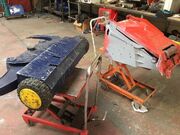 Kan-Opener was also rebranded to represent a sportsman in a video released online by betting agency William Hill, where live Facebook viewers would try to predict the winner of a battle between Kan-Opener and a rebranded Ripper. Kan-Opener adopted a blue colour-scheme for the battle, but returned to its traditional yellow and blue colour scheme in time for its appearance at Extreme Robots: The Experience.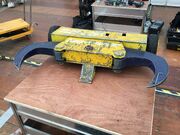 Under John Findlay, Kan-Opener made a competitive appearance at the Irish championship in 2020, albeit with only its pneumatic claws used to cause less damage at Extreme Robots events. It lost its opening battle to the eventual champion Immersion after being pinned into the arena floor. It otherwise fought robots such as Nibbler and Iron-Awe 5 in non-competition fights.
Robot Wars Live Events
Kan-Opener J-spec debuted at the Robot Wars live event at Portsmouth 2015 where it did reasonably well in the friendly fights. It also participated in the Robot Wars World Championships 2015, held in Colchester. In the first round, Kan-Opener was the last robot left standing - Rybot could not self-right after it was flipped by Maelstrom, the latter breaking down after a combined attack from Kan-Opener and Tough as Nails. Both robots qualified, but Kan-Opener also lodged Tough as Nails in the arena wall, immobilising it. However, Kan-Opener broke down within the opening moments of its second round fight, leaving Gravity and Tiberius to fight alone.
Trivia
Kan-Opener is one of three robots to win an Annihilator after going out in the first round of the UK Championship in which it competed in directly before the Annihilator, along with Disc-O-Inferno and Spikasaurus.
Kan-Opener is also one of only two robots to win a UK side competition but never win a battle in the UK Championship, along with Spikasaurus. It is also the only robot of the two to compete in more than one UK Championship.
Kan-Opener's participation in Series 8 was leaked as early as March 11th, 2016, as it featured in the background of a tweet from Angela Scanlon.
The reason Kan-Opener did not apply for Series 9 was due to Tom Kane's work commitments. Prior to Series 10, Kan-Opener had already been sold on again by Jason Marston to John Findlay, and so it never competed on the show again.
Kan-Opener was said to be the inspiration for the design of Team Rogue Two Robots' featherweight, Carcinus.
A Kan-Opener D2 Spec was built for live circuit fights only, which the team claimed was the most successful at that point (2004).
Kan-Opener was one of eight robots whose silhouette was used as a placeholder when demonstrating the Series 9 episode format. During this demonstration, Kan-Opener qualified for Head-to-Heads by defeating Soldier Ant, Kadeena Machina and JAR (despite it not being possible for only one robot to qualify from a melee). It then defeated Eruption via a judges' decision, and then lost to both Terror Turtle and PP3D via knockout, placing last.
The only House Robot which never shared the arena with Kan-Opener was Cassius Chrome.
Honours
External Links
Cite error: <ref> tags exist, but no <references/> tag was found