"...wearing yellow, but no coward, Kick Robut! ... It's got two chisel shaped arms that can flip, tip and topple!"
— Jonathan Pearce introduces Kick Robut
Kick Robut was a super heavyweight robot which competed exclusively in the Super Showdown, broadcast as part of the Grudge Match special in Series 2 of Robot Wars. It won both of its battles to become the Super Heavyweight Champion of that series, becoming the first - and only - robot with this accolade.
Kick Robut was a yellow, low box-shaped robot with front and rear wedges, four-wheel drive and equipped with a pneumatic spike and two lifting prongs mounted either side of the robot. These prongs could theoretically rotate a full 360 degrees - similar to the weapons of later heavyweight competitor Tridentate - and were designed to lift and topple even the heaviest Super Heavyweight competitors over. These, combined with the robot's durability and speed, contributed significantly to Kick Robut's run of success in its only appearance.
Robot History
Edit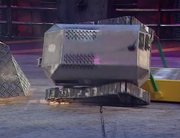 In its Super Showdown qualifier, Kick Robut faced Minotaur and Reckless Endangerment. It won the qualifier after getting under Minotaur and lifting it onto its back using its lifting spikes, defeating Reckless Endangerment in the process, although only the attack on Minotaur was shown on TV.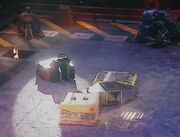 In the Final, Kick Robut faced Demon Duck, Berserk and Siren. It hesitated at first, but soon rammed into the side of Siren as it attacked Berserk, before being pushed across the arena and into the PPZ by Demon Duck. Kick Robut escaped, and tried to lift Berserk with its spikes as Siren tried to use its circular saw to damage its sides. It responded by nudging Siren and forcing it to drive onto the edge of the pit, where Siren was eventually attacked and pushed in by the House Robots. Kick Robut lingered near Shunt and Sir Killalot as they attacked the now-immobilised Berserk and left it on the Flame Pit. Meanwhile, Demon Duck had driven into the PPZ and broken down near Dead Metal, leaving Kick Robut as the only surviving robot as it was pushed by Shunt towards the end. Kick Robut was unanimously declared the first - and only - Super Heavyweight Champion.
Wins/Losses
Edit
Series Record
Edit
As the Series 3 Super Heavyweight Championship was cancelled, and no other competitions were held afterwards, Kick Robut was the only robot on Robot Wars to have won the Super Heavyweight Championship.
At the time of the BBC recording, the team members' surnames were announced incorrectly as Ardle rather than Arnold.
Community content is available under
CC-BY-SA
unless otherwise noted.