Killerhurtz (written as Killer Hurtz in Series 2) was a competitor robot which competed in three series of Robot Wars. A major pioneer of the spiked axe weapon, Killerhurtz fought in the main competitions of Series 2-4, along with a number of side competitions including The First World Championship where it represented the Czech Republic (due to team member Dominic Parkinson being part-Czech).
Despite its powerful weapon, innovative design, international pedigree on US television show BattleBots, and sixteenth seeding in Series 4, Killerhurtz had a very low success rate in Robot Wars. It lost all of its one-on-one battles in the UK Championship, including a memorable self-pitting in The Third Wars which became a major point of humour for Jonathan Pearce and Julia Reed. It was far more successful in side events, coming a close third in the Pinball Warrior Tournament during Series 4 and reaching the final three of the Northern Annihilator. Team Hurtz also enjoyed far more success with the robot's successor, Terrorhurtz.
Design
[
]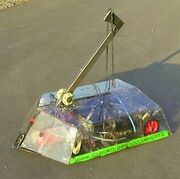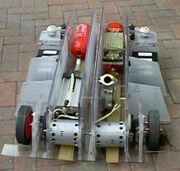 Killerhurtz's featured an arrowhead-shaped body, upon which a titanium battering ram or plough could be affixed for damage output or control on a high speed charge. It was armoured in polycarbonate with a plastic chassis and featured a powerful axe. Killerhurtz was also unique for using car steering instead of tank steering - meaning that the back wheels were powered, whilst the front wheels simply steered.
The first version of Killerhurtz, debuting in Series 2, weighed 77kg and featured a top speed of 15 miles per hour. It ran on two Bosch motors and the axe (which was a bladed axe with a woodsplitter-style head) weighed seven pounds and was powered by chain drive.
The axe could generate 800kg of force upon impact. Killerhurtz was powerful - able to demolish the Skittles Trial and cause Dead Metal damage on impact, but had trouble with recoil and its drive, breaking down in both the Trial and in its arena semi-final with Roadblock.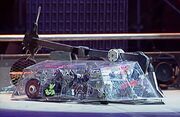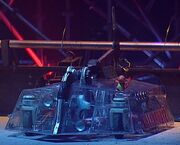 For Series 3, Killerhurtz received a slight redesign, with the most notable difference being the modifications to the axe. The axe swung from a greater distance in order to help the robot self-right, while the bladed axe head was replaced with a set of interchangeable ones, including a custom titanium spiked head which was used in all of Killerhurtz's appearances during this series.
The axe's power was more than sufficient to pierce Cerberus and Chaos 2. It gained six kilograms in weight, which actually placed it over the limit. During the First World Championship, Killerhurtz also had the phrase "Maś Čhlupatÿ Pupîćek" written in red along the side - translating to ""you have a hairy tummy button" in Czech. It took 5 months and £2000 to build.[2]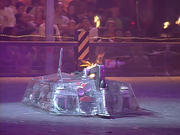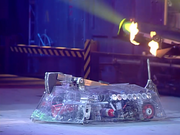 Killerhurtz's original moped wheels were replaced with go-kart wheels for Series 4 to improve traction, while the spiked axe received more modifications including a head made out of hardened steel for improved strength. It reduced its weight to 80kg and had a 4mm ground clearance. The axe weighed 4kg, and was powered by a 100mm, 150psi pneumatic ram which generated over 800kg of force. The ram was fed from a CO2 fire extinguisher holding either nitrogen at 1000psi or liquefied CO2. The robot had two 1000 Watt, 24 Volt Bosch motors, each driving a rear wheel through a custom built gearbox. The chassis and armour were both made of polycarbonate, and the robot was powered by two Hawker Genesis 13Ah sealed lead-acid batteries, each giving 24Volts.[3]
The Team
[
]
Main article: Team Hurtz
Killerhurtz was entered into Robot Wars by the Oxford-based Team Hurtz. Its captain John Reid designed and built Killerhurtz, also driving the robot in all of its battles. Teammate Dominic Parkinson was the weapon operator for Killerhurtz, and his family history in the Czech Republic also allowed Killerhurtz to enter the First World Championship as a Czech representative. Rebecca Reaston-Brown was also present in all of Killerhurtz's appearances.
Qualification
[
]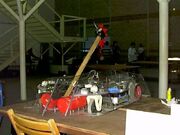 Despite only being finished less than a day before its Series 2 audition on 19th July 1998, Killerhurtz performed well enough to qualify for Series 2.
Killerhurtz attended the Series 3 auditions on the 31st May 1999, and again performed well enough to qualify.
Having been seeded for Series 4, Killerhurtz automatically qualified and did not need to go through the qualifiers.
Robot History
[
]
Series 2
[
]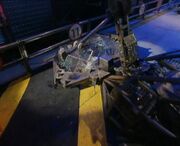 Killerhurtz made its Robot Wars début in the Second Wars. Killerhurtz used its formidable speed to its advantage, shooting past the Sentinel in the Gauntlet stage of the heat. It rammed into Dead Metal, dislodging a rear panel as Dead Metal grabbed it, and partially crossed into the end zone before being forced back.
Caught between Dead Metal and the Sentinel, Killerhurtz was eventually forced into the Pit. Craig Charles and Jonathan Pearce thought that Killerhurtz may have reached the end zone, but ultimately the judges decided it had not sufficiently crossed the end.
10.6 metres was enough to surpass R.O.C.S. and secure Killerhurtz's second round place.
This put Killerhurtz through to the Trial stage, which for this heat was Skittles.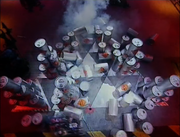 There, Killerhurtz used its speed to smash into the barrels, with the House Robots barely having a chance to reach it. Killerhurtz ploughed through the Skittles, turning around the triangle and knocking over 64 barrels.
However, the robot's speed controller suddenly malfunctioned and it became stuck in reverse. Leaving the triangle zone, Killerhurtz crashed into the side wall where the House Robots Sir Killalot, Sergeant Bash and Dead Metal closed in, pinning it against the wall. Despite the late setback, Killerhurtz had knocked down almost every barrel and progressed to the arena in first place.
In the Heat Semi-Final, Killerhurtz was placed up against the reigning champion Roadblock.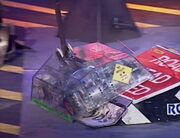 Despite an aggressive first charge, Killerhurtz was scooped up by Roadblock and carried to the PPZ where it seemed to break down. The axe fired, but Killerhurtz could not escape. Roadblock reversed into it, cutting into Killerhurtz with the saw and pushing it to Shunt, who axed it, and Roadblock pushed Killerhurtz into the wall. With Killerhurtz immobile, the House Robots surrounded it, and Dead Metal grabbed it and pulled it to the pit before dropping it in.
Killerhurtz was eliminated from Series 2.
Killerhurtz later fought Griffon, Corporal Punishment and Bodyhammer in the Internet Insurrection, a Grudge Match held at the end of Series 2 to determine which team had the best website.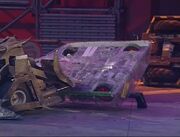 In the battle, most of the aggressive actions from the competitors were being brought out on the house robots, as Griffon quickly flipped over Sergeant Bash. However, Killerhurtz had broken down at the start of the battle, so became stuck on the side wall. The axe was still working, and it managed to break Matilda's chainsaw chain, but it was still immobile, and Shunt used its scoop to pick it up and drag it back to the top of the arena, before using the scoop to push it forward and flip it over.
The first competitor robot to fall, Shunt pushed Killerhurtz onto the flame pit.
Killerhurtz was also nominated for the 'Best Engineered' award in Series 2, but lost out to The Mule.
Series 3
[
]
In the Third Wars, Killerhurtz fought newcomer, Cerberus in its first round battle.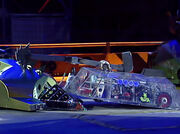 Killerhurtz started by moving towards its opponent, before waiting and allowing Cerberus to charge at them. As it did, Killerhurtz fired the axe, but it merely glanced off the head and Cerberus continued pushing. As Cerberus pushed Killerhurtz up the arena, Killerhurtz fired the axe again, but the axe failed to puncture. Killerhurtz backed off for another charge, and Cerberus turned away. Killerhurtz charged at Cerberus and fired the axe. This time, the axe punctured the top of Cerberus.
The two drove around each other, trying to get in a good position, but then Killerhurtz drove away from Cerberus, turned, and drove straight into the open pit.
The reason for doing this was later given as being that the plan was to turn and attack Cerberus again, the team had forgotten that the pit was there, having come back from BattleBots, which did not use a pit in the arena.
As well as the main tournament in Series 3, Killerhurtz also entered the Pinball side competition.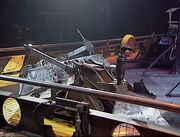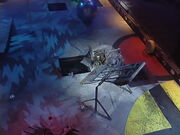 Killerhurtz had a very slow start, only moving away from the starting area after ten seconds, when Sir Killalot was closing in. It ploughed through the barrels, then bumped into Sgt. Bash, bouncing off him and slammed into the multi-ball release. It rammed the arena wall, then backed away, nudged the bricks and jerkily moved to the car doors, opening it, but then getting briefly caught in the frame.
After moving towards Shunt's target, it ran into him, and was then pushed against a side wall. Shunt whacked it with his axe twice, then let it free. Killerhurtz was almost caught by Dead Metal as it reversed, then ran into Shunt again, who pushed it away. Cease was called shortly after, Killerhurtz had only scored sixty points, and finished joint eighth with Mortis out of ten overall on the leaderboard.
The First World Championship
[
]
Killerhurtz also entered the First World Championship, representing the Czech Republic, as team member Dominic Parkinson was half-Czech. It was drawn against recently crowned UK champion Chaos 2 in the first round.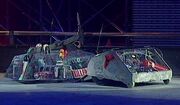 Killerhurtz did not move at the start of the battle and Chaos 2 attempted to take advantage as it got its flipper under its side, but Killerhurtz suddenly sped away before Chaos 2 could flip. Killerhurtz turned back and charged at Chaos 2, but its axe blow narrowly missed.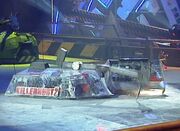 The two robots then reversed side by side, before Killerhurtz spun around on the spot. Killerhurtz drove at Chaos 2's side and fired its, but missed again. Chaos 2 got under Killerhurtz for a moment, but Killerhurtz reversed, before both robots span around each other for a short period. Chaos 2 then drove into the rear of Killerhurtz, before both robots met side by side again, with Killerhurtz missing another axe blow as it reversed away. As Killerhurtz moved away from near Sgt. Bash's CPZ, Chaos 2 found itself caught on a set of arena spikes. Chaos 2 reversed away, with Killerhurtz missing another axe blow. Chaos 2 then drifted near Shunt's CPZ, before reversing again, and slamming into the arena wall.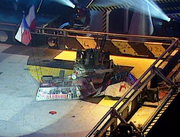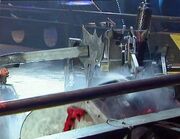 Killerhurtz axed into Chaos 2's flipper, holding them there to allow Shunt to carry out further damage. Noticeably, one of Shunt's attacks appeared to pierce Chaos 2's gas bottle, evident from a sudden burst of gas flying from the back of the robot.
However, this did not seem to take any power from the flipper, as demonstrated when Killerhurtz drove away and around in order to prepare another attack, Chaos 2 was finally able to escape the CPZ, get underneath the Czech representative, and throw it over against Shunt and the arena wall.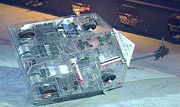 Normally Killerhurtz had self-righting capabilities, but the chain had slackened on its axe when withdrawing it from Chaos 2, causing it to be stuck in the "fired" position. As a result, Killerhurtz was left unable to self-right and cease was called, sending Chaos 2 through to Round 2.
Killerhurtz was also due to partake in the Tag Team Terror competition following The Third Wars, paired with Mortis according to Arthur Chilcott.[14] A lack of clarity surrounding how many robots made up a team for the event initially led Chilcott to believe Killerhurtz and Mortis would form a three-way team which also involved Razer, however he later admitted this was a misunderstanding. Nevertheless, the tournament was ultimately cancelled due to a behind-the-scenes accident in The Pits.
Series 4
[
]
Despite its disappointing performances in the UK series, Killerhurtz was seeded sixteenth for the Fourth Wars. In its first round battle, it faced Eric and newcomer Destruct-A-Bubble.
Twice Eric's speed and three times Destruct-A-Bubble, Killerhurtz was able to outpace both opponents. At the start of the battle, Killerhurtz rammed into Eric's side before ramming into Destruct-A-Bubble. Dodging the spike of Destruct-A-Bubble, Killerhurtz reversed into Eric, before driving away for another charge. As Eric attempted to lift Destruct-A-Bubble, Killerhurtz charged into Eric again and after reversing for another charge, drove over its top. Killerhurtz charged into Destruct-A-Bubble, but did not use the axe, and Eric lifted Killerhurtz up but not over. Killerhurtz drove around Destruct-A-Bubble before driving down the arena for another charge. As Eric tried to get under Destruct-A-Bubble, Killerhurtz slammed into the rear of Destruct-A-Bubble, pushing the two robots towards Shunt's CPZ. Killerhurtz reversed for another charge, slamming into Destruct-A-Bubble and chasing after it as it tried to get away, pushing it into the arena wall. However, whilst Killerhurtz was pinning Destruct-A-Bubble against the arena wall, Eric took advantage and lifted the vulnerable Killerhurtz again, nearly toppling it.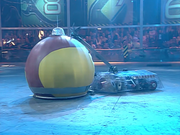 Killerhurtz forced Destruct-A-Bubble against a spike on the arena wall again before piercing Eric with its axe. The axe was stuck in Eric, and Killerhurtz used this to pull and push Eric, as Destruct-A-Bubble tried using its spike on each of them in turn, doing no damage. Eventually, Shunt came out to help separate Killerhurtz and Eric, and after being pushed, Killerhurtz retracted its axe. Killerhurtz continued to cause damage with its axe, this time penetrating Destruct-A-Bubble's carbon fibre shell.
It started pushing Destruct-A-Bubble back, but Eric got under its side and lifted it, so Killerhurtz withdrew its axe. Destruct-A-Bubble forced Killerhurtz against the arena wall while Eric lifted Killerhurtz again. Killerhurtz got another axe blow in on Destruct-A-Bubble before time ran out. The judges unanimously voted Destruct-A-Bubble out, putting Eric and Killerhurtz through.
This put it through to the second round of the Heat, where they went up against Team Ivanhoe's new machine Splinter.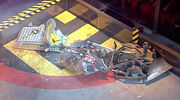 Splinter immediately turned away as Killerhurtz charged at it, driving up the arena and turning to face Killerhurtz as it closed in. Splinter caught Killerhurtz side and on grabbed it with the arms, moving it around the arena for a short period. Killerhurtz escaped, but Splinter was in hot pursuit and once again was able to grab hold of Killerhurtz.
Splinter drove Killerhurtz around the arena, before Killerhurtz wriggled free and then slammed into the front of Splinter, damaging the front slightly. Killerhurtz then drove straight into Shunt and was axed. It escaped, but was now stuck in forward drive, which saw it drive across the arena and into the arena wall.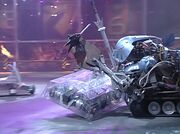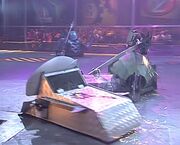 Killerhurtz began to vent smoke from its tyres wearing down, so Sir Killalot came in and picked up Killerhurtz. When Killerhurtz came loose from the grip of the House Robot, it could only drive into the arena wall inside of the CPZ. Sir Killalot picked Killerhurtz up again - this time by the axe - and spun it around in circles. After it landed, Killerhurtz drove at Sgt. Bash, and proceeded to attack its flamethrower, before charging into the bottom arena wall, bouncing away and into Refbot. However, it had technically been immobile too long, so Splinter was given the win.
Killerhurtz participated in the Pinball Warrior Tournament for this series as well, where it did much better than in Series 3. It was the last robot to run the course.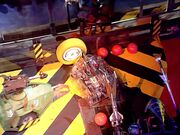 Killerhurtz first drove at Sgt. Bash's target, but he blocked it, so Killerhurtz quickly turned away, knocking over both sets of barrels, before driving at Matilda's target. It managed to get past Matilda and hit the target, but was caught by Sir Killalot, and became trapped between Matilda and Sir Killalot. Killerhurtz managed to escape and hit Dead Metal's target. Dead Metal grabbed it and turned it away, before letting it go, and Killerhurtz quickly hit the multiball release and drove at Sgt. Bash. He blocked it, but then reversed, however Killerhurtz seemed to stop. As Sir Killalot closed in, Killerhurtz hit the target. Sir Killalot blocked its escape at first, but Killerhurtz escaped and drove to the other side of the arena, charging at Matilda. Matilda pushed it, flipped it away, and Sir Killalot came in, holding it in the claw as time ran out.
Killerhurtz had scored an impressive two hundred and thirty-five points, which placed it third out of sixteen overall on the leaderboard.
Killerhurtz also participated in the Northern Annihilator which took place during the Christmas season of the Fourth Wars. Killerhurtz went up against Stinger, Dominator 2, Spikasaurus, the reigning champion Chaos 2 (who beat Killerhurtz in The First World Championship) and Suicidal Tendencies.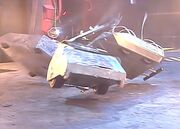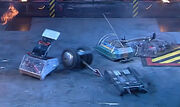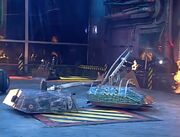 Killerhurtz started by attacking the robot closest to it, Spikasaurus, driving at it and firing the axe, but Spikasaurus dodged. Meanwhile, Chaos 2 charged at Killerhurtz, but missed and crashed into the wall. All six robots met near the top CPZ, with Spikasaurus driving out of danger. Chaos 2 reversed, intending to attack Killerhurtz, but reversed into Dominator 2, and Killerhurtz escaped. Killerhurtz caught up with Spikasaurus on the other side of the arena and axed it, then pushed it up the arena as it tried to get away. Spikasaurus turned to face Killerhurtz, Killerhurtz fired the axe, but Spikasaurus drove away so Killerhurtz missed. Dominator 2 and Chaos 2 closed in, and Killerhurtz quickly fled down the arena. It chased after Spikasaurus, catching up with it as it fought Suicidal Tendencies and axed its front again. This time, Killerhurtz held the axe in Spikasaurus, and prevented it from escaping until Chaos 2 came in and flipped the two. Killerhurtz quickly withdrew the axe and reversed away. Spikasaurus went after it, and Killerhurtz gave it another axe blow. Again, it kept the axe in Spikasaurus and pushed it. Chaos 2 flipped Spikasaurus, but this time Killerhurtz did not pull the axe back.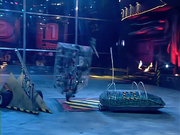 Spikasaurus tried to get away, but Killerhurtz still kept the axe in, which meant Spikasaurus was pulling Killerhurtz around. Spikasaurus pulled Killerhurtz around in circles, but Killerhurtz would not let go, until it was pulled into Dominator 2. Killerhurtz was pulled up and over the wedge of Dominator 2, causing it to be flipped over. Dominator 2 got in position to attack, but before it could use the axe, Spikasaurus reversed into it and Killerhurtz, knocking the two back and causing Dominator 2 to miss its axe strike. Killerhurtz attempted to self-right, but Dominator 2's axe, despite missing the body, hit the axe, so Killerhurtz's attempt to right itself failed. Spikasaurus rammed into it, pushing it against Dominator 2 and Suicidal Tendencies. Dominator 2 moved away, Suicidal Tendencies briefly reversed against Killerhurtz. but drove away as Spikasaurus charged at Killerhurtz. As Spikasaurus rammed Killerhurtz, Killerhurtz finally righted itself.
Killerhurtz was attacking Spikasaurus, and Dominator 2 went in and tried to axe Killerhurtz, but missed. Chaos 2 got under Killerhurtz and flipped it up. Killerhurtz did not go over, but landed on Chaos 2's flipper.
Chaos 2 flipped it again, but Killerhurtz went over its top, landing on its wheels. Killerhurtz sped away as Dominator 2 came in. Chaos 2 drove into the wall trying to avoid Dominator 2's axe, and Dominator 2 axed it and pushed it into an empty CPZ. Chaos 2 reversed out, straight into Killerhurtz, which had driven back. Killerhurtz missed its axe blow, and Chaos 2 pushed it back in reverse. Dominator 2 axed Chaos 2, and Chaos 2 attacked Dominator 2 instead of Killerhurtz, flipping it back to the arena wall. Killerhurtz appeared to stop briefly, but soon started moving, attacking Chaos 2 as Dominator 2 moved away, pinning it against the wall. Chaos 2 avoided Killerhurtz's axe blow, and turned around, getting the flipper under Killerhurtz and flipping it over. Chaos 2 retreated as Suicidal Tendencies closed in, but Suicidal Tendencies did not attack Killerhurtz, turning away, allowing Killerhurtz to self-right. However, its first atttempt failed, leaving it on its back.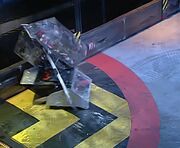 It tried to self-right again, but merely bounced off the wall, still on its back. Chaos 2 had come in, flicking it against the wall, then ramming it against the wall as it tried to right itself again. Chaos 2 cornered Killerhurtz as it tried to self-right again, getting its flipper under it, but the flipper appeared to have lost power, as it only slightly lifted. Killerhurtz righted itself, but was stuck up on the wall. Chaos 2 flipped it lightly, which freed it from the wall.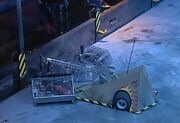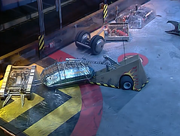 However, its axe was hanging over the side, trapping it until it swung the axe. Killerhurtz stopped for a moment, but soon moved away, driving to the top of the arena, away from the others, before turning around and charging at Stinger. Stinger bounced away, and Killerhurtz drove at the front of Chaos 2, pushing it back to the arena wall, with the help of Dominator 2. Killerhurtz pinned Chaos 2 against the wall and axed it a couple of times, puncturing the flipper, but was axed by Dominator. Killerhurtz kept its axe in Chaos 2's flipper, and Dominator 2 axed Chaos 2 as well. Stinger hit Chaos 2 as all six robots came into the bottom corner. However, Killerhurtz and Chaos 2 both seemed to not be moving, and Sgt. Bash and Shunt came in, with Shunt axing Killerhurtz. Killerhurtz started moving again, pushing Chaos 2 into Dominator 2 as it axed Spikasaurus in the CPZ.
Sgt. Bash tried to pinch Killerhurtz, and Dominator 2 missed an axe blow on it. Chaos 2 managed to weakly open the flipper, which loosened the axe's grip, whilst Dominator 2 axed its rear panel, ripping it off. Shunt came in behind Killerhurtz and axed it. Chaos 2 limply fired the flipper again, and Shunt and Sgt. Bash pushed Killerhurtz from behind, separating the two. Chaos 2 was on top of Killerhurtz, which drove into the wall. Shunt axed and lifted Killerhurtz, but it became clear that Chaos 2 was immobile, so Shunt began attacking it. Killerhurtz escaped up the arena, and whilst Chaos 2 was being pushed by Shunt, drove into the arena wall, with its axe hanging over the wall. Killerhurtz was not moving, but it did not matter as Chaos 2 was immobile longer, meaning Killerhurtz had avenged its loss from The First World Championship.
The damage that caused Killerhurtz to become immobile in the first round was repaired, and Killerhurtz entered the second round.
Killerhurtz immediately rammed into Stinger. It moved Stinger towards the wall, and Stinger was knocked into a CPZ as it tried to get away. Killerhurtz drove up the arena, but soon came back, ramming into Suicidal Tendencies. It pushed against Killerhurtz, before reversing away to the top of the arena. Spikasaurus charged at it, but Killerhurtz turned as it closed in, so Spikasaurus bounced off the front. Killerhurtz pushed against Stinger, before being rammed from behind by Spikasaurus.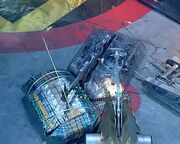 It chased after Spikasaurus, but Spikasaurus turned away, and Killerhurtz was forced to escape as Dominator 2 chased after it, trying to axe it. It soon caught up with Spikasaurus, but after knocking into it, Spikasaurus drove away, and Dominator 2 closed in on Killerhurtz, narrowly missing with its axe. Killerhurtz sped away from Dominator 2 and chased after Spikasaurus, axing it and slamming it into the arena wall. Killerhurtz dragged Spikasaurus back, and Dominator 2 came in and axed it. Suicidal Tendencies came in and tried to get its forks under Killerhurtz, but Dominator 2 pulled Killerhurtz away. Killerhurtz and Dominator 2 both withdrew their axes.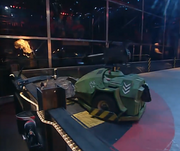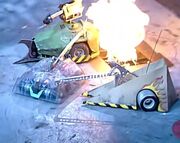 Suicidal Tendencies tried to get its forks under Killerhurtz again, and Killerhurtz drove against Dominator 2, firing the axe but failing to puncture it. Killerhurtz pushed against Dominator 2's wheel, and as it tried to pull its axe back, it became caught with the axe of Dominator 2. The two robots separated, and Killerhurtz away from Suicidal Tendencies, but Spikasaurus followed it, getting the spikes in Killerhurtz's rear and pushing it into a CPZ. However, Spikasaurus drove into Sgt. Bash, so it drove away from danger, leaving Killerhurtz. Killerhurtz appeared to stop, and Sgt. Bash pushed it into the corner and fired the flamethrower. After firing its axe at the wall, Killerhurtz started moving again, pushing against the House Robot and axing its flamethrower. Killerhurtz then axed the shell of Sgt. Bash and pushed it back, whilst Dominator 2 axed it again. Killerhurtz pushed Sgt. Bash onto the flame pit, but Matilda came in, pushing against Killerhurtz. Sgt. Bash took advantage, pushing Killerhurtz onto the flame pit. Killerhurtz kept its axe in Sgt. Bash, even when Matilda lifted it with her tusks. Eventually, Matilda pushed the two off the flame pit, and Killerhurtz pulled its axe back as Matilda flipped it over. Killerhurtz managed to self-right, but drove into the wall as time ran out.
Stinger was eliminated in the judges' decision, having been running only on one wheel after a spike in one of the tires took out one of the wheels by damaging the aerial inside, allowing Killerhurtz to reach Round 3.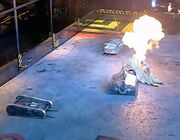 In the third round, Killerhurtz started by driving at Dominator 2, but neither robot used their axe, before the two parted. As Dominator 2 lined up an attack on Killerhurtz, Spikasaurus rammed into it, before driving past. Killerhurtz escaped down the arena, with Spikasaurus and Dominator 2 following it. As Dominator 2 closed in, Killerhurtz turned around and drove up the wedge, firing the axe, then fell off the side. When Killerhurtz landed, Spikasaurus pushed it into Dominator 2, and Killerhurtz rode up the side and onto the wheel. Dominator 2 turned away to allow Killerhurtz to get down. Suicidal Tendencies came in and lifted Killerhurtz up with the forks. Dominator 2 took advantage, axing Killerhurtz. Spikasaurus rammed into the side of Suicidal Tendencies, and Suicidal Tendencies reversed, which caused Killerhurtz to fall off. Killerhurtz reversed, and Dominator 2 pulled back its axe. Killerhurtz turned around and drove at Dominator 2, but Dominator 2 moved away before it could attack. Dominator 2 and Killerhurtz drove head-to-head, and Killerhurtz fired first, but the axe landed between the wedges of Dominator 2's bi-wedge design. Dominator 2 reversed, and Killerhurtz chased it around the arena. Dominator 2 drove into Spikasaurus, which was fighting Suicidal Tendencies. This allowed Killerhurtz to catch up with it, but Dominator 2 dodged the axe blow. Killerhurtz pushed Dominator 2 onto a flame jet, but Dominator 2 quickly reversed off it, and Killerhurtz drove over it as it turned to follow Dominator 2.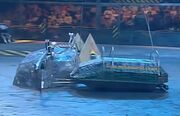 As Dominator 2 turned, it reversed straight into Killerhurtz, but Dominator 2 moved forward, so Killerhurtz missed again. Killerhurtz got side-on at Dominator 2, only for it to reverse. Killerhurtz charged at Dominator 2, but went up the front and Dominator 2 hit it with the axe. Spikasaurus rammed into Killerhurtz, knocking it off Dominator 2's front. As Spikasaurus reversed up the arena, Killerhurtz reversed after it. Killerhurtz missed an axe blow, and Dominator 2 closed in. Dominator 2 blocked Killerhurtz's charge, and Spikasaurus rammed into it, puncturing it and pushing it into Suicidal Tendencies, which lifted it onto a flame jet. Killerhurtz quickly got off it, causing Dominator 2 to miss an axe blow, but Spikasaurus was still caught in it. Spikasaurus pushed Killerhurtz around, but pushed it onto Dominator 2, which allowed Killerhurtz to get free. Killerhurtz drove down the arena, away from the others, but its axe was stuck in the fired position. Dominator 2 went after it, but Killerhurtz drove away from it before it could fire the axe. Killerhurtz drove up the arena, but realising Suicidal Tendencies was close, drove back down the arena. Dominator 2 was chasing it, and Killerhurtz rammed into it. Spikasaurus rammed into Killerhurtz, puncturing it again. Dominator 2 fired the axe, but the axe went between Spikasaurus and Dominator 2. Spikasaurus pushed Killerhurtz onto the front of Dominator 2, and Dominator 2 hit Killerhurtz with the axe.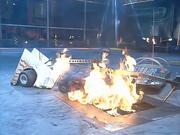 Dominator 2 and Spikasaurus forced Killerhurtz onto the flame pit and held it there, but in the background, Suicidal Tendencies had stopped moving. Dominator 2 dragged Killerhurtz off the flames, helped by Spikasaurus' pushing. Spikasaurus reversed away, and Dominator 2 withdrew the axe, allowing Killerhurtz to reverse away, Dominator 2 missing an axe attack as it did. As Dominator 2 went after it, Killerhurtz drove at Dominator 2's side and pushed it into Matilda, who lifted it with her tusks and pinned it against the wall. Killerhurtz drove up the arena, and charged at Spikasaurus as cease was called.
Killerhurtz had survived to Round 4, where it fought Dominator 2 and Spikasaurus in a three-way battle.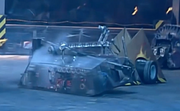 Killerhurtz started by charging at Spikasaurus, but Dominator 2 axed it and pulled it back. Two more hits in quick succession punctured Killerhurtz's gas canister, rendering its own axe inoperable. Dominator landed a few more blows before Spikasaurus was able to separate them, but Killerhurtz looked much more sluggish than before, and Spikasaurus rammed into it from behind, impaling it.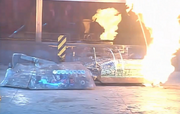 With Killerhurtz stuck on Spikasaurus' spikes, Dominator took advantage and axed it some more, breaking off a small piece of armour. Sir Killalot came in and tried to separate Killerhurtz and Spikasaurus, but Spikasaurus' weapon was too deeply embedded in Killerhurtz's armour. Sir Killalot then used his claw to try and cut the spikes off, but missed the first attempt, then crumpled Spikasaurus' front, before a third attempt buckled the spikes and finally released Killerhurtz.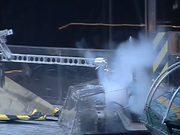 Killerhurtz was free, but still only moving very slowly, and drove into Sir Killalot, but the house robot was unable to grab the stricken robot. Eventually letting it go, Killerhurtz drove over to the far end of the arena and rammed into the House Robot entry gate.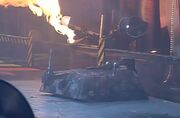 Killerhurtz was immobile and cease was called before the House Robots could come in to attack it, with Killerhurtz being eliminated.
This marked Killerhurtz's last appearance on Robot Wars before it was replaced by Team Hurtz far more successful robot Terrorhurtz for the other series of Robot Wars that followed.
Results
[
]
KILLERHURTZ - RESULTS
Series 2
The Second Wars - UK Championship
Heat Semi-Final
Heat G, Gauntlet
10.6m (4th)
Qualified
Heat G, Trial (Skittles)
64 Barrels (1st)
Qualified
Heat G, Semi-Final
vs. Roadblock (1)
Lost
The Grudge Matches
Internet Insurrection
Internet Insurrection
vs. Bodyhammer, Corporal Punishment, Griffon
Lost
Series 3
The Third Wars - UK Championship
Heat, Round 1
Heat N, Round 1
vs. Cerberus
Lost
Pinball Competition
Equal Eighth Place (with Mortis)
Pinball Warrior
60pts
8th
The First World Championship
Representing Czech Republic, Eliminators
Eliminator
vs. Chaos 2 (ENG)
Lost
Series 4
The Fourth Wars - UK Championship
16th Seed, Heat Semi-Final
Heat I, Eliminator
vs. Destruct-A-Bubble, Eric
Qualified
Heat I, Semi-Final
vs. Splinter
Lost
Pinball Competition
Third
Pinball
235pts
3rd
Northern Annihilator
Third
Round 1
vs. Chaos 2, Dominator 2, Spikasaurus,
Stinger, Suicidal Tendencies 2
Qualified
Round 2
vs. Dominator 2, Spikasaurus,
Stinger, Suicidal Tendencies 2
Qualified
Round 3
vs. Dominator 2, Spikasaurus, Suicidal Tendencies 2
Qualified
Round 4
vs. Dominator 2, Spikasaurus
Eliminated
Wins/Losses
[
]
NOTE: Killerhurtz's Gauntlet and Trial runs are not included
Series Record
[
]
Outside Robot Wars
[
]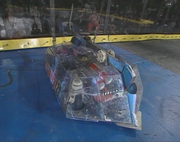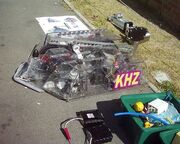 Killerhurtz competed for many years in the American robot combat series BattleBots. It competed in the first six BattleBots contests (Long Beach, Las Vegas and Season 1.0 to 4.0). The robot had a lot of success on the show, finishing second to BioHazard in the first ever BattleBots tournament at Long Beach in 1999, despite having to rely solely on its front ramming spike as its weapon as the pneumatic ram for its axe had been left behind in England. Killerhurtz also picked up the Best Driver award whilst it was on BattleBots and reached the quarter finals on four separate occasions. During Season 4.0, it defeated fellow British robot Little Sister from Team Big Brother, the only time two British robots fought each other on the original BattleBots series. However, it lost its next battle to Surgeon General.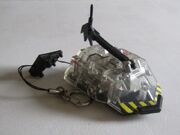 Killerhurtz's success at BattleBots also lead to the machine appearing in multiple lines of merchandise related to the show. It was the only machine to feature in both the Grip N' Grapplers and RC Custom Series line of toys, and it also was part of the Pocketbots and Bump N' Bash ranges.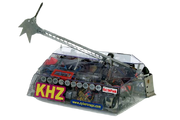 John Reid made an axe specially for BattleBots, and buried it in the Las Vegas desert after the competition to avoid the hassle with customs. The axe was buried underneath a stone located at the side of a road. He retrieved and reburied it each subsequent appearance, but did not recover it after burying it following Season 4.0. It was, however, recovered on a later trip.
Killerhurtz was retired after BattleBots Season 4.0 and was to be replaced by Team Hurtz's new robot Beta for future competitions.
Killerhurtz was confirmed in a Reddit interview with John Reid and Grant Cooper to be still relatively intact as of 2016, and it currently resides in John Reid's garage. However, it is presently not in running condition due to its retirement from robot combat, and because a significant portion of its internal parts were removed for use in other projects.
Trivia
[
]
When Killerhurtz made its first appearance in Series 2 during the robot introductions of Heat G, it drove into a fence.
Killerhurtz was the first Robot Wars competitor to feature a Japanese anime/video game character as a mascot, with a figure of Charmander from the Pokémon franchise accompanying the robot during its First World Championship appearance and Pinball run. The other robots that followed were Pika, with Pikachu (also from Pokémon) and Destructosaur, with Greymon from the Digimon franchise.
Killerhurtz was also notable for being one of a few robots other than the House Robots to feature an on-board camera system, to improve the accuracy of its attacks. Other competitors with on-board cameras have included Facet, Behemoth and one of the minibots accompanying Nuts 2.
Killerhurtz is one of only seven robots to achieve a score higher than two hundred points in Pinball. The others are Spawn of Scutter, Panic Attack, Gemini, Roadblock, King B3 and Razer.
In anticipation of fighting Razer in the First World Championship, John Reid prepared a wall of polycarbonate panels to affix above Killerhurtz and prevent Razer from being able to crush it. As it did not face Razer, however, this modification was never seen.

Despite not being used, Killerhurtz's successor, Terrorhurtz utilised a similar modification in Series 6, as well as featuring taller armour sections from Extreme 2 onwards to prevent attacks from crushers and other overhead weapons.

Killerhurtz made a cameo appearance during Heat 3 of Series 10, in a photograph shown during Terrorhurtz's VT.
Team Hurtz are the only team to represent the Czech Republic on Robot Wars.
Killerhurtz in Series 4 was one of only three robots to be seeded despite having never won a main-series battle. The others were Stinger, also in Series 4, and Storm 2, who qualified for Series 7 as the sixteenth seed after winning the Extreme 2 New Blood Championship.

Incidentally, Killerhurtz was the only one of the three not to reach the Grand Final that same series.

Team Hurtz briefly experimented with using a 'sucker' on Killerhurtz, with the intention of allowing the robot to stick itself onto the arena floor. The device combined a turbocharger impeller from an MG Metro Turbo with an electric motor and a flexible seal on the robot's underside, and enabled Killerhurtz to drive on a vertical wall.[15][16] Intended to improve the robot's traction and prevent it from being flipped over easily, the 'sucker' was scrapped when Team Hurtz could not get it to work properly.
In 2003, Killerhurtz was inducted into The Combat Robot Hall of Fame as an inaugural member in recognition of its successes in BattleBots, as well as its control systems and axe weapon.[18]

With Killerhurtz and Terrorhurtz, Team Hurtz are one of two teams to have built two robots that feature in or have honourable mentions in the Combat Robot Hall of Fame. The other is Team Razer, with Razer and their BattleBots competitor Warhead.

Killerhurtz was one of four robots to have been seeded despite losing in the first round of the previous series. The others were Stinger, Plunderbird 4 and Thermidor 2.

Of those remaining three, Killerhurtz only ever fought Stinger, fighting it in the Series 4 Northern Annihilator.

Killerhurtz was one of four robots in Series 3 to compete in a trial event as well as the main competition. The others were Evil Weevil, Mortis and Razer.
Killerhurtz was one of only two robots in take part in the Pinball Warrior in both Series 3 and 4, the other being Razer.

Both teams met each other in Series 6 and 8.

Two of Killerhurtz's appearances in its first two series were in the same episode as Onslaught and Bodmin Community College.

Killerhurtz and Onslaught also appeared in Heat P of Series 4 (Onslaught was meant to fight but withdrew and Killerhurtz competed in that Heat's Pinball Warrior run).
Those two robots fought each other in the two episodes that Killerhurtz appeared in.

In the two Series 3 side events that Killerhurtz competed in, it failed to move at the start before moving a while later.
Killerhurtz/Terrorhurtz was one of six robots to never win a heat in any of the series in which they were seeded (not counting robots who were only seeded once). The others were 101, Behemoth, Gemini, S.M.I.D.S.Y. and Suicidal Tendencies.
Honours
[
]
Nominations
References
[
]
External Links
[
]