"The first ever Feather Weight clone of a Heavy Weight was built in 2003 when Kitty came along with the first evil feather weight spinner to cause havoc in the ranks."
— Team Kat website
Kitty was the second featherweight robot of the Cold Fusion Team, which took part in the Featherweight Championships in Series 7 of Robot Wars and the second series of Robot Wars Extreme. It competed alongside Katnip in Extreme 2, and was essentially a miniaturised version of the team's heavyweight entry Pussycat. It lost in the heats both times it competed.
Kitty is said to be the first featherweight robot to be designed exactly the same as a heavyweight, in essence sharing the same design and weapon as Pussycat. Like its larger counterpart, Kitty was an invertible pyramid-shaped robot with four outside wheels and a custom vertical cutting disc hand-cut from one of Pussycat's original blade designs.
In Extreme 2, Kitty was painted black and silver with red and yellow wheels to match Pussycat's Extreme 2 colour scheme, while in Series 7, Kitty was repainted blue, silver and red, similar to Pussycat's Series 4-5 and Extreme 1 colour scheme.
In Extreme 2, only Alan and Ann Gribble were in control of Kitty. In the heats of the competition, Kitty was put up against Cutlet, Dragon, Flybot, Gladiator and Micro Mute.
At first, Kitty avoided charges from both Cutlet and Micro Mute, before it proceeded to clashed with Flybot. Next, Flybot lifted Kitty up onto four wheels easily, and as Kitty bounced back down, Flybot hooked its lifter into one of Kitty's wheels. Kitty was then pressured and lifted into the pit by Flybot. Subsequently, Flybot could not free its lifter from the wheel of Kitty it was attached to, so Flybot fell into the pit as well.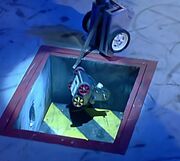 "Flybot and Kitty duelled together, good fight it was, Flybot pushing Kitty, then towards the pit, and oh dear they both toppled in!"
— Jonathan Pearce
It didn't take long for the rest of the competitors to join the two in the pit; even Refbot drove into the pit too after pushing Gladiator in. Nevertheless, Kitty had long been eliminated.
In the heats, Kitty was up against Alpha, Cygnus X3, G2, Mini-Maul, Prince of Awe and Rip.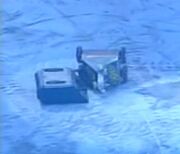 Kitty was initially shoved around by Alpha, before it attacked an already immobile Mini-Maul from the side. Kitty continued to attack Mini-Maul, but was then rammed out of the way by Growler. After attacking the beaten Mini-Maul once more, Kitty turned its attention to G2, slicing into its side.
"I've got a little fancy for Kitty, which is right in the middle of things there."
— Jonathan Pearce
Kitty then turned away from the action, before coming in to attack Prince of Awe's wheel. Kitty caused little damage though, and it turned to attack G2 again instead. Kitty was then nudged by Alpha before dodging an attack from Prince of Awe. After being chased by Alpha for a while, Kitty came back into the action, ramming an overturned G2, before slicing through its armour with its second attack, ripping out G2's batteries and immobilising it completely.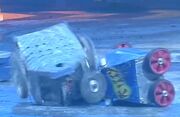 "Kitty in with a little side slam."
— Jonathan Pearce as Kitty immobilises G2
Kitty then avoided the rest of the major action, avoiding an attack from Rip in the late stages, before cease was called. Kitty was one of four active robots at the end of the bout, but the judges put Rip and Prince of Awe through to the final.
KITTY - RESULTS
Extreme 2
Robot Rampage
Featherweight Championship, Round 1
Round 1
vs. Cutlet, Dragon, Flybot, Gladiator, Micro Mute
Eliminated
Series 7
Special Events
Featherweight Championship, Round 1
Round 1
vs. Alpha, Cygnus X3, G2, Mini-Maul, Prince of Awe, Rip
Eliminated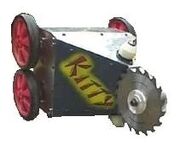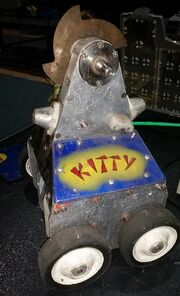 Kitty fought in several Roaming Robots events, but has since been retired from full-on competitive battles, and became owned by another team.
Kitty is still intact to this day, and most recently attended the Burgess Hill event run by Robots Live! in April 2017 as a display piece.
Kitty and Gi-Ant-O were the only robots to lose in the first round of the Featherweight Championship in both Extreme 2 and Series 7.
Community content is available under
CC-BY-SA
unless otherwise noted.