"A stainless steel plasma-welded shell, powerful motors, an axe/lifter, 15 miles an hour top speed. Lack of experience, but can Kliptonite bring down our own "Super-Bots"?"
— Jonathan Pearce introduces Kliptonite
Kliptonite was a robot that fought in Series 5 of Robot Wars and was the first entry by Team Demon, a team of apprentice engineers. It lost its only battle to another robot from the Isle of Sheppey, Major Tom.
Team Demon also entered Series 7 with Diabolus.
Design
[
]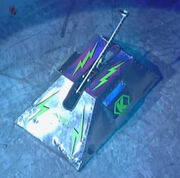 Kliptonite was a grey box-wedge shaped robot made from stainless steel with a plasma-welded shell. It primary weapon was a pneumatic axe, which Jonathan Pearce also described as a lifter. Kliptonite's two wheels were protected by protruding guards, and the words 'axe force' were present on its wedge. The robot was fast with top speeds of 15mph, although its defence proved frail in combat.
Etymology
[
]
The name Kliptonite is a pun on the fictional element Kryptonite, the weakness of comic book superhero Superman, combined with 'clip'.
Robot History
[
]
Series 5
[
]
In Heat J of the Fifth Wars, newcomers Kliptonite were drawn up against fellow Isle of Sheppey representative Major Tom.
Kliptonite put its high top speed to use and drove towards Major Tom, but sustained damage from the spinning disc. Kliptonite then successfully landed an axe blow on Major Tom, but did not cause major damage, and all of its other axe strikes missed, causing Kliptonite to bounce from the floor. Only moments into the battle, Kliptonite struck the floor as Major Tom came in with its disc, and Kliptonite suddenly stopped working. After a few more rams from Major Tom, Refbot came in to count Kliptonite out of the Fifth Wars.
"Kliptonite, not strong enough to survive. Apprentices, you have to learn to get your engineering qualifications and bring back a stronger robot next time."
— Jonathan Pearce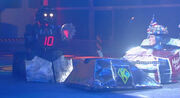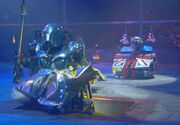 When Refbot's count completed, Matilda reversed into Kliptonite, throwing sparks off the stainless steel shell. Sir Killalot crumpled the back end, and Matilda carved into Kliptonite's body. Sir Killalot held it aloft, allowing Matilda to cause more damage, before throwing Kliptonite across the arena. Matilda ruined the back end of Kliptonite, which was held over the flame pit before Sir Killalot finally pitted it.
"The House robots, Sir Killalot and Matilda, to punish Kliptonite for bringing in a sub-standard machine! Bring in a heap of junk, and we'll turn it into proper rubbish, says Killalot!"
— Jonathan Pearce, as the House Robots demolish Kliptonite
Results
[
]
Wins/Losses
[
]
Series Record
[
]
Trivia
[
]