Lifters are a common and wide-raging type of lifting weapon found in Robot Wars. The first robot to be equipped with such a weapon was Shogun in Series 1, with the most notable lifter-wielding robots including Series 2 champion Panic Attack, most recent World Champion Storm 2 and US Season 1 champion Panzer Mk 2.
Definition
Edit
A lifter is not restricted to one specific shape or size, most commonly existing in the form of in the form of arms, forks, spikes or even large plates resembling those of front- or rear-hinged flippers. Lifters are designed primarily to lift opponents partially or completely off the ground, before turning them over or suspending them while the robot carries them around the arena. The main distinction between lifters and flippers is that during the attack, robots remain on the lifter until it is released, falls off or is successfully rolled onto its side or back. This contrasts greatly with flippers, which aim to launch other robots into the air and allow gravity and torque to flip the robot over or out of the arena.
Advantages and Disadvantages
Edit
Advantages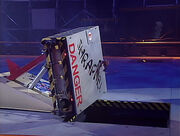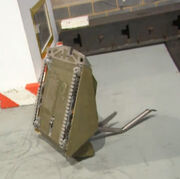 Lifters were especially effective weapons in early series, being able to overturn robots and immobilise them instantly before the invention of the srimech. Panic Attack's runs in Series 2-4 are perhaps the best examples of this.
Lifting weapons usually had sharp ends, allowing them to double as ramming spears, spikes or blades. King Buxton was consistently able to use its forks to jab and pierce through its opponents in its appearances, as did Dreadnaut during its Series 3 victory over Psychokiller.
Lifters could easily be incorporated into invertible robots. King Buxton, Suicidal Tendencies, Storm 2, Big Nipper and S.M.I.D.S.Y. are among the most notable examples.
They could act as effective pitting weapons, with robots such as Panic Attack, The Big Cheese and S.M.I.D.S.Y. all using their lifters to carry and lower their opponents into the pit with considerable success.
Lifters could offer a useful weapons synergy when combined with another weapon type, especially axes. It was not uncommon for lifting arms to be placed side-by-side with axes or hammers, with Mortis, Vercingetorix and Comengetorix all featuring this synergy. Big Nipper was also notable for combining its lifter with a set of crushing claws.
Some lifters were capable of doubling as clamps, such as the lifting arms of The Big Cheese, Foxic, and the Series 4 version of Wild Thing.
From Series 3 onwards, they could be designed in such a way as to act as the robot's self-righting mechanism, reducing the need for a separate mechanism to be added. Mortis's arm was capable of righting itself whenever it was flipped, while other lifting weapons such as Probophobia's forks were capable of rotating a full 360-degrees.
Disadvantages
With the above exceptions, most lifters were not usually large or powerful enough to self-right. The Big Cheese's defeat to Chaos 2 in Series 3 was attributed to its lifting arm losing half of its power during their Heat Final, which prevented it from being able to lift itself back onto its wheels. Meanwhile, other robots such as Panic Attack required separate self-righting mechanisms which cost them in weight and/or weapon power. As shown by Panic Attack's various losses to Firestorm however, those srimechs were not always effective or reliable either.
Lifters were often slower than flipping weapons, which meant that they were not able to be used effectively if opponents moved quickly enough. This setback was especially crucial in the decline of Panic Attack in later series, which, whilst able to eliminate Edge Hog and Spin Doctor, was overpowered by Kronic 2, Terrorhurtz, Tough As Nails and Dantomkia in Series 6-7.
Often the weapons or their mechanics could be vulnerable to damage, perhaps more so than flippers. For example, Panic Attack's forks were easily susceptible to damage, as its encounters with The Steel Avenger, Barber-Ous, Pussycat and Tough as Nails demonstrated.
List of Robots with Lifters
Edit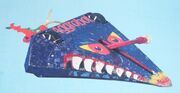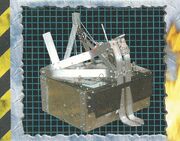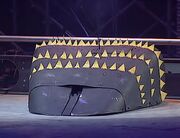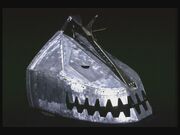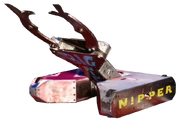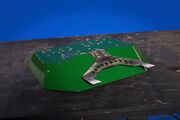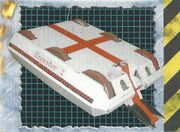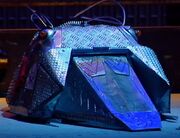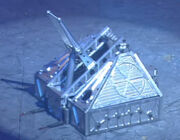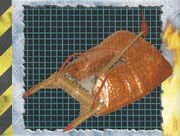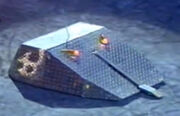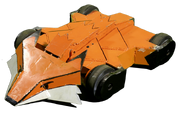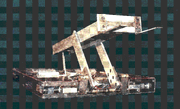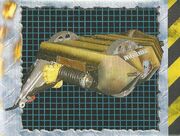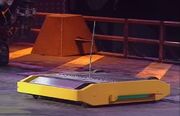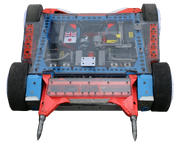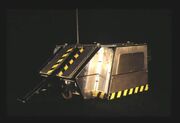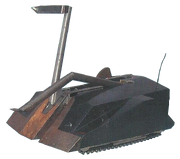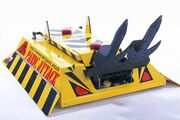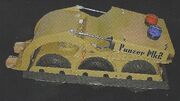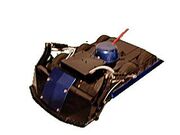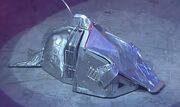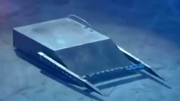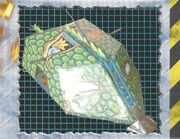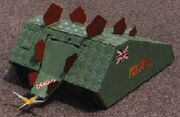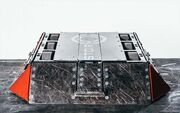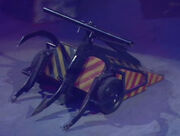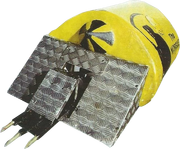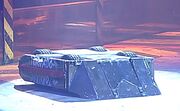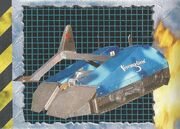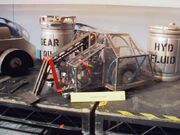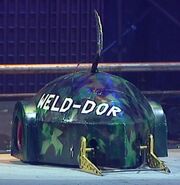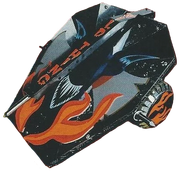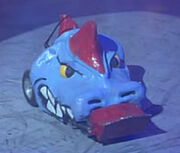 Robots are listed alphabetically. Robots which are not heavyweight entries are listed with a green background.
| Robot | Series Appearances with Lifters | Notes |
| --- | --- | --- |
| A-Kill | Series 6 | Lifter was "powerful enough to lift the skin off a rice pudding", according to the team. |
| Armadillo | Series 2 | Articulated rear 'tail'. |
| √3 | Dutch Series 2 | Three-part clusterbot, although only two segments featured lifting or flipping weapons. S.O.Xbot featured a 'Linac'-powered lifting arm, while Elevation featured a larger pneumatic-powered flipping arm; the latter was only able to lift heavyweight opponents due to its small size. |
| Aggrobot | Series 6-7, Extreme 1 | A small bar at the bottom of Aggrobot's wedge would push down on the ground, lifting the wedge. |
| Ansgar's Revenge | Series 6, German Series | |
| Arena Killer / Absolut Krankhaft | Dutch Series 1, German Series | |
| Arnold, Arnold Terminegger | Series 4, Extreme 1 | Front forklift-style lifter powered by a 400W winch motor. Lifting capacity of 140kg. In Extreme 1, the forklift was combined with an overhead axe weapon, with a scissor-like motion. |
| Beast of Bodmin | Series 3 | Small front 'flipping ram' mounted at the tip of its wedge. |
| Berserk 2 | Series 3-4 | A set of rear forks mounted on a larger arm. Series 3 Heat-Finalist. |
| Big Nipper | Series 5, 7-8, 10 | Combined with a set of horizontal crushing claws. Series 5 version was a simple front-mounted lifter, which was redesigned from Series 7 onwards into a centrally-mounted arm enabling Big Nipper to self-right. Lifting capacity of 200kg in Series 7 and 300kg in Series 8. Interchangeable with another arm featuring a vertical flywheel in Series 8 and 10. |
| Centurion | Series 3 | Replaced with a flipper in Series 4. |
| Cherub | Series 9 | Cherub's two lifting forks turn 360 degrees, and can allow Cherub to handstand, and lift other robots. |
| Comengetorix | Series 6, Extreme 1 | Paired with a pneumatic axe. |
| Coyote | Series 9 | Featured two lifters which worked in conjunction with a vertical clamp to grip and lift. |
| Crackers 'n' Smash | Series 9-10 | Crackers originally featured a front-hinged lifting arm, which was replaced by a set of interchangeable rear-hinged lifters in Series 10. |
| The Creature | Series 4 | Set of aluminium lifting tusks resembling those of Matilda. Tusks were electrically-operated. |
| Crusader | Series 3-4 | Capable of lifting the robot's own weight. |
| Depoppesaurus Rex | Series 3 | |
| Derek! | Series 5 | Added apparatus to help the lifter be used as a srimech. Used a vertical spinning disc in Series 6. |
| Diotoir | Series 3-4, Extreme 2 | Equipped with a spring-loaded lifting arm in Series 3-4, replaced with a lifting scoop for Series 5/Extreme 1. In Diotoir's Extreme 2 appearance, the weapon was in the form of a small lifting plate. Series 3 Heat Finalist, First World Championship Semi-Finalist, International League Championship runner-up and Series 4 Celebrity Special runner-up with this weapon. |
| Dragon | Extreme 2 | |
| Dreadnaut | Series 1-4 | Small lifting prongs replaced with hardened steel forks from Series 2 onwards. |
| Dynamite | Series 6 | Loanerbot, representing Germany in the UK vs Germany Special. |
| Elvis | Series 2 | |
| Enzyme | Series 2 | |
| Evil Weevil | Series 3-4 | Series 3 Semi-Finalist. A set of three lifting forks, later two in Series 4. Combined with a pneumatic hammer in Series 4 as Evil Weevil 2. |
| Falcon | US Season 1-2 | Initially interchangeable with an axe-like 'spike' weapon, became the robot's main weapon in US Season 2 with a slower mechanism. US Season 2 Grand Finalist as The Falcon Mark 2. |
| Flybot | Extreme 2 | Lifter was powerful enough to tip itself over and make it fall into the pit. |
| Forklift | Series 2 | First 'forklift' style lifter robot. |
| Foxic | Series 8-9 | Doubles as a guillotine clamp. Featured interchangeable lifting arm and plate in Series 8. Series 9 version featured a lifting arm with interchangeable wedges and hooks, including an anti-spinner wedge. |
| G.B.H. 2 | Series 6 | Only the rear of the two lifting weapons was a lifter. |
| General Carnage | Series 3 | Featured a claw on the end of the lifting arm. |
| Griffon | Series 2-3 | Four-bar lifting arm powered by linear actuators; Series 3 iteration featured a lifting capacity of 300kg. Series 2 Internet Insurrection champion; during the same battle, Griffon also became the first robot to turn Sergeant Bash over. |
| Guzunderbot | Series 5 | |
| Haardvark | Series 2-3 | Set of forks powered by a motorcycle starter motor, reprofiled and made out of hardened steel for Series 3. Series 2 Semi-Finalist. |
| Havoc | Series 2 | Interchangeable with a mace and a battering ram. |
| Hellbent | Series 7 | Pneumatic lifting forks, capable of flipping opponents completely over. Used in tandem with a pneumatic axe. |
| HIGH-5 | Series 9 | Interlocking lifting/clamping jaws shaped like a pair of hands. Lifting capacity of 280kg. |
| Immortalis | Series 5 | Pneumatic plough-shaped lifter with three sides. |
| Indefatigable | Series 4 | Spiked forklift, with a lifting capacity of 75kg. |
| Inquisitor Mk 2 | Series 3 | Only competed in the Series 3 Pinball Competition, but was able to overturn Matilda. |
| Inverterbrat | Series 3-4 | Pneumatic lifter consisting of two arms which could separate while lifting opponents. Lifting capacity of 100kg. |
| Judge Shred | Series 3 | Pair of lifting arms featuring sets of pincers on the end. |
| Kick Robut | Series 2 | Most powerful lifter. Pair of rotating lifting spikes mounted either side of the robot's chassis. |
| King Buxton | Series 2-5, 7-8, Extreme 1 | Pair of electrically-operated lifting forks. Series 2 Semi-Finalist and Series 4 Tag Team Terror champion alongside 101. Relied more on its pushing power than the forks. |
| Kater Killer | Series 4 | |
| Mace | Series 2 | Electric lifting arm. Was converted to a pneumatic arm for its return in Series 3 as Mace 2. Series 2 Semi-Finalist in its original form. |
| Major Tom | Series 4 | Featured a lifting plate, replaced by a flywheel weapon in later series. |
| Manic Mutant | Series 3 | |
| Mantis | Series 7 | Lifter acted as clamp for crushing claw. |
| Maximus | Extreme 2 | Front-hinged lifter described as a 'flipper'. Featured a circular saw protruding through the lifter plate. |
| Medusa 2000 | Series 4 | The lifting plate was mounted on the bottom part of the wedge, raising the front of the robot off the ground when opened. |
| Metalis | Series 7 | A 'full-body lifter', incorporating a three-sided lifting plough and a crushing claw. Base was spread around the perimeter of the machine, excluding the rear. |
| Millennium Bug | Series 4 | A walkerbot. |
| Mortis | Series 3-4 | First competitor robot to combine an axe with a lifting arm, used in tandem with its famous 'tantō blade'. Arm could act as a srimech. Series 4 War of Independence champion. |
| The Morgue | Series 4 | Front lifting forks powered by a linear actuator, based on a 'shunt-and-lifting' system. Capable of lifting 150kg. Later versions used a variety of pneumatic lifting and flipping weapons. |
| The Mule | Series 2 | CO2-powered forklift with a lifting capacity of 150kg, used in tandem with three pneumatic 'bucking legs' on the sides and rear. Winner of the Best Engineered Robot award in Series 2. |
| NEATer Machine | Series 7 | An A-shaped scoop-type lifter, converted from a static weapon first used by the robot's Dutch Series 2 incarnation, Neater. Lifting capacity of 100kg. |
| Overkill GTI | Series 4 | Two pneumatic lifting/flipping arms on the front wedge. |
| Panic Attack | Series 2-7, Extreme 1-2 | Pair of lifting forks operated by linear actuators. Series 2 Grand Champion and multiple Semi-Finalist in subsequent series. Came closest to lifting an opponent out of the arena. |
| Panzer Mk | US Season 1 | Two-time US champion. Panzer Mk 2 used a pneumatic scoop-type lifter, capable of flipping opponents over and with a lifting capacity of 300lbs. Panzer Mk 4 used a slower, more defensive lifting plough. |
| Philipper | Extreme 1, Dutch Series 1 | Utilised two lifters, at the front and rear. Instead used a flipper and crusher when competing as Philipper 2. |
| Phoenix | Series 7 | |
| Pika 3 | Dutch Series 2 | |
| The Predator | Series 4 | Front-mounted forklift. |
| Probophobia | US Season 2, Nickelodeon | Pair of lifting prongs which could rotate 360-degrees and act as a srimech. |
| Raizer Blade | Series 3-4 | Four-bar lifting arm, operating at 2400psi and powered by a Ford Granada-sourced AVS pump. |
| Rampage 2 | Series 7 | |
| Reaper NP2 | The Third World Championship | |
| Red Dragon | Series 3 | |
| Robo Doc | Series 2 | |
| Robopig | Series 3 | A hinged spike mounted within the robot's 'snout', referred to as a 'Vicious Piggy Lick'. Weapon could alternately be used for lifting and bludgeoning opponents. |
| Rohog | Series 5 | |
| Schumey Too | Series 3 | Pneumatic front lifting forks. |
| Shadow of Napalm | Series 4 | |
| Shogun | Series 1 | First robot with a lifter. |
| S.M.I.D.S.Y. | Series 3-7, Extreme 1-2 | Earlier versions of the robot featured a set of jaws which could also double as lifting wedges. Top jaw was remodelled into a scoop-type lifter for Series 6 and Extreme 2, featuring a set of four spikes at the base. The lifter was redesigned again for Series 7, which also saw the lower jaw removed altogether. |
| The Steel Avenger | Series 5, 7, Extreme 1-2 | |
| Steg-O-Saw-Us | Series 3 | Series 3 Grand Finalist, but the lifting tail was almost never used. |
| Storm 2 | Series 7-8 | Added a four-bar lifter for Series 7 in order to comply with the active weapons rule. Series 7 runner-up and Third World Champion, though relied on its speed and pushing power as its primary weapon. Made interchangeable with a front-hinged flipping arm and a vertical flywheel for Series 8. |
| Suicidal Tendencies | Series 4 | Series 4's Suicidal Tendencies 2 used a pair of titanium lifting spikes, used in tandem with a 'toothpick' axe. Used a lifting scoop in Series 5. |
| Sumpthing | Series 4, 6, Extreme 2 | |
| Squirmin Vermin | Nickelodeon | Competed in US Season 1 as The Green Mouse. |
| T 2 | Series 3 | Modelled on a steam locomotive cowcatcher, claimed to have a lifting capacity of 182 or 300lbs. |
| Tetanus | Series 5-6, Extreme 2 | The original version used a single lifting spike, which was used in tandem with a set of four static claws to simultaneously lift, clamp and crush opponents. Tetanus 2 initially used a set of forks with a top-mounted crushing arm; for Extreme 2, it was equipped with a third lifting fork, attached to a rollcage-style self-righting mechanism. |
| Texas Tornado | US Season 2 | |
| The Big Cheese | Series 3 | A large red lifting arm powered by a linear actuator. Capable of leaving other robots dangling in the air - even Sgt. Bash - and acting as a clamp. |
| The Green House | US Season 1 | Later converted into Vert-I-Go. |
| The Green Mouse | US Season 1 | Later converted into Squirmin Vermin. |
| Tornado | Series 7 | Part of its interchangeable weapons system. Used in one fight only, during its Heat Final against Tetanus Booster. |
| Tridentate | Series 6 | Set of three small rotating spikes, two of them of which are able to rotate a full 360 degrees. |
| UFO | Series 6 | |
| Vector | Series 3 | Said to double as piercing arm and srimech. |
| Velocirippa | Series 7 | Replacing the ineffective spikes from previous appearance. |
| Vercingetorix | Series 4 | Paired with a spiked axe, in a similar configuration to Mortis. |
| Vert-I-Go | Nickelodeon | Converted from The Green House. |
| Weld-Dor | Series 3 | Front lifting forks with a lifting capacity of 90kg. |
| Wild Thing | Series 4-5, Extreme 1 | A lifting lance capable of acting as a clamp and a self-righting mechanism. Combined with a horizontal spinning disc in Series 5/Extreme 1. |